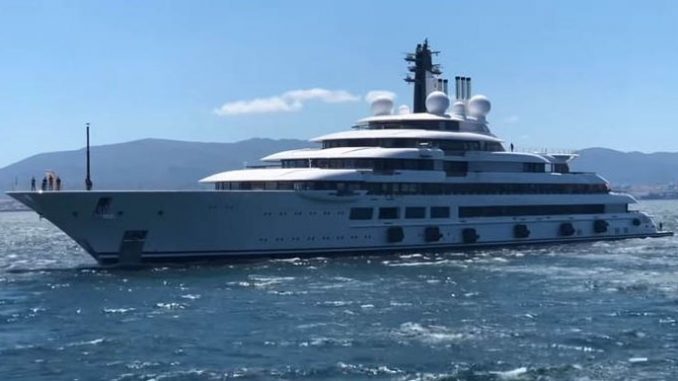 With several yachts belonging to Russian oligarchs already having been seized by Germany, France and Italy other yachts have been doing their best to disappear. But for some unfortunate oligarchs that may not be possible because their yacht was having work done and was not even in the water when sanctions were put in place. That may be the case for superyacht Scheherazade, a 459 foot long yacht which remains in an Italian dry dock this week. The NY Times reports there are strong suspicions the yacht belongs to Vladimir Putin:
United States intelligence agencies have made no final conclusions about the ownership of the superyacht — called the Scheherazade — but American officials said they had found initial indications that it was linked to Mr. Putin…

People briefed on the intelligence would not describe what information they had that indicated the superyacht is associated with Mr. Putin. If American officials know whether or how often Mr. Putin uses the yacht, the people briefed on the information would not share it.

American officials said Mr. Putin kept little of his wealth in his own name. Instead he uses homes and boats nominally owned by Russian oligarchs. Still, it is possible that through various shell companies, Mr. Putin could have more direct control of the Scheherazade.
The yacht's captain has denied the connection to Putin and claims the Russian president has never set foot on it. But the Times reports that Scheherazade made trips to the city of Sochi on the Black Sea in both 2020 and 2021.
That location is potentially significant because Sochi is the spot where Putin also reportedly owns a huge mansion. Russian opposition figure Alexei Navalny who Putin attempted to murder in August 2020, released a two-hour video investigation in January 2021. As you'll see in this report by Deutsche Welle, Navalny's video caused a sensation at the time with more than 20 million views within Russia in the first few days.
Fortunately, western investigators will have some time to figure out who really owns Scheherazade because it's stuck in dry dock. Meanwhile, other superyachts owned by Russian billionaires have been fleeing Europe and, in some cases, even turning off their automated identification system (AIS) which allows them to be tracked at sea.
One such yacht is Amadea. This 106-meter (348 ft) yacht is reputed to be owned by Suleyman Kerimov, a Russia-based billionaire and politician, who is on the sanctions list.

Amadea stopped transmitting her position on AIS (Automated Information System) on Feb. 24, just hours after the start of the invasion. AIS is required, under Safety Of Lives At Sea (SOLAS) rules. The International Maritime Organization's rules require, "AIS should always be in operation when ships are underway or at anchor."

An exception is allowed if the captain believes that the ship is under threat and that the AIS might compromise the safety or security of the vessel. Even the captain must inform the relevant authorities that they are doing it and why. Circumstantially, it appears that these yachts are turning it off as a deliberate attempt to avoid detection.
Turning off AIS is a violation of maritime law so this shouldn't be happening under any circumstances but the oligarchs clearly don't care much about playing by the rules.
Finally, here's a recent episode of Super Yacht News where the host talks about all of the Russian superyachts turning of AIS to flee sanctions.
Via        Hot Air