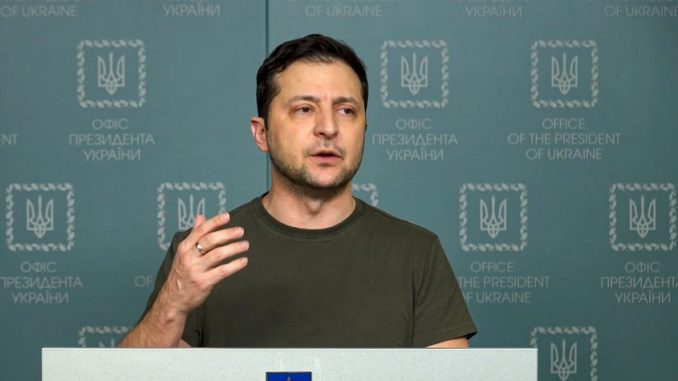 The Ronald Reagan Presidential Foundation and Institute announced today that Ukrainian President Volodymyr Zelensky is the recipient of the prestigious Ronald Reagan Freedom Award. He will be the eleventh recipient of the Ronald Reagan Presidential Foundation's highest recognition.
It seems a little premature while Zelensky is embroiled in war in his country, now twelve days old. He is certainly deserving of such recognition. The way he has risen to the occasion and inspired his fellow Ukrainians to stay and fight the Russian troops who invaded their country is quite remarkable. Our senile and feckless American president offered to help Zelensky to get out of Ukraine but he turned down that offer. Team Biden who cut and ran from Afghanistan no doubt expected Zelensky and other Ukrainian officials to be looking at evacuation plans themselves. Nope. "The fight is here. I need ammunition, not a ride."
We can understand that no human being is perfect and that Ukraine has a long history of corruption while still acknowledging Zelensky's steel spine and patriotism. His sense of duty that he relays in every message to the outside world and to his domestic audience inspire Ukrainians to do what they can to resist the Russian invasion and preserve the sovereignty of their country. Zelensky is a newbie politician. His background includes law school education and a successful career in the entertainment industry. He's a wealthy man who could have drained his bank accounts and fled Ukraine with this family, like the president of Afghanistan, Ashraf Ghani. Zelensky chose to stay in Kyiv with his wife and their two children.
Like other world leaders and public figures who have gone down in history for their actions, Zelensky will be remembered by future generations for his courage and determination He is leading by example. It's hard to not compare Zelensky with Joe Biden, isn't it? Biden, Inc. used Ukraine as an ATM machine, cashing in on Biden's political career. Putin sees Biden as weak, as he did Obama when Russia invaded and annexed Crimea in 2014. Obama barely bothered to mention that move by Putin and merely slapped his wrist with sanctions. As with everything else Obama did during his time in the White House, American media swooned and proclaimed the sanctions strong and applauded Obama. Putin didn't accept any of Obama's demands, like removing Russian troops from Crimea and went about his brutal dictatorship. The Obama administration's sanctions were not aimed directly at Putin but at members of his inner circle. His life didn't change. Why would he listen to Barack Obama? The same is true now. Biden is back in the White House and Putin made his move, this time with an invasion in Ukraine. Biden sat and waited for European countries to do something before he announced some sanctions, with a we'll wait a month and see attitude.
The Ronald Reagan Presidential Foundation and Institute quoted Reagan in its announcement. "We stand against totalitarianism, particularly imperialistic expansionist totalitarianism. We are for democracy and human rights."
President Zelenskyy will become the eleventh recipient of the Ronald Reagan Presidential Foundation's highest recognition. He follows in a long line of world leaders who, like Ronald Reagan, have contributed greatly to the cause of freedom worldwide. Appropriately, our 40th President was privileged to bestow the first Ronald Reagan Freedom Award upon Mikhail Gorbachev at the Reagan Library on May 4, 1992. Other Reagan Freedom Award winners since then include General Colin Powell, Prime Minister Yitzhak Rabin, His Majesty King Hussein I, Lady Margaret Thatcher, President George H.W. Bush, Natan Sharansky and President Lech Walesa.

"The world applauds President Zelenskyy and all that he stands for – democracy, individual liberty, freedom, and hope," said Fred Ryan, Chairman of the Board of Trustees of the Ronald Reagan Presidential Foundation and Institute. Ryan is set to formally provide word of the foundation's award to Zelenskyy by letter, one he will deliver today to Ukrainian Ambassador Oksana Markova, at a 10:00 a.m. meeting at the Ukrainian Embassy. "These are the values and principles that Ronald Reagan fought for all his life and what his foundation promotes today. President Zelenskyy's devotion to the cause of freedom is truly a symbol of man's highest aspiration. He deserves to receive the Reagan Freedom Award."

Volodymyr Zelenskyy, who was sworn in as the President of Ukraine on May 20, 2019, has become the face of Ukraine's resistance against Russian President Vladimir Putin's invading forces. President Zelenskyy's platform of anti-corruption and national unity helped win him widespread support. Although a political novice with no military background, President Zelenskyy has earned the respect of Ukraine and those around the world by refusing to flee the capital, urging Ukrainians to resist, and crafting a successful communications strategy that has won over European leaders and citizens.
Reagan, Margaret Thatcher, and Pope John Paul II are credited with the fall of the Soviet Union. Mikhail Gorbachev opposed the dissolution of the Soviet Union and resigned. He went on to establish the Gorbachev Foundation and became a vocal critic against both Boris Yeltsin and Putin. Reagan awarded Gorbachev the first Ronald Reagan Freedom Award.
Via        Hot Air