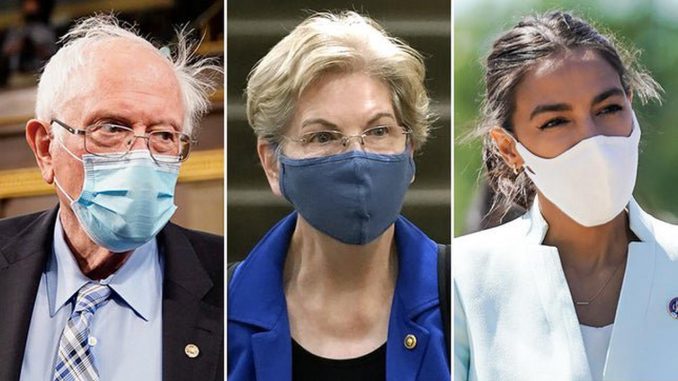 Outrage is rising among Democrats over events in the Middle East — and it's aimed at Israel.
A previous generation of Democrats leaned heavily into the idea of Israel as a stalwart U.S. ally. U.S. criticism of Israel was muted or nonexistent, and Washington often acted as a bulwark against international opprobrium.
But the progressives on the rise today are more likely to draw parallels between the plight of the Palestinians and the injustices faced by Black Americans, or to compare Israel's posture with apartheid-era South Africa.
"I know what it's like to be brutalized for simply advocating for my own humanity," Rep. Cori Bush (D-Mo.) tweeted late last week. "I stand in strong solidarity with our Palestinian siblings."
Bush, a 44-year-old African American woman, was first elected in November to represent a district that includes Ferguson, the city where the Black Lives Matter movement took hold following the 2014 police killing of Michael Brown.
On Monday, Rep. Rashida Tlaib (D-Mich.) told MSNBC's Ayman Mohyeldin that Israel was maintaining "an apartheid system" over the Palestinians.
Tlaib noted that her grandmother still lived under occupation in the West Bank, and asserted that "U.S. taxpayer dollars should not be used to commit human rights violations, [but] I have yet to hear anyone from the Biden administration declare that."
The changing dynamics among Democrats have come into sharp focus amid the escalating crisis in the region, sparked by proposed forced evictions of Palestinian residents of East Jerusalem.
The Israeli eviction policy, as well as a number of other factors, has fed violence that, on Monday, was reported to have claimed the lives of 20 people, including 9 children, in Israeli strikes on the Gaza Strip.
The Israelis said they were responding to rockets being fired into Israel from Gaza by Hamas.
"Palestinian terrorism must be fought with an iron fist," Israel's Defense Minister Benny Gantz said, according to Haaretz.
But that kind of rhetoric cuts little ice these days among progressive Democrats.
Rep. Betty McCollum (D-Minn.) told this column via email: "The Biden administration needs to publicly acknowledge that the dislocation of Palestinian families from their own land is unacceptable and a form of persecution. Secondly, the administration has every lever at its disposal to explicitly restrict U.S. assistance from activities that persecute Palestinians and advance the illegal annexation of Palestinian land."
Over the weekend, the three biggest voices on the American left — Sens. Bernie Sanders (I-Vt.) and Elizabeth Warren (D-Mass.), and Rep. Alexandria Ocasio-Cortez (D-N.Y.) — all condemned Israel's efforts to forcibly evict the Palestinian families.
Warren, in a tweet, called the attempted removals "abhorrent and unacceptable." She said that the Biden administration "should make clear to the Israeli government that these evictions are illegal and must stop immediately."
Sanders said the evictions "must not go forward" and that the U.S. had to "speak out strongly."
Ocasio-Cortez proclaimed "we stand in solidarity" with the Palestinian residents. Israeli forces, she said, were "inflicting violence."
Those kinds of frank criticisms are not confined to the hard left either.
Sen. Chris Van Hollen (D-Md.) tweeted Sunday that the proposed eviction would amount to a violation of international law. The Maryland senator warned the White House, "This is not a moment for tepid statements."
The Israel critics may be growing in strength but it's far from sure they can carry the day in policy terms. The Biden administration has responded to the current crisis with the kind of statements that seem unlikely to satisfy Van Hollen.
Secretary of State Antony Blinken on Monday said that "all sides need to de-escalate, reduce tensions, take practical steps to calm things down."
National security adviser Jake Sullivan spoke to his Israeli counterpart on Sunday. Sullivan "reiterated the United States' serious concerns" about the potential evictions, but also "expressed the administration's commitment to Israel's security," according to a readout provided by the National Security Council.
White House press secretary Jen Psaki, asked about the issue at Monday's press briefing, said that the administration was "continuing to closely monitor" the situation.
Pentagon press secretary John Kirby said the rockets fired from Gaza into Israel were "unacceptable."
"Israel has a right to defend itself and its people and its territory and the Department of Defense remains very committed to helping Israel do that," he said.
Meanwhile, on the right, there is an effort to paint Democrats as anti-Israel across the board.
On Monday, Sen. Ted Cruz (R-Texas) tweeted a link to a Washington Free Beacon story suggesting that a State Department spokeswoman, Jalina Porter, had blamed Israel alone for exacerbating tensions.
"The open hostility to Israel from across the Biden administration is as appalling as it is unfortunately typical of the progressive left that controls this administration," Cruz claimed.
Progressive voices within the U.S. Jewish community argue those kinds of attacks are ineffective.
Logan Bayroff, vice president for communications at the left-leaning J Street Group, told this column that Republicans were turning the old struggle between Israel and the Palestinians "into another culture-war political issue to frame any sympathy for Palestinian rights as if it is sympathetic to terrorism."
Bayroff was at pains to point out that his own organization supports Israeli security and condemns any violent actions against it, including the rockets and incendiary balloons recently fired by Hamas.
But, he added, "I do think there has been a shift overall among Democrats, saying, 'We support Israel's security and we also strongly support Palestinian rights. And we oppose Israeli actions that cut against that, whether that is settlement expansions, or evictions and demolitions, or aggressive policing tactics.' "
Rabbi Jill Jacobs, executive director of T'ruah, a human rights organization that says it represents more than 2,000 rabbis and cantors, agreed.
"I think for a long time there was a sense that one couldn't criticize Israel at all." she said, citing the nation's history as a sanctuary in the wake of the Holocaust — and one surrounded by nations explicitly dedicated to its destruction.
"We've moved to the point where Israel is a strong country with lots of relationships with foreign nations, and where the occupation that was supposed to be temporary has now gone on for more than half a century," Jacobs added.
There are, to be sure, elements in the current crisis that are a product of very specific circumstances.
Israel's domestic politics are in limbo after longtime Prime Minister Benjamin Netanyahu failed to cobble together the numbers for a new coalition government. Scheduled Palestinian elections have been postponed.
Hovering in the background is the question of Iran. The Biden administration wants to get the abandoned nuclear deal with Tehran back on track but its attempts to do so are viewed with deep suspicion by Netanyahu and others on the Israeli right.
American support for Israel is hardly about to unravel. And even the progressive wing of the Democratic Party has its fiercely pro-Israel voices.
Rep. Ritchie Torres (D-N.Y.) excoriated Hamas for the rocket attacks Monday, arguing on Twitter that it "underscores the need for missile defense programs, such as Iron Dome, which protects Israeli civilians—both Arabs and Jews—from the terrorism of Hamas."
Still, there is a substantial and growing element of the Democratic Party on which Israel can no longer depend for reflexive support.
That, in itself, is a big change — and one that could reverberate for years to come.
"By treating Israel differently than any other country receiving U.S. assistance, the U.S. is effectively giving a green light to Israel to demolish Palestinian homes and annex Palestinian land for Jewish settlements," McCollum said.
"When are we going to speak up about this kind of brutality?" Tlaib said in her MSNBC interview Monday. "Enough is enough."
Via The Hill