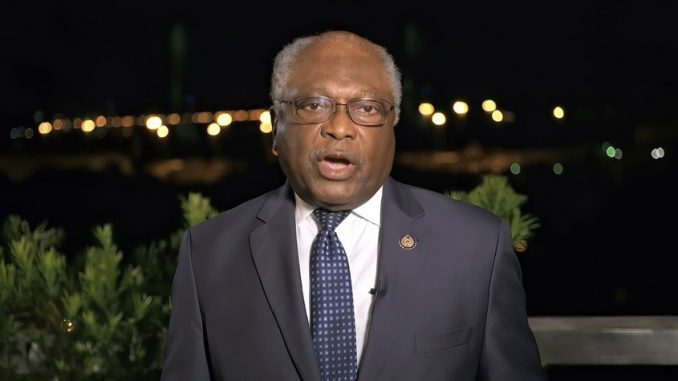 House Majority Whip Jim Clyburn traveled to Texas Wednesday to campaign for Rep. Henry Cuellar. When the trip was first announced over a week ago, this wasn't seen as a big story. Clyburn endorsed Cuellar in the primary race and is supporting him in the run-off race against progressive Jessica Cisneros. Then the leak from the Supreme Court happened on Monday night and the timing of the trip became awkward.
Henry Cuellar is the only pro-life Democrat in the House. He was first elected to the House in 2005. The Democrat leadership in the House supports his re-election which puts them at odds with the progressive wing of the party. The progressive candidate challenging Cuellar is the same one who challenged him in 2020, Jessica Cisneros. Cisneros gave Cuellar a run for his money in 2020 and the same holds true today. Cuellar was the only House Democrat last year to vote against a proposal to codify Roe v. Wade. In light of the Supreme Court leak and the left's total freak-out over the opinion, Cisneros issued a statement calling on Democrat House leadership to rescind its support for Cuellar.
Clyburn wasn't swayed and came to Texas anyway to campaign with Cuellar. The message from Clyburn is that the Democrat Party is a big tent party (I know) and he may not agree with Cuellar's views but his is an important voice in the House. Clyburn kept to the campaign's schedule and attended several events around Laredo with Cuellar.
"We have a big-tent party, and if we're gonna be a big-tent party, we got to be a big-tent party," Clyburn told reporters after an evening rally at an outdoor barbecue joint. "I don't believe we ought to have a litmus test in the Democratic Party. I think we have to bring as many people into the party as we possibly can."

Addressing a crowd of about 80 people from the stage of his campaign rally, Clyburn hailed Cuellar for his role as a chief deputy whip, saying together they have been "very effective in getting Joe Biden's [agenda] across the finish line." He joked that he does not always agree with Cuellar just like he did not always agree with his late wife of 58 years. But he said people do not "grow" if they speak only with those they agree with.

"We have to sit down with people with whom we do not agree and try to find common ground so that you do what is necessary to continue moving this country forward," Clyburn said.
That event at the barbeque restaurant was noted by a reporter on Twitter covering it and one snarky response by another Texas reporter caught my eye. Not that the snark was unusual but the reason for the snark.
Henry Cuellar is fighting for his political life and brought the No. 3 House Democrat to stump for him and this rally… has fewer people than my rec league softball games. https://t.co/9pYWU4j7O6

— Zach Despart (@zachdespart) May 4, 2022
The response that the turnout was small was odd to me. We aren't talking about an event for Robert Francis O'Rourke. This is a longtime incumbent running for re-election from Laredo. It was a Wednesday evening and it was outside. How many regular people can come out on a week night, apparently around dinner time as food was served, to listen to politicians? The quote above says there was about 80 people in attendance, which sounds pretty good, right?
Cuellar made of point of prioritizing his beliefs.
"I'm a Democrat — but I follow the words of [Lyndon B. Johnson], who said many years ago, 'I'm an American, I'm a Texan and then I'm a Democrat — in that order,'" Cuellar said. "If you put the party first before your country, you're doing a disservice. I think what we need to do … is make sure that we put our country, our district, first, and that's what I do."
There is little room in today's Democrat Party for reasonable members. Cuellar is pro-life but he's still a Democrat and votes with the party leadership on most issues. He is a moderate, especially by today's standards, but he's a Democrat. Cuellar is supported by the top three Democrats in the House, including Clyburn. Cuellar's supporters know him and likely will not be swayed by the hyperbole coming from Cisneros and other progressives.
Cuellar has the support of not only Clyburn but also House Speaker Nancy Pelosi and the No. 2 House Democrat, Majority Leader Steny Hoyer. Their names and others were featured prominently on campaign literature that was handed out at the rally.

Asked about the high court's leaked opinion after the rally, Cuellar reiterated a statement he issued Tuesday evening. He criticized the draft opinion, saying it is "not based on precedent" and "not incremental in nature like they should be." But he told reporters he is a Catholic and "you know my position," adding that many people in his district believe in "at least some sort of limitation on exception."

After the rally, attendees said they supported Cuellar, often offering effusive praise and recalling a long relationship with him, but made clear they disagreed with him on abortion.

State Rep. Barbara Gervin-Hawkins of San Antonio, a Cuellar endorser who spoke at the rally, also said her views on abortion did not align with Cuellar's. But she said she understood that belief was grounded in his Catholic faith.

"I'm pro-choice all the way, OK? But that's one issue," she said." That one issue don't separate me from supporting someone in my party because we can agree to disagree, and I hope we as Texans and we as Americans really start looking at it that way. One issue doesn't stop us from having a relationship."
Oddly, Cisneros tried to scare pro-abortion Texans by saying Cuellar may be the one vote, "the deciding vote", on the "future of our reproductive rights." Not sure exactly what she's talking about but does she realize that she's running for a House seat and not one in the Senate? Anyway, the abortion issue isn't going to save the midterm election cycle for progressives, if you ask me. There are too many other issues on the minds of voters in Biden's America. They are far more concerned about inflation gobbling up whatever pay raises they may be lucky enough to receive, or the open border bringing thousands of illegals into their community in Laredo, or supply chain issues hampering their work and everyday lives.
The run-off election date for Cuellar and Cisneros is May 24. Will Democrats in the district go more for a candidate endorsed by Bernie Sanders and AOC, or will they stick with the incumbent who has the support of House leadership? We'll know soon.
Via            Hot Air