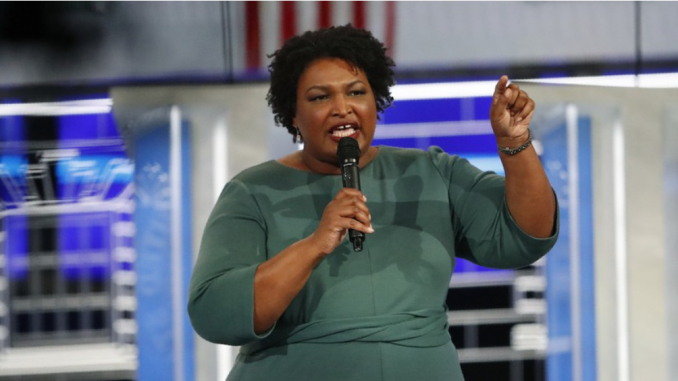 Stacey Abrams kicked off the second phase of her campaign to become Governor Abrams with a One Georgia rally. "My name is Stacey Abrams and I intend to be the next governor of Georgia." I know, she thinks she is really the legitimate governor because she's told us so and she was robbed, or something. She refused to concede after her first loss to Governor Brian Kemp because she didn't want to be "complicit" in a "rigged" system. Mostly though, she didn't want to concede because she's a sore loser.
.@staceyabrams on running for Georgia governor: "I started organizations to help with vaccine hesitancy. I started organizations to make sure we were protecting the right to vote. I started organizations to work with our farmers. I did the work, and now I want the job." pic.twitter.com/sQb4VKpwUi

— The Hill (@thehill) March 15, 2022
Abrams has taken a page from Hillary Clinton's playbook. She was robbed from a job she was entitled to have and after spending the last four years dividing Georgians along racial lines and grousing about voter suppression by racist Republicans, she has launched the One Georgia theme for her campaign. She's a unifier now, you see.
Abrams threw herself into organizing voter registration drives and doing get-out-the-vote events during the last four years through Fair Fight, her voting rights group. The group also purchased and forgave medical debt for uninsured Georgians. Abrams also touts her efforts to launch a campaign to overcome hesitancy against the COVID-19 vaccine. "I did the work and now I want the job." Nothing says she did the work in order to build up cred to become governor more than ticking off her projects and saying she deserves the job now. The self-entitlement is strong with Abrams.
"Four years ago when I applied for this job as governor, I had my application declined," Abrams told a crowd of about 200 near downtown Atlanta. "It's OK. I've had four years to work on things. I've had four years to live up to what I told folks I would do when I was running for office."
Let's be honest, running for governor and coming up short has been very good for Abrams' bank account. She purchased two homes worth a combined $1.4 million, the first one in 2019, the second in 2020. She paid off the $54,000 she owed the IRS in back taxes, as well as $174,000 in credit card and student loan debt all in 2019. She published a memoir which spent weeks on the New York Times bestseller list and she is paid handsomely for making speeches – her fees range from $50,000 to $100,000 per event. Apparently, Fair Fight doesn't pay her a salary but it looks like she's doing just fine without one from it.
In other words, Stacey Abrams has made a tidy living by painting herself as a victim. She's credited with playing a large part in turning Georgia into a blue state, though she had some help from Donald Trump who encouraged his supporters to stay home on election day and protest how he was robbed of victory in Georgia in 2020. That brought about the election of Jon Ossoff and Raphael Warnock, two Democrats now in the U.S. Senate.
So, here we are in 2022 and Abrams says this job should be hers. Her overblown ego enables her to say and make absurd comparisons of herself and others. Take, for instance, her appearance on the "Daily Show" where she told host Trevor Noah that there is a comparison between herself and progressive Democrats to Ukrainian President Volodymyr Zelenskyy and his people fighting off a Russian invasion. Sure, sure. Just like that, Stacey.
"We are a stronger nation when we allow people to participate," Abrams said in the clip that has been picking up steam online.

"And if we ever doubted that: The war that Putin is waging against Ukraine, President Zelenskyy said it, and I'm going to paraphrase him, probably poorly," the Georgia Democrat continued. "He said this isn't a war on Ukraine, this is a war on democracy in Ukraine."

Abrams continued, saying it is "wrong" when "we allow democracy to be overtaken by those who want to choose who can be heard, and those choices are not based on anything other than animus or inconvenience."
Who wants to tell Stacey that Ukrainian voters have to show id before they can vote?
In which Stacey Abrams implies she and her movement are just like Zelenskyy and Ukraine pic.twitter.com/kyLSondajt

— Alex Christy (@alexchristy17) March 3, 2022
She told her audience at the kick-off rally that she wants to "make joy" now in Georgia, whatever that means.
I want you to join with me to make joy for Georgia," Abrams said to the crowd. "To make opportunity for Georgia. To bring success to Georgia. I want you to stand with me. I want you to run with me, and I want you to win with me. Because in November of 2022, we're going to become the governor of the great state of Georgia. Of one Georgia."
According to her speech at the rally, her focus is on boosting education funding, passing new voting rights protections, and expanding Medicaid. All of that is standard progressive campaign talking points. I'm willing to predict that Governor Kemp will win his primary race and face Abrams in November. He has a nine point lead over David Perdue as of today, according to Real Clear Politics. Polling results are not current for a Kemp-Abrams match-up in November but the latest one at Real Clear Politics has Kemp up by 4.5 points.
When Stacey loses again in November, she can do another four years of claiming voter suppression and being robbed at the hands of racist Republicans in office. It's paid off pretty well for her so far.
Via          Hot Air