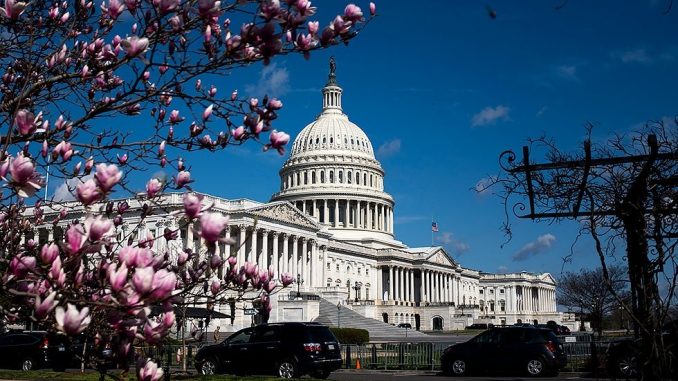 Six states will see their congressional delegations grow in the next Congress while seven states will each lose a seat, according to the first results from the U.S. Census Bureau's decennial survey of America's population.
Texas is set to add two U.S. House seats to its delegation after a decade in which the state added more than 4 million new residents.
Colorado, Florida, North Carolina and Oregon will each add one more seat. Montana will also add a district, its second in total, coming 30 years after it lost that second seat in a previous round of apportionment.
The states losing seats are almost all in the Rust Belt.
Illinois, New York, Ohio and Pennsylvania will all lose a single seat, extending losing streaks that date back to the years before and after World War II. Michigan will lose a seat for the fifth consecutive census.
West Virginia will also lose a seat, lowering its congressional delegation to two seats beginning in the next Congress. Its population declined by a larger share than any other state over the past decade, shrinking by 3.2 percentage points.
And for the first time since it joined the Union, California's congressional delegation will shrink by one seat.
The new figures represent some of the weakest population growth in American history. The U.S. population grew to 331.5 million residents as of April 1, 2020, a 7.4 percent increase over the population in 2010 — a slower growth rate than in any decade except the 1930s.
"We continue to see movement to the Sun Belt but not quite as dramatically as in the past, because the Great Recession held it up a little bit in the beginning of the decade," said William Frey, a senior demographer at the Brookings Institution.
The new twist, he said, is the net migration out of California: "People are leaving coastal, costly places, and I think California is a piece of that."
The slow growth added some late suspense to states that were worried about losing seats in Congress. Three states that had been expected to lose seats — Rhode Island, Alabama and Minnesota — kept their delegations whole.
Texas had been expected to add up to three seats and Florida two, though neither saw sufficient population growth to earn the extra votes.
In a measure of the narrow margin by which the final seats are allocated, the Census Bureau said New York lost its 27th district by just 89 residents. That district would have been the 436th seat allocated; instead, Minnesota won the 435th seat in the House.
Southern, Western states add seats
States set to gain or lose U.S. House seats in 2023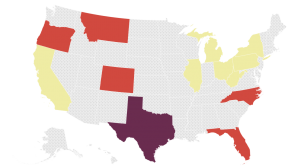 Ohio, Texas, Florida and Arizona narrowly missed keeping or adding new seats, according to the Census Bureau's projections. Oregon, Colorado, California and Montana won House seats 431 through 434.
Census Bureau data is worth billions of dollars in funding through hundreds of programs administered by the federal government, and many states spent heavily to promote counting efforts. Others — like Texas and Florida — did not.
The population changes represented the smallest shift of any decade in almost a century, but reaffirmed decades-long growth trends in southern states and western states, at the expense of Rust Belt states and the Northeast.
"States like California and New York spent hundreds of millions to get a complete count, and states like Texas spent pretty close to zero," said Michael Li, a senior counsel at the Brennan Center for Justice's Democracy Program.
The census data will kick off a new phase in the increasingly pitched battle over redistricting set to play out in state capitals across the country, after a decade of legal wrangling between Democrats and Republicans culminated in a major U.S. Supreme Court decision in 2019.
In that decision, Rucho v. Common Cause, Chief Justice John Roberts, writing for the conservative majority, ruled that federal courts have no jurisdiction over allegations of partisan gerrymandering.
The data released Monday is only the first wave — states will receive block-by-block population counts by the end of September — but it will give legislators and redistricting commissions the opportunity to begin planning for their new maps.
"You can't draw final maps with this data, but that doesn't mean there isn't a lot that you can do," Li said. "There's no reason why you can't begin the process, and states really do have an incentive to begin the process."
Via The Hill