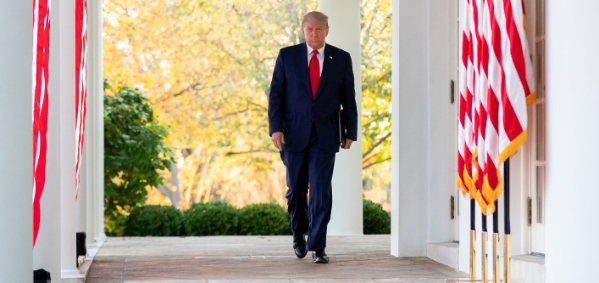 The evangelical Christian label has been put in a bull's-eye over the past few years because of that community's support for President Trump.
Legacy media have tried to link those Christians, who chose Trump's pro-life, pro-Constitution and pro-security agenda over the extreme leftist plans of twice-failed candidate Hillary Clinton, to far-right conspiracies, to violence, to insurrection, and worse.
But a poll shows that more whites adopted the label than threw it off in recent years.
The results come from Pew Research, which explained, "Since Donald Trump was elected president in 2016 due in part to strong support from white evangelical Protestants, many observers have wondered what impact this political alliance might have on the evangelical church in the United States."
The report continued, "Would there be an exodus from the church on the part of those who do not share their fellow evangelicals' enthusiasm for the former president? If so, would this leave behind a smaller evangelical population, or would any such defectors be replaced by Trump-supporting converts to evangelicalism? And would white evangelicals who backed Trump in 2016 stick with him in 2020?"
The results are clear, "there has been no large-scale departure from evangelicalism among white Americans. In fact, there is solid evidence that white Americans who viewed Trump favorably and did not identify as evangelicals in 2016 were much more likely than white Trump skeptics to begin identifying as born-again or evangelical Protestants by 2020," the polling report said.
"Additionally, the survey does not clearly show that white evangelicals who opposed Trump were significantly more likely than Trump supporters to drop the evangelical label. The data also shows that Trump's electoral performance among white evangelicals was even stronger in 2020 than in 2016, partially due to increased support among white voters who described themselves as evangelicals throughout this period."
Key findings include:
— Among all white adults who participated in both the 2016 and 2020 surveys, 25% described themselves as born-again or evangelical Protestants in 2016; 29% described themselves this way in 2020
— The survey shows that among white respondents who participated in both surveys, 2% identified as born-again/evangelical Protestants in 2016 and no longer did so by 2020. However, the 2% of white adults who stopped identifying as evangelicals during Trump's term were more than offset by the 6% of white adults who began calling themselves born-again/evangelical Protestants between 2016 and 2020.
— The report said, "There were more defections during this time period among white Protestants who did not identify as born-again or evangelical in 2016. Overall, 6% of white adults described themselves as non-evangelical Protestants in 2016 but not in 2020, while 3% started identifying as such during the Trump administration."
Pew found, "Between 2016 and 2020, white Americans with warm views toward Trump were far more likely than those with less favorable views of the former president to begin identifying as born-again/evangelical Protestants, perhaps reflecting the strong association between Trump's political movement and the evangelical religious label.
"Among white respondents (including both voters and nonvoters) who did not identify as evangelicals in 2016 and who expressed a warm view of Trump at some point during the timespan of this study, 16% began describing themselves as born-again or evangelical Protestants by 2020. In stark contrast, almost no white respondents (just 1%) who expressed consistently cold or neutral views toward Trump adopted the born-again/evangelical label for themselves between 2016 and 2020."
Via Wnd