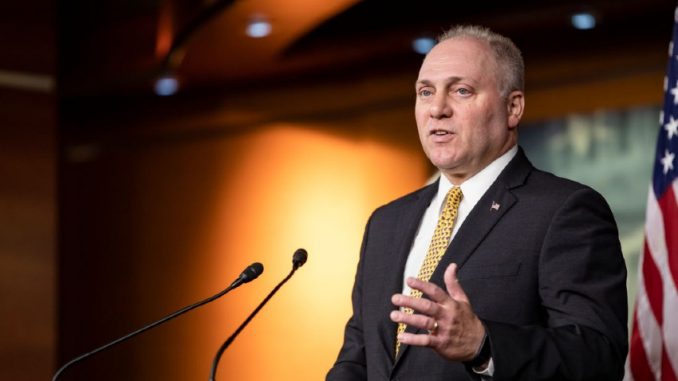 President Joe Biden could take a "big step" toward unity by telling the Senate that taking up the impeachment of former President Donald Trump is not something that is good for the country, Rep. Steve Scalise, R-La., said Thursday.
"We need to turn the page and start focusing on helping hardworking families," Scalise told Fox Business' "Mornings with Maria." "People are struggling. We need our economy to safely reopen, schools safely reopened, to get people back on track."
He added, he does not think many of Biden's executive orders signed in his first couple days in office will lead to unity, including reversing the Keystone XL Pipeline, getting back in the Paris Climate Accord, or stopping the construction of the border wall.
"There are areas where we can come together, such as turning the page on coronavirus, getting the vaccine even more widely distributed," Scalise said. "President Trump's Operation Warp Speed created not one but two vaccines. We are vaccinating 800,000 people a day."
If the numbers of vaccines keep increasing to the point where everyone who wants to be vaccinated gets a shot, that will help lead to completely reopening every state, Scalise added.
"We are ready to do those things with [Biden]," said Scalise, and ultimately, by working to tone down the rhetoric and focusing on matters that can be worked on together, "that will help hardworking families, where our focus needs to be."
Meanwhile, Scalise said he is "very bullish" on the future of the Republican Party.
"Not only have our principles worked but if you look at things we did to get regulations under control, tax rates under control, we had the hottest economy in the history of our country," Scalise said. "It was working for everybody."
Via Newsmax