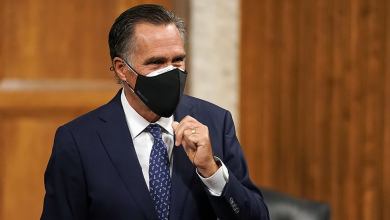 Sen. Mitt Romney (R-Utah) said in an interview on Tuesday that he is "pretty sure" former President Trump would win the Republican Party's presidential primary in 2024 if he decides to run.
Romney made the remarks in a discussion with The New York Times's Andrew Ross Sorkin at the DealBook DC Policy Project, in which he said he is "sure" the former president will continue to "play a role" in the Republican Party despite his defeat in the presidential election last year.
"He has by far the largest voice and a big impact in my party," Romney said, referring to Trump. "I don't know about his family members, whether they intend to do that, but I expect he will continue playing a role."
Romney said if Trump does decide to run in 2024 he is certain the former president will win his party's nomination.
"I'm pretty sure he will win the nomination," Romney said. While he noted "a lot can happen between now and 2024," the Utah Republican pointed to polls he said that show Trump as a potentially strong contender for president in the next election cycle.
"I look at the polls and the polls show that, among the names being floated as potential contenders in 2024, if you put President Trump in there among Republicans he wins in a landslide," he said.
Pressed if he would campaign against Trump if he ran in 2024, Romney, who has been vocal in his criticism of the former president in the past, said he would probably opt to support another contender in the party.
"I would not be voting for President Trump again. I haven't voted for him in the past and I would probably be getting behind somebody who I thought more represented the tiny wing of the republican party that I represent," he said.
"There's a populist movement on the right in this country and on the left. They're not going away any time soon. Although I think over time policies that endure, and that really help the American family, will be more successful," Romney also said. "So, I remain, if you will, a more traditional conservative than some of the populist rhetoric within my party."
In recent weeks, Trump has dodged questions about whether he plans to run for president again in 2024, though he has said he's seen "a lot of great polls out there."
"We have tremendous support," Trump said earlier this month. "I won't say yet [if I'm running again], but I have tremendous support, and I'm looking at poll numbers that are through the roof. … I'm the only guy who gets impeached and my numbers go up."
Via The Hill