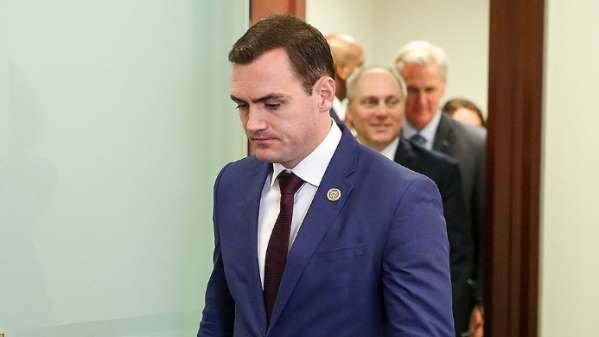 Rep. Mike Gallagher (R-Wis.) on Monday criticized lawmakers for using the proxy voting system implemented during the COVID-19 pandemic to skip floor votes for reasons unrelated to their health, including fellow House Republicans who attended the Conservative Political Action Conference (CPAC) on Friday.
Many Republicans have warmed to proxy voting in the last few months after previously launching a lawsuit last year that challenged it as unconstitutional and arguing that members of Congress should show up to work in person like other essential workers on the front lines of the pandemic.
Those Republicans included 13 who voted by proxy on Friday on the $1.9 trillion COVID-19 relief package and filed letters with the House clerk stating that they were unable to attend floor proceedings "due to the ongoing public health emergency" — but were actually attending CPAC in Orlando, Fla.
Gallagher said in a video posted to Twitter that proxy voting is "destroying Congress" and questioned the need to continue allowing the system — which was implemented so that lawmakers could vote remotely if they were sick, quarantining or otherwise unable to travel due to the pandemic — now that many members of Congress are vaccinated.
"We had a bunch of Republicans go to CPAC on Friday. Democrats have been abusing this. The numbers go up on fly-out days. It totally undermines any legitimate need for proxy voting. More to the point, I would like to see how many members who are proxy voting have already been vaccinated," Gallagher said.
Gallagher expressed concern that proxy voting would result in House members spending even less time on Capitol Hill building relationships with one another to facilitate the basic responsibilities of legislating.
"I am seriously concerned that proxy voting is now going to become a permanent feature of Congress, meaning that Congress is going to be permanently dysfunctional and fake in many ways. People can pretend they're actually doing their job while flying all over the country raising money and raising their social media profile. It is long past time to end proxy voting, which I believe is unconstitutional. Let's get back to the basics of legislating and oversight in Congress, which requires you to be there in person. Stop the proxy voting. Stop the insanity," Gallagher said.
Proxy voting is destroying Congress. pic.twitter.com/7VOHc559NQ

— Rep. Mike Gallagher (@RepGallagher) March 1, 2021
Democrats maintained that the proxy voting system would be in place only for the duration of the COVID-19 pandemic when they voted to establish it last May.
But some lawmakers have been voting by proxy for reasons unrelated to the pandemic, such as the Republicans who attended CPAC on Friday and two Florida Democrats, Reps. Charlie Crist and Darren Soto, who attended a SpaceX rocket launch in their home state.
House Minority Whip Steve Scalise (R-La.) accused the two Florida Democrats at the time of using proxy voting to "play hooky."
Former Rep. Francis Rooney (R-Fla.), who retired at the end of last year, was the first Republican to use the proxy voting system last July.
By December, four other Republicans — most of whom, like Rooney, were leaving Congress — had also adopted proxy voting.
The only returning Republican using proxy voting at the time was Rep. Matt Gaetz (Fla.), who argued in a Washington Examiner op-ed in November that "I'm convinced that time in Washington doesn't make any of us better. Time at home reminds us of our priorities and our purpose."
Then in January, House Minority Leader Kevin McCarthy (R-Calif.) gave Republicans the green light to use proxy voting given security concerns in the aftermath of the Jan. 6 insurrection at the Capitol by a mob of former President Trump's supporters who tried to stop Congress from certifying the presidential election results.
Since then, dozens of Republicans have been voting by proxy in recent weeks.
The 13 Republicans scheduled to speak at CPAC who voted by proxy on Friday were Reps. Gaetz, Lauren Boebert (Colo.), Ted Budd (N.C.), Jim Banks (Ind.), Madison Cawthorn (N.C.), Mark Green (Tenn.), Paul Gosar (Ariz.), Darrell Issa (Calif.), Ronny Jackson (Texas), Mike Kelly (Pa.), Ralph Norman (S.C.), Devin Nunes (Calif.) and Greg Steube (Fla.).
Via The Hill