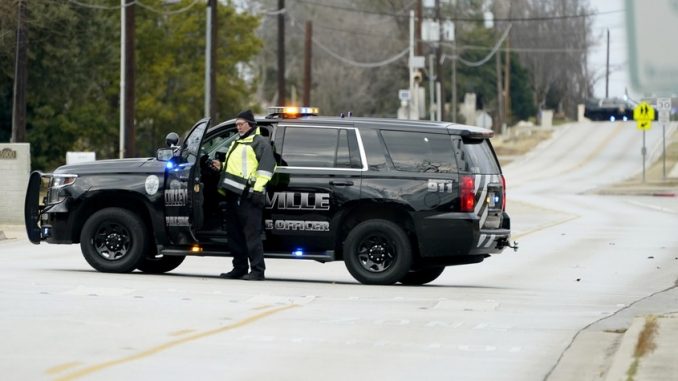 Are police making some progress in the investigation into the anti-Semitic terrorism attack on the Congregation Beth Israel in Colleyville, Texas? Two more men have been arrested in England, both in Manchester.
Greater Manchester Police made the announcement on Twitter in the early morning hours today. The men were not named and they remain in custody for questioning.
#UPDATE | Counter Terrorism Policing North West update following the events in Texas: pic.twitter.com/QDZraZWLSf

— Greater Manchester Police (@gmpolice) January 26, 2022
Congregation Beth Israel was the target of an Islamic terrorist attack on Saturday, January 15 during Shabbat services. Some online viewers watched and listened as it played out until the feed was cut. Due to the pandemic, there were only four men in the synagogue at the time, including Rabbi Charlie Cytron-Walker, who was conducting the service online for congregation members. Initially, two teenagers were taken into police custody in Manchester, England but their identities were not published as both were under 18 years of age. Then it became known that they were the sons of the Muslim terrorist. They were released by police and shortly after that, two men in England were arrested. One man was arrested in Birmingham and one in Manchester. They were not identified either. As far as we know, they are still in custody.
These new arrests in Manchester are not uncommon, according to a British consul general, as people are often arrested during the information-gathering phase of investigations. He says such arrests may be likely going forward.
Richard Hyde, the Houston-based British consul general for Texas and four other states, has told The Dallas Morning News it is common for British law enforcement to make arrests in the immediate aftermath of such a crime, even if just to collect information.

He has said similar arrests or detentions could happen in the coming weeks as the investigation unfolds.
At the time of the terror attack, the FBI botched its first press briefing by not even calling it an anti-Semitic attack, and certainly went out of its way to deny it was an act of terrorism. Since then the agency has admitted it is what we all knew it was from the beginning – an act of terrorism carried out by an anti-Semitic Islamic terrorist. The synagogue was deliberately chosen, as the terrorist could be heard saying during the online streaming. The White House wasn't any better in its initial messaging. Then Biden brought in a pet issue for Democrats – gun control – by opining that the terrorist bought his weapon on the street. So far, there as been nothing else in the news about the synagogue attack from law enforcement officials.
We've read personal accounts from Rabbi Cytron-Walker and from one of the other men. It's understandable that nothing is coming from officials as the investigation is still underway. The arrests of two more men in England, though, serves as a reminder that the investigation is continuing, especially in that country. Whether they are arresting the men as accomplices of some kind or as a way to get information from them, at least police there are working on it. I hope the same is being done here.
Via      Hot Air