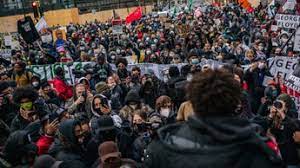 Congress is under heightened pressure to reach a long-elusive deal on police reform after Derek Chauvin's conviction for the murder of George Floyd.
The conviction, heralded by Democrats and activists as a milestone in the quest for racial justice, immediately shifted attention from the courts to Congress, renewing questions about what bill, if any, could pass the 50-50 Senate, where initial police reform discussions after Floyd's death unraveled nearly a year ago.
Democrats believe the verdict has given them new momentum, and behind-the-scenes bipartisan talks have been happening for months, with negotiators hoping to have language in a matter of weeks.
Sen. Tim Scott (S.C.), the only Black Senate Republican, said he thought talks were making progress and that Democrats had been "receptive" to certain GOP provisions.
"I think we are on the verge of wrapping this up in the next week or two, depending on how quickly they respond to our suggestions," he said.
Scott has been talking with Rep. Karen Bass (D-Calif.) and Sen. Cory Booker (D-N.J.) about what a potential bill that could pass the Senate would look like.
Bass, a former head of the Congressional Black Caucus and lead author of the House bill, has pointed to May 25, the one-year anniversary of Floyd's murder, as an informal deadline for when she would like to have language for a potential agreement. The public attention on the Chauvin trial, she suggested, will lend a boost.
"I'm very hopeful, it's the least we could do," Bass said.
That would give the core group of negotiators roughly a month to try to craft an agreement that has eluded them for almost a year — a herculean effort that could defy the political reality of a divided Washington.
Biden's role remains a wild card. Although the president used the bully pulpit this week to urge Congress to pass reform legislation and will touch on the issue next week during his address to Congress, the White House signaled that he would leave the in-the-weeds negotiations to lawmakers as the administration remains focused on infrastructure.
"The stage we're in now is that leaders on the Hill need to have discussions among themselves about where they can find agreement," White House press secretary Jen Psaki said Wednesday. "The most effective strategy is to allow for space for those conversations to happen privately."
The politics surrounding police reform are littered with trip wires, and significant disagreements need ironing out before any deal is achieved. As the last year has demonstrated, even a spate of police-involved killings is no guarantee that the sides can come together on law enforcement reform.
Scott, even as he predicted the talks could wrap relatively quickly, pointed to a handful of outstanding issues: transferring military-grade equipment to state and local law enforcement; federal chokeholds; no-knock warrants; and qualified immunity, the shield that protects police officers from some lawsuits.
But in a potential sign of emerging compromise, Scott floated changes to qualified immunity: one that would shift the legal liability in civil suits from individual officers to their police departments.
In another signal that the sides are getting closer, Democrats are not demanding an end to qualified immunity altogether.
Bass said there was "a lot of room" around the discussions on the issue.
"Qualified immunity must be addressed," Bass said, but added that she wanted both the officer and agency to be held accountable.
Sen. Dick Durbin (Ill.), the No. 2 Senate Democrat and chair of the Judiciary Committee, said that he was in touch with Booker and was "encouraged." He added that Scott's proposal on qualified immunity was a "step in the right direction."
"Ninety-eight percent of all qualified immunity cases are treated that way," he said.
Durbin is planning to hold a hearing next month on police reform. And Senate Majority Leader Charles Schumer (D-N.Y.) vowed that he would prioritize the issue after the Chauvin verdict.
"The Senate will continue that work as we strive to ensure that George Floyd's traffic death will not be in vain. We will not rest until the Senate passes strong legislation to end the systemic racism in law enforcement," he said.
Despite the optimistic sounds, there is also plenty of skepticism.
Sen. Mike Braun (Ind.), one of the GOP senators most willing to make changes last year to a legal shield for police officers, questioned if there was a federal role.
"I think that's going to be very difficult to get bipartisan support on it," he said, adding, "I almost think it's better off to do this state by state."
More importantly, while Braun predicted that most Republicans would support Scott's bill, House Democrats have dismissed that 2020 proposal, characterizing it as woefully inadequate in providing the kinds of protections that would prevent police violence and abuse of power.
The Scott bill couldn't get 60 votes in 2020 in a GOP Senate, and would need to be changed to win Democratic support.
The bill would block state and local law enforcement departments from getting COPS and Byrne grants if they do not have a ban on chokeholds in place. It also includes new requirements on reporting the use of force by police and the use of no-knock warrants and includes new penalties for not using body cameras. It would impose new requirements on law enforcement records retention and includes a separate bill that makes lynching a federal hate crime.
Rep. Marc Veasey (D-Texas), a member of the Black Caucus, called it "a nothing proposal." He cited the need for stronger reforms to provide "an extra-layer of protection," on top of the courts.
"The legislative branch needs to act just like the judiciary acted yesterday," he said.
Rep. Barbara Lee (D-Calif.), another former head of the Congressional Black Caucus, delivered a similar message, saying the Democrats' police reform legislation — which has passed through the House twice since Floyd's murder last May — is "the starting point" for the negotiations.
That bill, among other provisions, banned chokeholds, carotid holds and no-knock warrants at the federal level, overhauled qualified immunity for police officers and created a national police misconduct registry. Lee acknowledged the difficulty of winning support from Senate Republicans but predicted the national spotlight on Chauvin's conviction has swung public opinion behind the more robust reforms.
"The public's got to make them do it. We have hope that the public and their constituents understand that this is badly needed in America. It's time to recognize that no one's above the law — even police officers, when they commit a murder," Lee said.
"Hopefully after yesterday — maybe, just maybe — they'll see the light."
Via The Hill