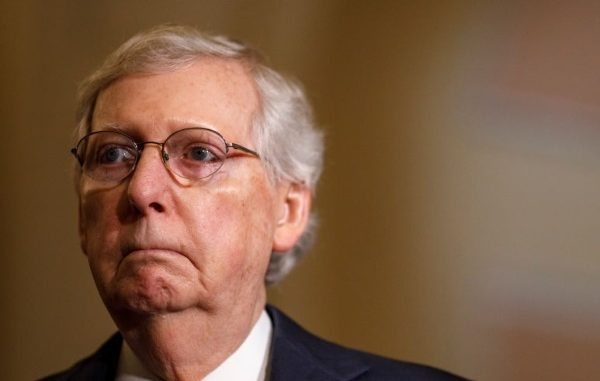 After blocking a Senate move to vote on boosting coronavirus stimulus checks on Tuesday, Senate Majority Leader Mitch McConnell introduced an alternative proposal. In it, the checks are increased as President Donald Trump, many Democrats and even some GOP lawmakers have urged.
But McConnell also ties those fatter payments to Trump priorities including probing allegations of election fraud and diminishing liability protections for social media platforms, Newsweek reports.
Sent the original COVID-19 economic stimulus bill, Trump declined to sign without major changes. He wanted individual relief checks boosted from $600 to $2,000.
Unrelated to COVID, he also wanted a repeal of Section 230 of the Communications Decency Act, which protects social media platforms from being sued over third-party content. And he wanted inquiries into his claims of election fraud, which have been been pressed without success in court and at the legislative level for weeks since the Nov. 3 election outcome favored opponent Joe Biden.
Senate Democratic leader Chuck Schumer of New York said the new proposal from McConnell could not pass, giving the majority leader an "out" on the larger relief package.
In a statement, Newsweek reported, Schumer had this to say: "Senator McConnell knows how to make $2,000 survival checks reality and he knows how to kill them," Schumer said. "If Sen. McConnell tries loading up bipartisan House-passed CASH Act with unrelated, partisan provisions that will do absolutely nothing to help struggling families across the country, it will not pass the House and cannot become law."
The move by McConnell creates a bind for Dems, who can either vote the bill down and be blamed for killing the package of much-needed aid, or embrace it with the add-ons and, as Newsweek put it, "lend credence" to Trump's claims of election fraud that drove his loss to Biden.
The immediate future of the Republican legislator's proposed alternative is not clear. He said Tuesday, albeit without a precise time frame, that lawmakers would be beginning a process to help focus and refine the president's wishes.
In a sign of how House Dems were likely to view the McConnell plan, New Jersey Rep. Bill Pascrell Jr. tweeted this, Newsweek reported: "To block you from getting $2000 mitch mcconnell is demanding a 'commission' to spew lies about the election trump lost and attack democracy. This is a goddamn disgrace. The depravity of republican leaders has no bottom."
Dem firebrand and New York Rep. Alexandria Ocasio-Cortez tweeted: "I think it's a big mistake to not approve a clean bill sending $2k checks out to people, so let's call it even. Keep going @BernieSanders! Make the Senate countdown the New Year on the Senate floor until they pass $2k checks, no funny business attached."
Via News max