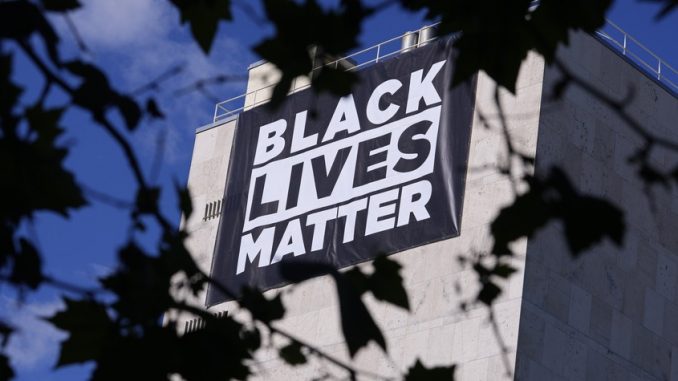 Some Whole Foods employees want to wear face masks that show their support for Black Lives Matter. Whole Foods objects on the basis that its dress code prohibits employees "from wearing attire or apparel with any visible slogans, messages, logos or advertising that are not company-related." The case will be heard by a National Labor Relations Board (NLRB) judge in March.
NLRB accuses Whole Foods of violating workers' rights. Jennifer Abruzzo, appointed by Biden as the board's general counsel, is insisting that Whole Foods allow its employees to display political messages as part of their uniform. Apparently, in Biden's America, the federal government dictates dress codes for private businesses. Abruzzo argues that the denial of wearing BLM face masks is violating the First Amendment rights of workers. Whole Foods counters that forcing the company to allow the use of BLM face masks forces the company to take a political stance, which violates its First Amendment rights. Also, Whole Foods said that the NLRB is violating trademark rights by forcing it to allow employees to display a "political message in conjunction with its trademarked uniforms and logos. You get the picture.
The problem with NLRB's argument is that Whole Foods isn't singling out supporters of Black Lives Matter. It doesn't allow any political messages by employees.
Though the case is over workers' complaints about not being able to wear BLM masks, company spokesman Brian McGuigan said Whole Foods isn't singling out the movement. The company's dress code prohibits employees "from wearing attire or apparel with any visible slogans, messages, logos or advertising that are not company-related," he said in a statement to The Washington Times.

The company's dress code "is designed to ensure we are giving Team Members a workplace and customers a shopping experience focused entirely on excellent service and high-quality food. We do not believe we should compromise that experience by introducing any messages on uniforms, regardless of the content, that shift the focus away from our mission," it said.
Supporters of the Black Lives Matter movement expect special treatment. Workers filed a complaint with the NLRB which argues that workers are protected under federal labor law that allows them "to take concerted activities for their mutual aid and protection." Abruzzo argues that workers do have a right to advocate for a "broader movement" at work, as she told Bloomberg last month. She is a former special counsel for the Communication Workers of America. I wonder if she would be making the same argument if a worker insisted on wearing a MAGA face mask at work or perhaps one that advocated for school choice. Abruzzo was confirmed on a party-line vote in the Senate with Kamala casting the tie-breaking vote.
Shoppers don't want to be subjected to the political opinions of workers. This argument has nothing to do with workers' safety at work and the dress code has everything to do with ensuring a pleasant shopping experience for the customer. Whole Foods isn't an exception in its dress code enforcement. Companies with dress codes do not, as a rule, allow employees to make political statements. The whole point of a dress code is to avoid attention-getting clothing or accessories.
Whole Foods is owned by Amazon. This argument goes back to 2020 and the popularity of BLM accessories during the Summer of Love. Whole Foods disciplined workers at the time for refusing to comply with the dress code. The National Retail Federation warns that the NLRB's actions against Whole Foods are "dangerous" for employers nationwide.
"This determination by the National Labor Relations Board's General Counsel establishes a dangerous and inconsistent precedent for employers," the NRF told FOX Business in a statement. "In effect, this policy places front-line managers in the role of monitoring and adjudicating conflicts involving social or political speech based on variable standards."

The NRF added that it "supports the notion that employers should be able to maintain content-neutral dress codes that prohibit social or political advocacy speech in the workplace and allow employees to focus on serving their customers."
Jonathan Turley has an op-ed in The Hill today about this case. Turley points out that Jeff Bezos has always told his employees to "start with the customer and work backward." This kind of demand by activist employees clearly puts the worker first above the customer. "Whole Foods is fighting for the right to maintain a workplace free of political slogans or demonstrations."
In her consolidated complaint against Whole Foods Market, Inc., San Francisco Regional Director Jill Coffman declared that the company is violating the rights of workers in 10 different states (Massachusetts, New Hampshire, Pennsylvania, New Jersey, Virginia, Maryland, Georgia, Washington, Indiana, and California). Coffman maintained that "through this complaint, we hope to enforce the Act and protect workers' rights to speak up about these important issues."
Turley points out that this free speech claim goes both ways and is frequently in the news over censorship by social media giants, for example, usually against conservatives. He asks, what's next? Will employees be allowed to lecture customers in the check-out line or take a knee before serving a customer? Companies are allowed to enforce their dress codes. Employees voluntarily sign on to work for these companies and know that dress codes are a part of their employment.
There is hypocrisy over this issue all around. Just this week, American Airlines groveled with an apology to a customer who complained on social media about a pilot's luggage that displayed a small "Let's Go Brandon" sticker. This happened Saturday when a passenger flying from St Lucia to Miami noticed the sticker and had a hissy fit on Twitter. She called it 'cowardly rhetoric'. Dana Finley Morrison, a Missouri-based fraternity and sorority worker, shared screenshots of her interaction with the airline. American Airlines promised an internal review. Her Twitter account is now locked. (Who's the coward now?) American apologized on Monday.
Morrison tweeted to American Airlines, saying: 'Y'all cool with your pilots displaying this kind of cowardly rhetoric on their crew luggage when they're in uniform, about to board a plane?

'We are not the only passengers who noticed and were disgusted.'

The airline then responded to Morrison, saying: 'Thank you for bringing this to our attention and we want to get this to the right team. Please DM any additional details.'

Morrison later posted screenshots which she said was the conversation with American Airlines, with the airline promising to review the matter internally.

'We hold our team members to the highest standards and expectations,' the airline said.

The airline has a policy that only official, preapproved badges or pins can be worn by its staffers. Examples include a military veterans pin, a gay pride pin and one for Christian workers. Pilots can only wear three pins at a time.
You notice the passenger specifically said the offense occurred while the pilot was in uniform. American isn't anti-political message, as the acceptance of some pins show, and it has also issued BLM pins to its employees. The airline caved to demands from employees to be allowed to dish up their political support for the far-left Marxist, anti-Capitalism organization.
In October 2020, however, the Dallas Fort Worth-based airline came under fire after it created an official 'Black Lives Matter' pin for employees.

Called the 'Stand for Change' badge, the adornment's release came after staffers implored the airline to allow them to express their support towards the left-leaning sentiment, with many wearing unofficial, non-approved messages bearing the message.

The airline eventually succumbed to employees' demands, despite its company policy of not supporting organizations – political or otherwise.

'American Airlines believes in equity and inclusion for all,' a rep for the company wrote in a statement at the time. 'In light of the appropriate attention to lives of Black Americans, we will allow team members who wish to wear a Black Lives Matter pin to do so if they choose.'

'We Believe Black Lives Matter. While American isn't expressing support for specific organizations, we stand in solidarity with the movement for equality and justice for Black Americans who continue to experience racism and discrimination.'
So, at this point, American may as well ditch the company policy since it's a farce. Black Lives Matter is a specific organization. Whole Foods, however, doesn't want to be in this position. Are we to believe all employees of American agree with the little pins allowed as part of their uniform? Of course not. The same is true of Whole Foods employees. Can the government require Whole Foods to allow the BLM propaganda on face masks?
Turley writes about a case last February. U.S. District Judge Allison Burroughs dismissed a claim against Whole Foods in Cambridge, Massachusetts over a complaint that the store discriminated against employees who wore BLM masks. The judge found that the rule was enforced against other political expressions and that the law doesn't protect free speech in a private workplace.
Last February, U.S. District Judge Allison Burroughs dismissed such a challenge involving a Whole Foods in Cambridge, Mass., after employees claimed that the company was selectively enforcing its dress code by banning "Black Lives Matter" face masks. In her opinion, Burroughs found that this long-standing policy was not strictly enforced until recently, including instances where employees wore "LGBTQ+ messaging, National Rifle Association ("NRA") messaging, the anarchist symbol, the phrase 'Lock Him Up' and other non-Whole Foods messaging," including a SpongeBob SquarePants mask. The Court ruled that these allegations did not amount to race-based discrimination under Title VII and the law "does not protect free speech in a private workplace."
Turley notes the irony in these claims against Whole Foods, a noticeably liberal company under the direction of Jeff Bezos and "its $10 million in donations to social justice causes and groups. The "Whole Foods, Whole People, Whole Planet" slogan highlights the common ground with its clientele." We'll see where this goes in March. In Biden's America, the government overreaches into all aspects of American life.
Via        Hot Air