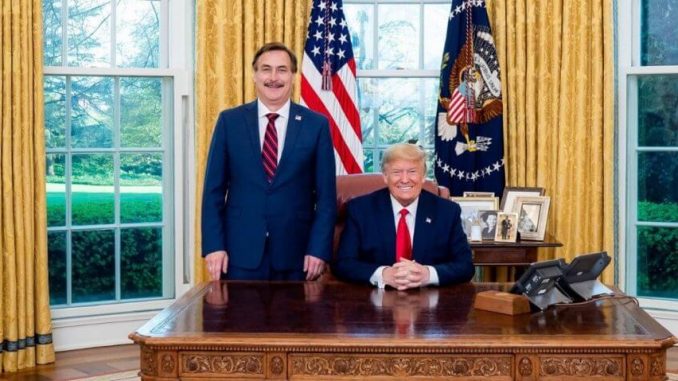 In one of the stranger events to happen this week, CEO Mike Lindell of the incredibly successful MyPillow company reportedly met with President Donald Trump briefly on Friday at the White House with notes in his hand that was captured by a Washington Post reporter, which detailed the reason for his hasty visit.
According to the Washington Examiner, Lindell apparently advised — on behalf of an attorney — the president to replace current Central Intelligence Agency Director Gina Haspel with Kash Patel — a former aide to Rep. Devin Nunes.
"I was the messenger on that," Lindell told the outlet, adding that he was "delivering recommendations from an attorney."
A reporter caught a close-up zoom of Lindell's documents, which some believe contained the words "martial law," although Lindell has since denied that his papers mentioned the phrase whatsoever. Conspiracy theorists believe that Trump will soon implement martial law, followed by a series of military tribunals which will result in mass arrests of prominent figures like former President Barack Obama and Hillary Clinton, among others.
A closer examination of the documents appear to contain the phrase "martial law", but you can decide for yourself by peeping the documents in the tweet below:
On Mike Lindell's notes:

"…TAKEN IMMEDIATELY TO SAVE THE…CONSTITUTION"

Names Sidney Powell and Kurt Olsen

Says Kash Patel should be moved to "CIA Acting…" https://t.co/F1Y8FItd2U

— Kaitlan Collins (@kaitlancollins) January 15, 2021
On the paper was mention of Sidney Powell, the prominent attorney who once claimed to have all the evidence necessary to overturn the results of the 2020 election in several states, but was repeatedly shot down in court for the lack of anything that would cause such an outcome. Her case was once widely referred to in conspiracy circles on social media as the "Kraken" lawsuits.
His notes also referenced yet another popular conspiracy theory in which some of his supporters believe he will institute the "Insurrection Act" before he leaves office.
Lindell told reporters that "More than 80 million people believe the election was the result of fraud." He wrote off the reality of no substantial evidence being looked at or barely considered by judges as an "agenda."
Trump and Lindell have shared a close relationship during his term in the White House, with Lindell often making appearances at his MAGA rallies.
The MyPillow CEO has also been a prolific pusher of the idea that widespread fraud took place in the 2020 election which resulted in Trump's loss, though as of this writing, not a single judge in federal or local courts across the country have lent any credibility to the claims.
After their brief visit, the president reportedly told Lindell to hand his documents to one of his aides.