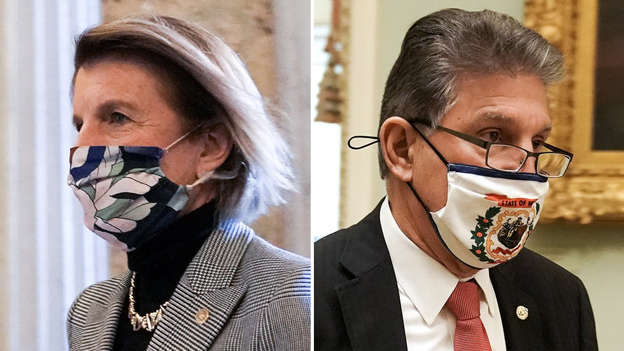 A group of Republican and Democratic moderates in the Senate are circling around a compromise infrastructure spending proposal that would cost around $800 billion — a sum that falls well short of what most Democrats want and what President Biden has proposed.
At the end of March, Biden unveiled $2.25 trillion proposal dubbed the "American Jobs Plan" focused on updating roads, bridges and public transit, along with funding to fight climate change and other provisions to prop up American families.
The president proposed raising the corporate tax rate to fund the bill, a measure that both Republicans and moderate Democrats have bristled at.
And while moderate Republicans and Democrats have agreed to come together to write a leaner proposal, some GOP members have signaled $800 billion may still be too much, while Democrats are more apt to push for a higher price tag.
Sen. Shelley Moore Capito (R-W.Va.) is leading the push for a compromise proposal that she says could fall in the range of $600 billion to $800 billion over five years.
"I said between $600 billion and $800 billion, that is very ballpark-y," Capito, the ranking Republican on the Environment and Public Works Committee, said Wednesday, citing spending on expanding broadband and port infrastructure.
Other GOP moderates say Capito's figure is a good starting point.
"I'm going to be getting a presentation from Sen. Capito next week … but certainly I think $800 billion would be a great package," Sen. Susan Collins (R-Maine) said.
The West Virginia Republican got a boost Thursday when Sen. Chris Coons (D-Del.), a key Biden ally, endorsed her spending target.
"I talked to Sen. Capito yesterday. The path forward that I'm seeing and that I'm working for is one where we take up and pass a bipartisan infrastructure bill, one that focuses on areas where the parties really agree," he said in a CNN interview. "That could end up being an $800 billion to $1 trillion bipartisan bill."
Coons told reporters in an interview later Thursday that it would be smart to pass a scaled-down bipartisan infrastructure bill first and then take up the remaining priorities on Biden's infrastructure agenda in a second bill that could pass the Senate under budget reconciliation, a process that would only require Democratic votes.
"We are trying to get $2 trillion in infrastructure and jobs investments moving ahead. Why wouldn't you do $800 billion of it in a bipartisan way and do the other $1.2 trillion [Democrats] only through reconciliation?" he said.
But moving a scaled-down infrastructure package through the Senate, even as a down payment on Biden's $2.25 trillion Build Back Better agenda, may be a tough sell in the Democratic caucus.
Perhaps the most influential centrist in Congress, Sen. Joe Manchin (D-W.Va.), isn't endorsing a scaled-down infrastructure bill.
Manchin indicated on Thursday that he isn't ready to settle on an $800 billion target for infrastructure spending.
"We're going to do whatever it takes. If it takes $4 trillion, I'd do $4 trillion but we have to pay for it," he said.
"What we have to do is identify infrastructure. Come to an agreement but we all identify. And the need of infrastructure, make sure we can do it [with] timeliness and make sure we pay for it."
"There's no number that should be set on at all," he added.
Other Democrats say they want to "go big," expressing concerns about talk of downsizing Biden's infrastructure proposal. Some of them worry that the political momentum for passing a second package may dissipate later in the year.
"I think we got to go big on this," said Sen. Bob Casey (D-Pa.). "We're still in the early stages of it. We still have to do a lot of talking to folks and begin drafting legislation."
"It's a really important moment to go big and I worry that talk that focuses on scaling things down is negotiating against the goal that we all have," he said.
A group of Republican and Democratic lawmakers from the House and Senate had a call with Maryland Gov. Larry Hogan, a moderate Republican, Thursday to explore options for a bipartisan infrastructure proposal that would be a fraction of the cost of Biden's plan.
"It is always encouraging when you're talking with bipartisan members of the Senate and House. Gov. Hogan was on [the call.] I think this is how you go about a proposal that's really going to get not only 50 Democrats and one Republican but a really good bipartisan package," said Sen. Lisa Murkowski (R-Alaska) of the Thursday morning call sponsored by No Labels, a group that proposes bipartisanship.
Yet there's even division among moderate Republicans over how much to spend.
Sen. Mitt Romney (R-Utah) signaled that $800 billion in new infrastructure spending is more than he's comfortable with.
"It depends on what's in it, what we define as infrastructure," he said. "That number seems a little high but there may be some elements in that that I'm not familiar with."
There are also disagreements among GOP lawmakers over how to pay for it.
Capito said Thursday that raising the corporate tax rate to pay for infrastructure is a "non-starter."
"I think that's a non-negotiable red line," she said Thursday. "For me personally, that's a non-starter."
Murkowski expressed some more flexibility on raising revenues but criticized the Biden administration for relying entirely on higher corporate and business taxes to pay for his infrastructure proposal.
"You have a really, really big package that the administration has laid down and they're saying this is how we're going to pay for it," she said referring to a proposal to raise the corporate tax rate to 28 percent.
She suggested a mix of higher user fees, including an increase in the gas tax, should be considered.
"Why are we not looking at the gas tax? Why are we not even having a discussion about actual miles traveled on the road?" she said. "There's been no imagination, I don't think, that's gone into, 'How are you going to deal with pay-fors?'"
Via The Hill