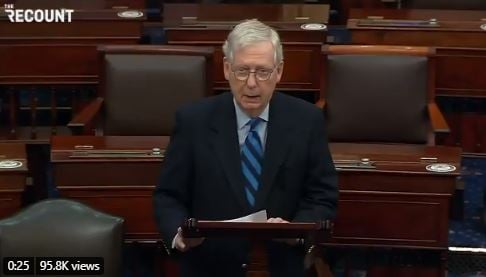 18 RINO Senators voted on Saturday in favor of the Democrat Party's infrastructure bill, something Democrats never allowed to reach President Trump's desk.
The RINOs gave Joe Biden a rare win at a time when the illegitimate president is sinking in the polls and continues to struggle with his diminishing faculties.
Mitch McConnell led the charge of the RINOs.
The Uniparty strikes again.
FOX Business reported:
The Senate on Saturday convincingly advanced the bipartisan $1 trillion infrastructure bill in a key test vote to break the filibuster, putting the upper chamber one step closer to passing one of President Biden's marquee spending priorities.

The vote was 67-27 during a rare weekend session when the House had already recessed until September for summer break. The legislation needed 60 votes to move forward and 18 Republicans, including Senate Minority Leader Mitch McConnell, R-Ky., joined with Democrats to clear the bill past one more procedural hurdle.

It was not immediately clear when the Senate would take a vote on final passage since there's disagreement among Republicans and Democrats on how long the amendment process should last. But Senate Majority Leader Chuck Schumer, D-N.Y, said the Senate will remain in session as long as it takes to pass the bill.

"We can get this done the easy way or the hard way," Schumer said Saturday. "In either case, the Senate will stay in session until we finish our work."

President Biden and the authors of the legislation say the bill is long overdue to repair the nation's crumbling infrastructure and prove that Congress can still work together in a bipartisan way for the good of the country.
The 18 GOP members who voted for this monstrosity Saturday:
** Mitch McConnell
** Roy Blunt of Missouri,
**Shelley Moore Capito of West Virginia,
**Bill Cassidy of Louisiana,
**Susan Collins of Maine,
**John Cornyn of Texas,
**Kevin Cramer of North Dakota,
**Mike Crapo of Idaho,
**Chuck Grassley of Iowa,
**John Hoeven of North Dakota,
**Deb Fischer of Nebraska,
**Lisa Murkowski of Alaska,
**Rob Portman of Ohio,
**Jim Risch of Idaho,
**Mitt Romney of Utah,
**Thom Tillis of North Carolina,
**Todd Young of Indiana
**Mike Rounds of South Dakota.