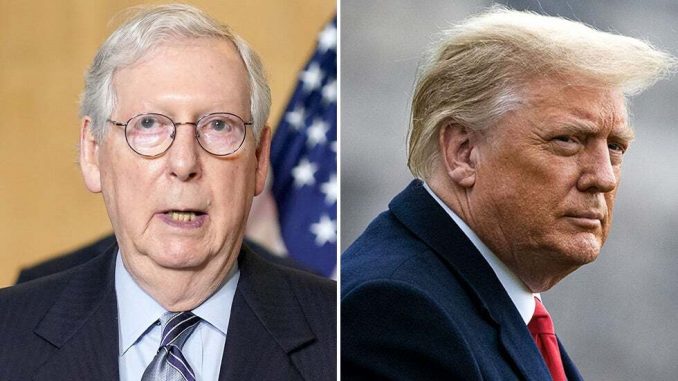 Senate Minority Leader Mitch McConnell (R-Ky.) is safe in his job despite repeated attack from former President Trump, Republican aides and strategists say.
At the same time, GOP sources say that McConnell's long-term future atop the Senate GOP may depend on what happens in the 2022 and 2024 elections and whether Trump, who is strongly considering another presidential campaign, expands his power in the party.
The key difference between McConnell and Rep. Liz Cheney (Wyo.), the third-ranking House GOP leader whose ouster is a foregone conclusion this week, is that McConnell's focus is not on firing away at Trump. Instead, McConnell is focused on opposing President Biden's agenda and protecting GOP Senate seats in 2022.
Since delivering a scathing speech on the Senate floor accusing the former president of being "morally responsible" for the Jan. 6 attack on the Capitol, McConnell has generally avoided commenting on Trump or his false claims that Biden won the presidency because of widespread fraud.
McConnell on Thursday waved off a question about Trump's latest criticism of his leadership, telling reporters in Kentucky that he's more focused on Biden.
"I'm focused entirely on the present and the future not the past," he said. "My view at the moment is we need to turn this administration into a moderate administration."
Cheney, by contrast, has called out colleagues for perpetuating the "big lie" that Trump lost because of fraudulent votes, annoying a number of GOP lawmakers.
She penned an op-ed for The Washington Post on Wednesday in which she warned "the GOP is at a turning point" and that "history is watching us," challenging her Republican colleagues to reject Trump's repeated claims of election fraud.
She even called out her own leader, Rep. Kevin McCarthy (R-Calif.), for changing his story about whether he holds Trump responsible for the Jan. 6 attack.
Ex-aides loyal to McConnell say their former boss is playing the intraparty divisions with skill.
"He said what he said, he made his views known and every time he's been asked about it since, he's said, 'Look, you know my views on it, I'm focused on the future.' And that's what his conference wants him to do and that's what Liz Cheney's conference wants her to do," said Scott Jennings, a GOP strategist and former McConnell campaign adviser.
"The difference in these situations is McConnell as a member of leadership is endeavoring not to become a distraction or liability for his conference whereas Cheney is, as far as I know from the coverage, is actually angering some people who voted for impeachment for her zeal for expressing her views," he added. "McConnell is not making that mistake."
At the same time, Trump's repeated calls for Senate Republicans to replace McConnell as their leader raises questions about his future.
Al Cross, a professor of journalism at the University of Kentucky and longtime commentator on Kentucky politics, said Republican senators are more insulated from Trump's current popularity with GOP voters because they serve six-year terms.
But he warned that if Trump maintains his influence among Republican voters, sooner or later there may be a reckoning for McConnell.
"I do think if Trump continues to gain power within the party that it will complicate things for McConnell," he said.
Chip Saltsman, a Republican strategist, said Trump's popularity with the Republican base is as strong as ever and predicts he will continue to be a major force in Republican politics.
"Do I think the president is going to be active in Republican politics beyond this cycle? Yes, maybe with two exclamation points. The reason I say that is he loves it, he's good at it and he fires up the base like I haven't seen in a long time," he said.
Saltsman said Trump is able to generate grassroots excitement in the early months of a nonelection year like might be expected six or eight weeks before an election.
"Trump can do that on a Tuesday afternoon about whatever he wants to do it," he said. "His greatest superpower is activation of the base," noting that energizing Republican voters will be critical to winning future elections.
Sen. Lindsey Graham (R-S.C.) on Thursday said Trump will be critical to the future political success of the party, cautioning Senate GOP colleagues who hope to make a clean break of the former president.
"I would just say to my Republican colleagues, can we move forward without President Trump? The answer is no," Graham told Fox News's Sean Hannity.
"I've always liked Liz Cheney, but she's made a determination that the Republican Party can't grow with President Trump. I've determined we can't grow without him," Graham said.
Saltsman said the six-year terms served by senators is a key difference with the House that insulates McConnell to a degree.
He said McConnell will stay leader "as long as he's got a majority of senators on the Republican side who want him to be," pointing out that McConnell maintains strong support in his conference.
"The Senate is a little more methodical and moves a little slower and takes their time on things, not only on issues but politics, too," he said.
A senior Republican aide said McConnell is safe because he's not pressing any argument with Trump, unlike Cheney.
"I don't think Trump is any threat to McConnell. The reason Cheney's getting kicked out isn't because of whatever she believes, it's because she won't stop talking about it," the aide said.
"Many members want Trump to go away and the easiest way to make him go away is you stop talking about him," the aide added.
The aide said the question is whether McConnell decides to remain as Senate Republican leader after the 2022 midterms. He is 79 years old and was just elected to a seventh term, which expires at the end of 2026.
McConnell has also traveled his home state and given public remarks on an almost daily basis during the two-week April recess and the early-May recess, staying as active as if he were up for reelection next year.
But McConnell was also the mastermind behind the passage of a new state law that requires in the event of a Senate seat vacancy the governor appoint a successor who is of the same party and chosen from a list of three names provided by the senator's state party's executive committee.
The law would prevent Gov. Andy Beshear (D) from appointing a Democrat to fill a vacant Senate seat.
McConnell's role in pushing the law prompted speculation that he may be laying the groundwork for retiring from the Senate before his full term is up, though he quickly dismissed that possibility.
"I'm not going anywhere. I just got elected to a six-year term, and I'm still the leader of my party in the Senate," he said in late March.
The GOP aide said McConnell is helped by the fact that no other Republican senator is gunning to replace him as leader.
"There's nobody champing at the bit," the aide said.
Via The Hill