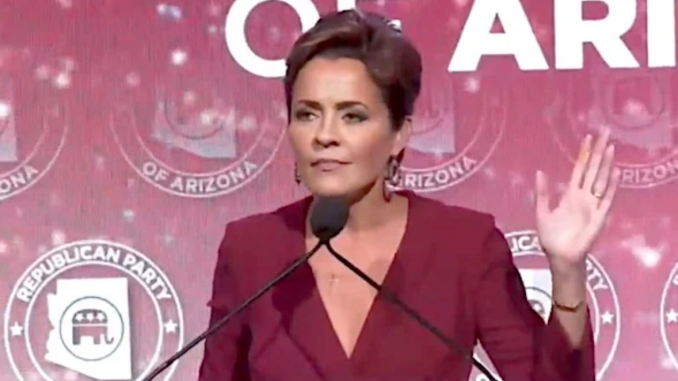 Following the passionate testimony of poll workers and voters expressing anger and frustration, the Maricopa County Board of Supervisors voted unanimously to certify their election canvass ahead of a state deadline Monday.
Republican gubernatorial candidate Kari Lake, who lost to Secretary of State Katie Hobbs by less than 18,000 votes, according to the official count, has charged voting tabulator and printing malfunctions suppressed the vote on Election Day vote, when most of her supporters planned to cast their ballots.
During the public testimony, a poll observer said that at 7 p.m. on Election Day, when the polls closed, there were 675 people waiting in line at his voting location. Only 150 of those people ended up voting, he said.
Charlie Kirk, founder of the conservative Turning Point USA, said via Twitter that based on the testimony Monday, "it's very safe to assume" that among 223 polling centers in the county, 200 people per polling center were disenfranchised, a total of 44,600 votes were not. Among those votes about 70% likely voted Republican.
Another poll observer testified that a vote tabulating machine that was found not to be working the night before the election during a test run, nevertheless, was used the next day.
Janelle Weaver of Goodyear, Arizona, said she was volunteering at a poll center at Valley Baptist Church in Tonopah, west of Phoenix, beginning at 5:40 a.m. on Election Day.
"From the start, both tabulators were not working," she said.
One machine had failed the test the night before, and the other was found to be in order, but it was not working on Election Day morning, she said she was told by poll workers.
Weaver said that Maricopa County had promised to supply a replacement tabulator "first thing in the morning," but "by the time I left at 1:40, there was not a second tabulator that was working."
By 7:17 a.m. on Election Day she said, one of the tabulators was working, but it was processing only 1 of 5 ballots.
See a clip of Weaver's testimony:
BOMBSHELL: Poll Observer Testifies that a machine was NOT working the night before the election during a test-run & was STILL USED the next day pic.twitter.com/GTzWB3vvfp

— Kari Lake (@KariLake) November 28, 2022
A woman from Goodyear, Arizona, who said she was an election marshal at the Estrella Foothills polling station, testified that the tabulators didn't even work on their training day.
On Election Day, they got "misreads" on ballots "for the whole entire day."
"We are living in perilous times. This is a battle of good and evil. You can sit as lords over us – and I hope that anybody that's running for a position in politics can would get it through their heads, that when they are elected, they are not gods over us. They are elected as servants to us, we the people."
She warned that "there will come a day when you will sit before a higher judge, you will sit before a higher judge and and you will be held accountable for your role in what's been going on, for the deception and mocking God with calling evil good and good evil."
See her testimony:
At the end of the meeting, Maricopa County Recorder Stephen Richer insisted no voter was disenfranchised.
"These conversations need to focus on real issues. We can spend the next two years as we've spent the last two, fighting over conspiracy theories promoted on social media by people who know nothing about —" he said before he was cut off by a chorus of boos.
Board Chairman Bill Gates acknowledged machine malfunctions, promising to conduct an "even deeper dive" to fix the problems.
"Let me be abundantly clear: There has never been a perfect election, and this was not a perfect election," he said. "There were issues, but we were transparent about that."
While the deadline for certifying the election is Monday, the Cochise County Board of Supervisors in Arizona voted 2-1 to delay certification of their results. The county has demanded the state prove that voter tabulation machines were certified for accuracy.
The board of Cochise County – which is in the southeast corner of Arizona, on the border with Mexico – could face a lawsuit from the state. Another meeting of the county board is scheduled for Friday.
'The most pathetic, inept response I've ever seen'
Ben Bergquam, who reports for Real America's Voice, noted to the supervisors that he and a reporter for the Gateway Pundit were denied entry to the Maricopa County elections office on Election Day.
But he focused on the voting machine breakdowns.
"What we saw on Election Day was outrageous," he said.
"You cannot say that you can certify an election when half of the voting machines were down. Was it a thousand people that were disenfranchised? Was it 10,000, of the people that were in line or didn't show up because they saw in the news the election machines didn't work?"
Berquam said it was clear that the supervisors already had decided to certify the election, and his testimony and that of others were just "semantics."
He said the board's reply to concerns spelled out by the office of Arizona Attorney General Mark Brnovich was "the most pathetic, inept response I've ever seen."
"You have not redressed the grievances of these people," he said.
After citizen complaints flooded the AG's office, Assistant Attorney General Jennifer Wright, who heads the Elections Integrity Unit, sent a letter Nov. 19 to Maricopa County Attorney Tom Liddy requesting information necessary for the elections to be certified. The reply, which came Sunday, argued voters who experienced tabulator issues were given other legal options to vote.
In his testimony, Bergquam spoke directly to the chairman, Gates, noting Gates founded a PAC to oppose "election deniers" like Kari Lake, and that Lake's opponent, Katie Hobbs, was overseeing the election as secretary of state.
"How can you say there's no conflict of interest?" he asked. "And then your machines go down on Election Day.
"If you certify today," he concluded, "the only thing you will be certifying is your corruption."
Late Monday afternoon, Lake posted a video update in which she thanked the citizens who spoke at the Board of Supervisors meeting.
"Thank you, and God bless each of you," she said. "I am with you."
Lake said she is working with "a team of patriotic, talented lawyers" on a legal challenge to the election result.
"Arizona, America, if we do not stand up and speak up right now about the most dishonest elections in the history of Arizona, I truly fear for our future," she said.
See Lake's video:
Other testimonies:
A poll worker described "complete chaos" as machines broke down and angry voters said they had to get back to work.
"This is voter suppression. Many voters told me they did not have time to get in line again to recast their new ballot. One such person was a policeman who was on duty and said that he had needed to leave on an emergency call."
A poll worker said all the machines at his polling location were inoperable at opening on Election Day.
David Clements – an attorney and a former New Mexico State University professor known for his opposition to COVID-19 mask and vaccine mandates, and his claims of fraud in the 2020 election – scolded the board for giving citizens only two minutes to testify about "a national crisis."
"Watching you pledge allegiance to my flag was disgusting, the way that you sold us out," he said.
Sharon Huber of Wickenburg, Arizona, said she "tried over and over, for close to an hour" to scan her ballot, noting she was a poll worker under previous secretaries of states, and "We never had problems like this."
A grandmother said: "I don't normally do this, so I'm really kind of nervous. I'm doing this for my child and my grandchildren. I feel that we are losing our nation because we can't have fair transparent elections."
"I don't normally do this, so I'm really kind of nervous. I'm doing this for my child and my grandchildren. I feel that we are losing our nation because we can't have fair transparent elections." pic.twitter.com/4GsidwbqlL

— Kari Lake War Room (@KariLakeWarRoom) November 28, 2022
One voter read from Psalm 58, from the Living Bible version, describing it as "what God has to say to all elected officials."
"Justice? You high and mighty politicians don't even know the meaning of the word! Fairness? Which of you has any left? Not one!" it reads. "All your dealings are crooked: you give 'justice' in exchange for bribes. These men are born sinners, lying from their earliest words! They are poisonous as deadly snakes, cobras that close their ears to the most expert of charmers."
WATCH this Incredible Woman share scripture with the Maricopa Board of Supervisors. This is POWERFUL. pic.twitter.com/IWEVoJyJYP

— Kari Lake War Room (@KariLakeWarRoom) November 28, 2022
See the Maricopa County Board of Supervisors Special Meeting:
Via Wnd