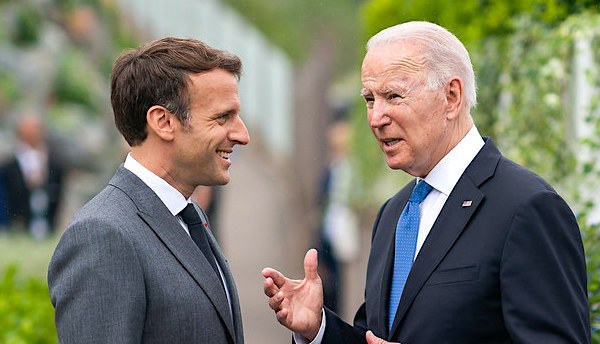 French President Emmanuel Macron was re-elected to a second term Sunday evening with 58.8% of the vote, according to reports from the Ipsos polling institute, reports France 24 News from France.
Marine Le Pen, Macron's far-right challenger won 41.2% of the vote in an election that may have been a historical landmark as the country's highest abstention rate in 50 years.
Reports indicate the abstention rate was at an estimated 28.2%, up 1.9 points from the first election round and 2.7 points from the second round in 2017.
Speaking to a crowd of thousands on the Champ de Mars near a sparkling Eiffel Tower, Macron said the election results were a win for "a more important France and a stronger Europe." He also said he understood "the anger that has been expressed" throughout the election and pledged to "respond effectively" in an attempt to unite his countrymen.
In her concession speech and third failed attempt to become France's president, Le Pen held her head high and showed no signs of defeat.
She described her loss as a "striking victory" and declared she was preparing a "great battle" for France's upcoming June parliamentary polls. She took a strike at what she called "bitter and violent methods" of Mr. Macron and swore to fight on.
She said that the "French people have this evening shown their desire for a strong counter power to Emmanuel Macron."
Jean-Luc Mélenchon, who finished third in the original election first round said Le Pen's loss was "very good news for the unity of our people," but confirmed her assertions about the French president, saying that Macron was "the most badly elected president of the Fifth Republic."
The Fifth Republic is France's current republican form of government, which came into effect in October 1958 and its first president was Charles de Gaulle.
"At a critical moment in Europe, with fighting raging in Ukraine after the Russian invasion, France rejected a candidate hostile to NATO, to the European Union, to the United States, and to its fundamental values that hold that no French citizens should be discriminated against because they are Muslim," the New York Times wrote.
In Madrid, Spanish Prime Minister Pedro Sánchez who is also leader of the nation's Socialist Party declared that Macron's win was a victory for the free world, the Associated Press reported. "Democracy wins, Europe wins," he said.
"Citizens have chosen a France committed to a free, strong and fair EU," he added referring to the 27-member European Union.
Le Pen has been noted for uniting the far right in France more than any other leader since the 1940's. In reference to her 2017 campaign visit to the Kremlin, the New York Times described her as "a longtime sympathizer with President Vladimir V. Putin of Russia."
The paper added, "She would almost certainly have pursued policies that weakened the united allied front to save Ukraine from Russia's assault, offered Mr. Putin a breach to exploit in Europe, and undermined the European Union."
Via ADNAMERICA