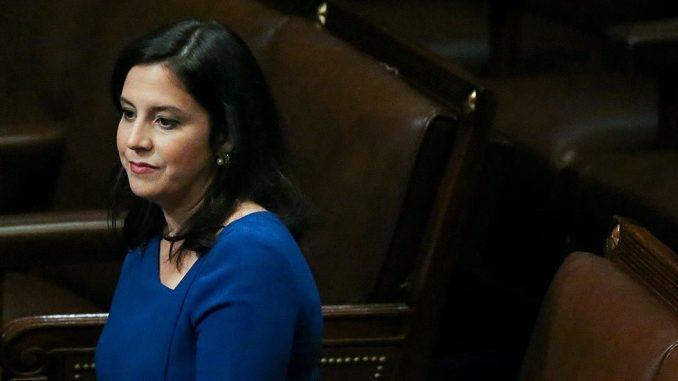 Some conservative groups are arguing that Rep. Elise Stefanik (N.Y.) is too liberal on policy to replace embattled Rep. Liz Cheney (Wyo.) as the third-ranking House Republican.
The 36-year-old Stefanik has emerged as the leading contender to fill Cheney's spot as GOP conference chair.
But FreedomWorks this week lamented Stefanik's "dismal" 37 percent score on the group's vote scorecard, arguing it would be a mistake to put her in charge of messaging in place of the staunchly conservative Cheney.
The Club for Growth has also gone on the attack.
"Elise Stefanik is NOT a good spokesperson for the House Republican Conference," the group said in a in a Wednesday tweet.
"She is a liberal with a 35% CFGF lifetime rating, 4th worst in the House GOP," the group added, referring to her score on the group's own voting scorecard.
"House Republicans should find a conservative to lead messaging and win back the House Majority."
Such complaints are unlikely to matter in a vote next week that has little to do with policy or conservative orthodoxy. The vote instead is shaping up as more of a loyalty test to former President Trump, the most powerful force in GOP politics despite his loss of the White House, and GOP losses of House and Senate majorities under his leadership.
Minority Leader Kevin McCarthy (Calif.) and Minority Whip Steve Scalise (La.) say they're fed up with Cheney's attacks on Trump and are already throwing their weight behind Stefanik to replace her.
And Trump likely sealed the contest on Wednesday, hailing Stefanik as a "far superior choice" to the "warmongering" Cheney — one who will advance his populist "America First" agenda.
Yet in dumping Cheney for Stefanik, Republicans would be putting in place a leader with a more moderate voting record as conference chair — the third-ranking position in leadership.
Stefanik arrived in Congress as a moderate, and built a voting record to match. As just a sophomore, she was elected as one of three co-chairs of the centrist Tuesday Group, serving alongside then-Rep. Charlie Dent (R-Pa.), a Never Trumper.
Her willingness to buck the party legislatively includes voting against Trump's signature legislative achievement: the 2017 tax overhaul.
And she gets low marks from three outside conservative groups who track each congressional vote. Along with Club for Growth, Heritage Action and the American Conservative Union also give her marks under 50 percent.
The likely power shift sends a clear signal that holding clout in today's Republican Party has less to do with promoting conservative values, and more to do with loyalty to Trump. It also suggests that speaking the truth about the 2020 election — that President Biden won fairly and that it was not stolen from Trump — can be punished.
While Stefanik entered Congress as a moderate, she has risen through fealty to Trump.
She earned attention during Trump's first impeachment trial defending the former president, and voted in January to challenge Biden's victory in Pennsylvania, one of the two states targeted by Republicans. She also signed on to a GOP lawsuit challenging results in Pennsylvania, Georgia, Michigan and Wisconsin.
"Tens of millions of Americans are rightly concerned that the 2020 election featured unprecedented voting irregularities, unconstitutional overreach by unelected state officials and judges ignoring state election laws," she said in a video statement on Jan. 4.
Stefanik has been privately telling colleagues she has the race locked up, especially given that no viable challenger has emerged. A handful of lawmakers from the conservative Republican Study Committee have thrown their support behind her, including Reps. Scalise, Jackie Walorski (R-Ind.), Lance Gooden (R-Texas), and first-term Reps. Byron Donalds (R-Fla.) and Ashley Hinson (R-Iowa).
"I respect Congresswoman Liz Cheney's strong conservative record and service to our country," Hinson tweeted Thursday. "However, I believe Congresswoman Elise Stefanik is the right person to unify and lead our conference at this time."
Gender politics are also playing a role in the race to oust Cheney. There are other lawmakers, more conservative than Stefanik, who also wanted the conference chair spot. But Cheney is the only woman at the high levels of GOP leadership, and for reasons of optics party leaders sought to replace her with another woman. Stefanik, with Trump's blessing, became the natural fit.
Conservative scorecards haven't mattered as much in the Trump era — they were more influential and closely tracked right after a Tea Party wave swept fiscally conservative Republicans into power in 2010. But the tallies give an indication how Republicans, over their careers, vote on issues such as debt, spending and trade.
Club For Growth's rating for Stefanik was 40 percent in 2019, the last year it released an accounting; and she has a lifetime rating of just 35 percent. Cheney had a 65 percent lifetime rating, while Cheney's deputy, GOP Conference Vice Chairman Mike Johnson (R-La.) had 87 percent.
The American Conservative Union gave Stefanik a lifetime rating of just 44 percent, compared to a 78 percent lifetime rating for Cheney and a 91 percent rating for Johnson.
"44% is terrible," said Matt Schlapp, chairman of the ACU, which organizes the annual Conservative Political Action Conference.
But Schlapp, a Trump loyalist, said ACU has not taken a position on Stefanik and that her "ratings have been steadily improving and her defense of Trump has been appreciated."
Still, in a demonstration of the influence Trump holds, some outside groups appear ready to pull their punches and support Stefanik — or at least not vocally oppose her — as she aims for the leadership ranks.
Heritage Action, for example, has given Stefanik low rankings since she entered Congress in 2015. The group says she supported 29 percent of their conservative agenda in her first cycle; 24 percent in her second; 56 percent in the last Congress; and 84 percent so far this year.
"It is always encouraging to see members' scores improve over time as is the case with Rep. Stefanik, whose score has steadily risen over the last three terms — we welcome any member of Congress to do the same," Garrett Bess, Heritage Action's vice president of government relations and communications, said Thursday in a statement.
Another conservative outside group, Americans for Prosperity, also is holding its fire. President Tim Phillips said his group typically doesn't get involved in leadership races.
Some Republicans are holding out hope that there's still a chance to block Stefanik's rise this month. One conservative GOP lawmaker is trying to pump the brakes on what he called a Stefanik "coronation."
"I don't think anything's certain," the lawmaker said. "There is a lot of grumbling among members who are worried we're going to trade one set of issues for another, trade Liz being out of lockstep with the conference with her rhetoric about Trump with Elise being out of lockstep with her voting record."
Amid the debate over Cheney one former GOP lawmaker called it laughable that some of his colleagues and conservative outside groups are suddenly raising the alarm about conservative scorecards when they haven't mattered since the rise of Trump, a president famous for valuing loyalty over policy.
"We used to have litmus tests in our party and the purity police who would tell us what it means to be a good conservative on guns, abortion, immigration and spending. Then Donald Trump came along and they said it doesn't matter anymore; it's all about loyalty to the man; it's a litmus test to him — not to any policy ideals or values," the former lawmaker said.
"The whole thing is a joke," he continued. "If they were really concerned about someone with conservative values, they would have left Liz Cheney alone."
Via The Hill