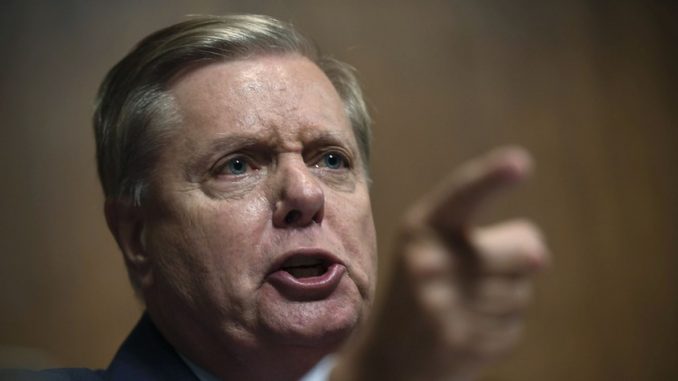 Senator Lindsey Graham caught a bit of a break on Sunday morning when a federal appeals court agreed to temporarily put on hold a lower court's order requiring him to testify before a special grand jury investigating the 2020 presidential election in Georgia. Graham has been fighting to avoid testifying. A subpoena instructed the senator to appear before the special grand jury on Tuesday.
Last Monday, Graham's request to quash his subpoena was denied by U.S. District Judge Leigh Martin May, an Obama appointee. On Friday, May rejected Graham's effort to put her decision on hold while he appealed. Graham's lawyers took their appeal to the 11th U.S. Circuit Court of Appeals.
On Sunday, a three-judge panel of the appeals court issued the order temporarily pausing May's order declining to quash the subpoena. The panel sent the case back to May to decide whether the subpoena should be partially quashed or modified because of protections granted to members of Congress by the U.S. Constitution.

Once May decides that issue, the case will return to the 11th Circuit for further consideration, according to the appeals court order.
For those keeping score at home, the three-judge panel of the Atlanta-based appeals court consists of Judges Charles Wilson (a Clinton appointee), and Kevin Newsom and Britt Grant, (Trump appointees). The court leans conservative.
Fulton County District Attorney Fani Willis opened the investigation last year into a phone call between Trump and Georgia Secretary of State Brad Raffensperger. During that phone call, Trump suggested that Raffensperger "find" the votes needed to overturn his narrow loss in Georgia. Willis and her team want to ask Senator Graham about two phone calls he allegedly made to Rafensperger and his staff. Shortly after the 2020 general election, Graham is said to have made the calls to ask about "reexamining certain absentee ballots cast in Georgia in order to explore the possibility of a more favorable outcome for former President Donald Trump," Willis wrote in a petition seeking to compel his testimony. She also wrote that Graham referenced allegations of widespread voter fraud in the November 2020 election in Georgia. His statements were consistent with those of members of the Trump campaign. She denied a motion to quash his subpoena by arguing that the senator may be able to provide insight into "the extent of any coordinated efforts to influence the results of the 2020 general election in Georgia."
There is the issue, though, of whether the subpoena infringes on Graham's legal protections as a member of the U.S. Senate. In 2020, Graham was Chairman of the Senate Judiciary Committee. The appeals court addressed that in their order on Sunday.
The appeals court said in a two-page order that Graham's attorneys and prosecutors for Fulton County District Attorney Fani Willis needed to flesh out arguments about whether Graham is entitled to have the federal courts place legal guardrails on the questioning Graham could face. The 11th Circuit panel's order said that those arguments should be presented first to U.S. District Court Judge Leigh Martin May, who issued a ruling last week rejecting the arguments Graham's team raised under the Constitution's speech or debate clause — which immunizes lawmakers from most legal consequences for actions relating to their lawmaking responsibilities.

His attorneys have argued that those conversations pertained to his official duties as a senator, but May ruled there were indications that the exchanges went beyond "legislative fact-finding."

"Senator Graham has unique personal knowledge about the substance and circumstances of the phone calls with Georgia election officials, as well as the logistics of setting them up and his actions afterward," May wrote in her decision last Monday.

"And though other Georgia election officials were allegedly present on these calls and have made public statements about the substance of those conversations, Senator Graham has largely (and indeed publicly) disputed their characterizations of the nature of the calls and what was said and implied. Accordingly, Senator Graham's potential testimony on these issues … are unique to Senator Graham."
Now Graham waits for both sides to "flesh out" their arguments. The court also must decide if as a U.S. senator he is entitled to protection from the federal courts.
Via            Hot Air
The Death of Black Coffee:
Latest studies have found that 1 tiny tweak to your morning coffee puts your body into fat-burn ing mode for the rest of the day.
This coffee trick takes less than 10 seconds…
Yet, it instantly ignites your metabolism and boosts your health, energy and well-being at the same time!
Here's to an amazing start to your day 🙂
====> Try This 10 Sec Fat-Burning Coffee Trick!