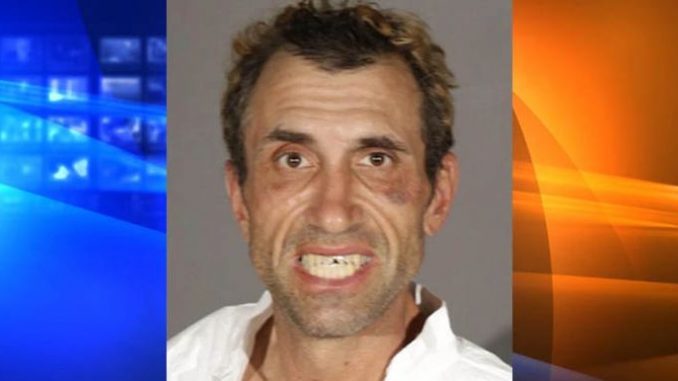 LA County's emergency "zero dollar" bail order, which was put in place in April 2020 to avoid exposing people sent for pre-trial detention to COVID, is not supposed to lead to more crime. Supporters of the new system argue it's associated with a low recidivism rate. But there are always outliers and curve-breakers among us. One of those is 47-year-old James Langdon.
Last Sunday morning, around 3 am, police saw Langdon pacing in a parking lot and then saw him run across the street while the "Don't Walk" sign was lit. Police tried to catch up with him and he ran. They eventually caught him and after a struggle put him under arrest. On the way to being booked Langdon requested medical attention and was diverted to a hospital for unspecified treatment.
None of the local news stories about this say that Langdon is homeless but I'll just interject that in some cities the homeless have learned to ask for medical treatment on the way to jail because in many cases officers don't have the time to wait for them to be released by the hospital and they wind up back on the street. In this case, Langdon was given a notice to appear and left the hospital. A few hours later, police received a call about someone trespassing.
At 9:30 a.m., officers responded to a business on the 1400 block of E. Chevy Chase Drive regarding a man who was trespassing.

Upon arrival, officers located Langdon and determined that he entered the business and was attempting to gain entry to a closed-off area with a screwdriver, when he was interrupted by an employee.

Langdon was subsequently arrested and booked on suspicion of trespassing. But due to L.A. County's emergency "Zero-Dollar" bail order, Langdon was released from custody within three hours of being booked with a notice to appear in court at a later date, the department said.
So after being arrested twice in seven hours, Langdon was out in time for lunch. By dinner time the police were called again. This time to an apartment where a family had returned to find their front door open and a man yelling from inside:
Just before 7:00 p.m., Glendale PD officers responded to an apartment building on the 600 block of Balboa Ave. regarding a burglary that had just occurred.  Officers were notified that residents had arrived home to find their door ajar, several items displaced within the apartment, and could hear a male's voice yelling inside of the unit.  When officers arrived on scene, they observed a male, later identified as 47-year-old James Langdon of Los Angeles, walking the building's hallway.  Upon seeing the officers, Langdon ran back into the victim's apartment, which was unoccupied at the time, locking himself inside.  A perimeter was established and officers began negotiations with Langdon, attempting to have him exit the unit.  Members of Burbank PD's K-9 unit arrived on scene to assist.  After Langdon refused to exit the apartment, officers made entry to the apartment and made contact with Langdon, where they continued negotiations with him.  Shortly thereafter, Langdon voluntarily exited the bedroom he had barricaded himself in and was placed under arrest without incident.  After further investigation, officers discovered Langdon caused an estimated $6,000 in property damage to the victim's apartment and to the apartment complex.
But the third time was finally the charm. Langdon was booked for burglary and felony vandalism and held on $150,000 bail. As Los Angeles Magazine put it, you can still go to jail in no bail LA, it just takes some sustained effort.
Via      Hot Air