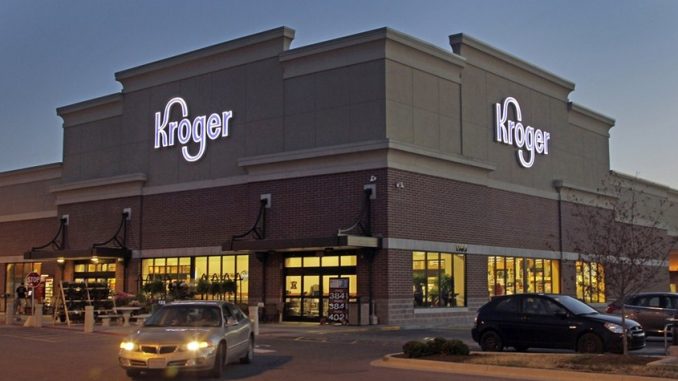 Kroger will no longer provide paid sick leave for unvaccinated workers who come down with COVID-19 unless local jurisdictions require them to do so. The company will also add a $50 monthly surcharge to company health plans for unvaccinated managers and non-union employees.
The Cincinnati-based grocery chain is one of the largest employers in the United States with almost half a million full-time and part-time employees. Kroger has made a decision to tighten pandemic-related policies for its workers at a time when businesses across the country face uncertainty over federal vaccination mandates. In November, the Occupational Safety and Health Administration (OSHA) announced a requirement that employers with 100 or more workers enforce vaccinatation mandates or test its employees weekly for COVID-19. This order is to take effect by January 4. Since that time, though, the Biden administration has received unfavorable rulings in courts over the question of the constitutionalty of such an order.
Kroger is taking a carrot and stick approach to encourage its employees to get vaccinated. When vaccines became available and essential personnel, like grocery store workers, were asked to get vaccinated, Kroger responded by offering an incentive to its employees. The company paid $100 to each employee who got vaccinated. In May, Kroger CEO said the monetary incentive was available to all employees.
'I encourage all employers to lead by example and, where possible, to incentivize their employees,' he wrote, adding: 'More shots in arms will bring us closer to our normal lives.'
That was the carrot. Now comes the stick. Kroger's unvaccinated employees will be punished for not abiding by the new vaccination requirement, effective January 1. Most supermarkets have not enforced the mandate or testing requirements for their employees because of the legal questions still unresolved. And, there is a concern that workers will quit, leaving them short-handed. With the holiday season upon us, no retailer, especially a grocer, wants to be short on staff. Everyone has to buy food.
The timing of the announcement is interesting, given that some major employers are announcing decisions to rescind vaccination orders to their employees. Mandates on federal contractors, for example, have been blocked in federal court.
Whether those rules, which were targeted by lawsuits across the country, will take effect is uncertain. Last week, a U.S. court blocked the plan to mandate vaccines for federal contractors. General Electric Co. and others have since suspended vaccine requirements for employees. A federal appeals court in Cincinnati is considering whether to reinstate the administration's rules for employers.

A Kroger spokeswoman said the company is modifying policies to encourage safe behaviors as it prepares to navigate the next phase of the pandemic, and that the changes are designed to create a healthier workplace and workforce. She said the company considered feedback from employees and customers to guide its policies, and that Kroger will continue to encourage sick employees to stay home and seek the support of a physician if they contract the coronavirus. Unvaccinated employees can take paid time off or apply for unpaid leave, she said. Kroger has been motivating staffers to get vaccinated with a $100 payment.

Kroger's Covid-19 policy changes don't apply to employees with approved medical or religious accommodations, according to the memo. The company said in the memo that it continues to prepare and develop responses to OSHA's Covid-19 vaccine requirement.
I assume the distinction used by the spokeswoman between paid time off and unpaid leave, if they are denying the paid sick leave, is made due to union contract agreements. Most Kroger employees are organized through the United Food and Commercial Workers (UFCW) union. Not all, but in about 2/3 stores nationwide. I'm a little unclear about the distinction between paid sick leave and paid time off. Perhaps paid time off refers to vacation time, separate from sick time.
While other grocers may not be requiring COVID-19 vaccinations, they are incentivizing staff to get vaccinated. And they are leaving in place mitigation efforts to protect customers and staff from getting the virus.
Many grocery chains have been offering payments to encourage vaccinations. Companies have also kept plastic barriers at cash registers, are encouraging social distancing, and are sanitizing stores more frequently than they did before the pandemic. Most have ended hazard pay for workers in stores and warehouses. Mask policies for employees remain across many supermarket chains, though some stores have struggled to manage customers who show up without face coverings or refuse to wear them properly.
Some healthcare facilities have dropped their COVID-19 vaccination mandates with a nod to high costs and worker shortages. A federal judge halted the Biden administration's mandate for healthcare workers to get vaccinated.
Hospital operators including HCA Healthcare Inc. and Tenet Healthcare Corp. as well as nonprofits AdventHealth and the Cleveland Clinic are dropping the mandates. Labor costs in the industry have soared, and hospitals struggled to retain enough nurses, technicians and even janitors to handle higher hospitalizations in recent months as the Delta variant raged. Vaccine mandates have been a factor constraining the supply of healthcare workers, according to hospital executives, public-health authorities and nursing groups.

Many hospitals already struggled to find workers, including nurses, before the pandemic. The shortages were compounded by burnout among many medical workers and the lure of high pay rates offered to nurses who travel to hot spots on short-term contracts.

More recently, thousands of nurses have left the industry or lost their jobs rather than get vaccinated. As of September, 30% of workers at more than 2,000 hospitals across the country surveyed by the Centers for Disease Control and Prevention were unvaccinated.

"It's been a mass exodus, and a lot of people in the healthcare industry are willing to go and shop around," said Wade Symons, an employee-benefits lawyer and head of consulting firm Mercer's U.S. regulatory practice. "If you get certain healthcare facilities that don't require it, those could be a magnet for those people who don't want the vaccine. They'll probably have an easier time attracting labor."
A giant retailer like Kroger may have the resources to be able to roll the dice and keep its mandate in place as the courts sort it all out. Smaller businesses with over 100 employees probably don't at this time, coming off a pandemic and labor and supply chain disruptions. The healthcare industry commonly suffers from shortages, nurses for example, so it isn't surprising that they are hesitant to do anything that might worsen staffing problems.
Via        Hot Air