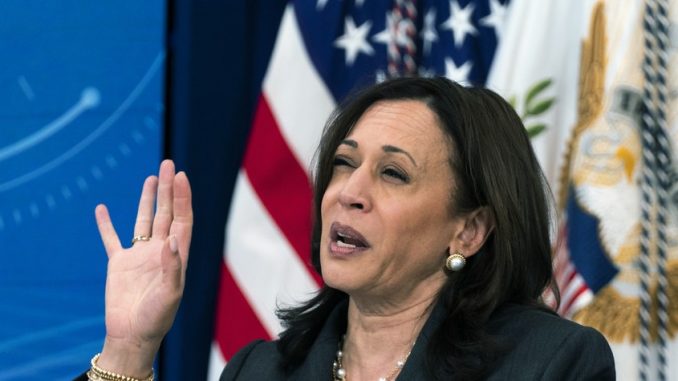 Kamala Harris is getting another trip to Europe. She's not going to France this time, she's going to Germany for the Munich Security Conference. The White House announced today that she is going to Europe next week to help "deter Russian aggression against Ukraine." Heaven help us all.
The messaging coming out of this White House is as bad as that coming out of Kamala's office. On the one hand, Biden keeps saying that a Russian invasion into Ukraine may be imminent. On the other hand, the Department of Defense tries to tamp that rhetoric down by saying that nothing is certain and the State Department says that diplomacy still has a chance. Now Kamala is being sent to bring allies together against Russian aggression. Why isn't Biden going? Shouldn't the president be going to this shindig?
Kamala has no experience in bringing our allies together. She is being sent to beef up her resume for when she runs for president, whether that is in 2024 or 2028. Her first diplomatic trip to Europe as vice-president brought stories of fine French cookware purchases in Paris and mocked for using a phony French accent while visiting scientists. I do not begrudge her the cookware purchase, by the way. I'd have done the same, given the opportunity and available disposable cash. The point is that she was supposed to be making nice with Macron after Biden botched the submarine deal, known as AUKUS. Her trip went almost unnoticed by the French press. She attended an Armistice Day commemoration and was a guest at the opening ceremony of the Paris Peace Forum. There was nothing to really write home about.
Her previous trips, few as they have been, include travel to Mexico and to the Northern Triangle where her three word message to future migrants was, "Do not come." She took a South Asia tour of Singapore and Vietnam where she cackled inappropriately a lot and kept officials cooling their heels because she was late a lot. How's she doing so far?
So, here we are with Russia positioning more than a hundred thousand troops on the border with Ukraine and European allies are rightfully nervous about what may happen next. Apparently, someone got the bright idea that Kamala should be sent to calm nerves and get allies on board with whatever it is that Biden will decide to do. What could possibly go wrong? Color me skeptical that she will be the person to reassure our allies that this time Biden has his stuff together and can handle an international crisis. No one has forgotten Afghanistan and how he left allies and their personnel hanging as he botched America's exit. Kamala can't cackle her way out of that memory, still fresh in our minds.
'This trip is about engaging our allies and partners and building upon the intensive engagement that is already under way,' an official said.

At the same time it emerged that the White House has reportedly signed off on a Pentagon plan to use U.S. troops in Poland to help evacuate American citizens from Ukraine if Russia invaded.

Troops deployed to Poland will set up checkpoints, tent camps and other temporary facilities close to the border with Ukraine in preparation to receive fleeing Americans, in an effort to prevent the chaotic scenes that emerged from Afghanistan last year.

Officials told the Wall Street Journal their mission would be to help coordinate an evacuation of some of the estimated 30,000 Americans in Ukraine, but would not involve flying them out of the country.

Guiding the planning, they said, was the memory of the Kabul airlift.

'Everyone who lived the evacuation from Afghanistan felt it was remarkable but also chaotic,' one defense official said.

'That was a messy, messy withdrawal. We don't want a chaotic withdrawal from Ukraine.'
No, we don't. However, already the Americans living in Ukraine were told on January 24 that they should evacuate now and White House Press Secretary Jen Psaki said there was no organized effort by the White House was planned for them. Now, however, there is a report from CNN that Biden is "laying out contingency plans to evacuate Americans from Ukraine should Russia launch an invasion."
The planning is reportedly being led by the Pentagon, which has laid out several different evacuation scenarios — including one in which nonessential US government employees are removed and a larger plan in which all American are flown out.

The report noted that there was no need for Americans to leave Ukraine at this time. The country's international airports are still operating and land borders with its other neighbors remain open. The State Department would make the ultimate call about whether evacuations are necessary.
Egads! Should Americans stay or should they go? Would you trust Secretary Blinken and his posse to have a workable plan to evacuate yourself and that of your family if it all goes wrong? Nope, not after what we saw in Afghanistan. Despite the State Department's happy talk, thousands of Americans and legal residents were left behind.
Some of the same personnel that were in charge of the Afghanistan withdrawal are now positioned in Europe for this crisis. We have to hope the Pentagon has done some "lessons learned" workshops.
Army Maj. Gen. C.D. Donahue, who was the last American to step onto a military jet and leave Afghanistan after overseeing the evacuation, is now leading troops in Poland, as commander of the 82nd Airborne Division that arrived over the weekend, the Wall Street Journal reported.

And officials said Air Force Gen. Jacqueline Van Ovost, who was the head of Air Mobility Command in August and led U.S. evacuation planning for Kabul, now is in charge of U.S. Transportation Command which coordinates transportation around the world.
One reporter at the Pentagon tweets today that reporters are not being embedded with troops heading to Europe.
The Pentagon is dragging its feet on allowing reporters to accompany (a term known as 'embedding') U.S. troops being sent to Europe to reassure nervous NATO allies about the Russian troop buildup in Ukraine.
Do you trust handouts from the government to tell the truth? I don't.

— Mike Glenn (@mrglenn) February 9, 2022
The Munich Security Conference has been used by Joe Biden in recent years to trash Trump and puff himself up overseas. President Norms promised that the adults would be in charge and that he would unify Americans yet he slammed Trump's handling of illegal immigrants in 2019 in Munich. During last year's virtual conference, Biden crowed, "America is back." America never went anywhere. Briefly, we had a president who didn't kowtow to Europeans in order to be a member of the club. President Norms is excited that The Swamp is back in tact. I'll note here that the last time Putin threatened invasion and made good on it was during the Obama-Biden administration when Obama did nothing while Russia invaded Crimea. Is it a coincidence that a weakened
American reputation on the world stage, thanks to Biden's incompetence, now gives a green light for Putin to threaten Ukraine? I have no confidence at all in Kamala's ability to reassure our allies now.
Via        Hot Air