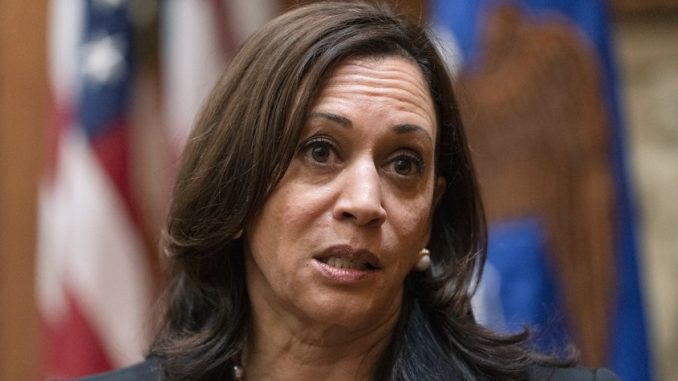 An email was sent to Kamala's staff this morning from communications director Jamal Simmons announcing the hiring of a new press secretary. Symone Sanders left her role as press secretary to Kamala Harris in December for greener pastures on a cable television network. For whatever reason, that position has remained vacant since Sanders left. Kirsten Allen will fill the slot "in a few days."
Maybe no one wants to work for Kamala. I said that in a half-joking way two days ago when I wrote about the latest resignation from Kamala's office – the tenth staffer for those of us keeping count. At the time I noted that these ten resignations haven't been just low level people on the vice-president's staff, they have been top staff. The press secretary would certainly land at the top of her staff's hierarchy, right? She is the voice of the vice-president to Americans and the world. CNN received a copy of the email that was written by Simmons.
"Kirsten brings a unique blend of talents as a communicator, as well as a history with the vice president," communications director Jamal Simmons told CNN, confirming the hire. "So, we feel very fortunate that we're going to be able to bring together two people, both Ernie (Apreza) and Kirsten, who've worked for the vice president before. They will bring that history as well as loyalty and ability to this job."
An interesting fact of the hiring of Allen is that she has previously worked for Harris. According to CNN, she was her deputy national press secretary and African-American media director in then-Senator Harris' presidential campaign. And she served as communications director on the US House Select Subcommittee on the Coronavirus Crisis. Allen also served as deputy communications director at the DCCC. So, she has experience and has a history with Kamala. Allen currently is national press secretary for Covid-19 response at the Department of Health and Human Services. Maybe it's just me but it seems that Allen has experience but I question how good at these jobs she has been. Kamala is known as a terrible communicator and HHS has not done well at all in communicating with the public during the pandemic. Wouldn't a communications director be expected to craft a message and make sure her boss, in this case Kamala, could properly relay that message? I mean, Kamala is a master chef in serving up word salads. Her audiences always go away confused as to what her message was all about.
So far, Kamala's time in the vice-presidency has been a disaster. Rumors and leaks from her office run rampant. Outsiders have been brought in to solve problems with personnel, including Kamala's poor office management skills, yet there doesn't appear to be any improvement. The buck stops with Kamala ultimately but she is the one approving personnel hires. Perhaps the problem is that Kamala hires competent people but then she doesn't listen to them or let them do their jobs. We know one of the leakers from her office said Kamala doesn't bother to properly prepare before making overseas trips on behalf of the Biden administration, or for that matter, before delivering a run-of-the-mill speech for domestic consumption.
Last week, the office announced that Herbie Ziskend would become a senior adviser for communications, a promotion from his current role as deputy communications director. Rachel Palermo, who worked on Pete Buttigieg's presidential campaign and on the Biden-Harris transition, would take Ziskend's previous role and focus on the day-to-day operations of the communications shop.

And Apreza, who previously served on the Biden-Harris campaign and Harris' own Democratic presidential campaign, was named deputy press secretary after working as a senior adviser in the White House Office of Public Engagement.

Allen's hire marks a press shop almost complete. Still missing is a speech writer, after Kate Childs Graham left last month.
She doesn't have a speech writer. That's a pretty big hole in her communications office – especially since she has no talent in speech delivery. The Vice-President of the United States has no speech writer yet she is being sent around the world by Joe Biden at an increasing rate. Biden has outsourced foreign travel to her lately, obviously preferring to be available for weekends at the beach in Delaware or Camp David.
Nonetheless, she persists, at the insistence of Jamal Simmons, apparently.
Simmons said Harris is expected to continue her effort to do more national television and print interviews.

"From the first conversation I had with the Vice President, she wanted to increase her visibility, particularly with people who don't live in Washington, DC," Simmons said, "and so we have been focused as a team on communicating with Americans across the country, not just inside the beltway."
Kamala's poll numbers are lower than Biden's. Her numbers are lower than any recent past vice-president, including Spiro Agnew and Dick Cheney. She doesn't want to do the work and it shows. She clearly isn't bright enough to articulate policy, foreign or domestic, at anything beyond a shallow level. She is one heartbeat away from the presidency. Biden is frail, feeble-minded, and pushing 80 years of age. That should alarm everyone.
Via        Hot Air