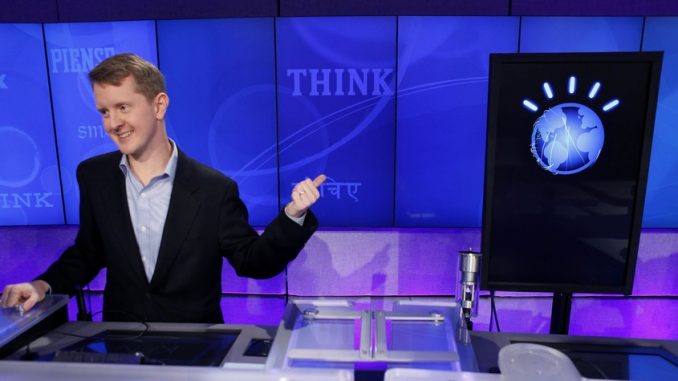 The prevalence of cancel culture is so strong that even a television game show has to warn its audience in advance that a clue has not aged well. On Friday's episode of Jeopardy! a clue that included Russia and Ukraine in the Double Jeopardy portion of the game raised some eyebrows.
In advance of the show airing, a tweet was posted on its Twitter account reminding viewers that the show was pre-taped. This episode was taped on January 11. The tweet was a little heads-up about the timeliness of the question.
Please note the clue in today's show concerning Russia and Ukraine was recorded on Jan. 11, 2022.

— Jeopardy! (@Jeopardy) March 4, 2022
As I am sure many viewers did, I missed that tweet so I had no idea about such a clue popping up during Friday's game.
The clue in question was part of the Double Jeopardy! category "Bordering Russia" with the clue reading "The Kerch Strait — along with serious border issues — separates Russia from this country on the Black Sea." Contestant Adrian Alcala gave the correct response: "What is Ukraine?"
At the time, as we watched the show in our house, our reaction was probably like that of others – a raised eyebrow or two and a mention that the question was an odd one right now, given the war in Ukraine. But, as I assume most Jeopardy! fans know, we know that the show is taped well in advance. Our reaction wasn't an indignant one that the borders of the countries was a part of the category. It was noting the obvious irony of the timing.
It's a completely anodyne clue, it just happens to involve Russia & Ukraine, and I assume the Jeopardy producers wanted viewers to know this was pre-taped and not using the war as a jumping-off point for some trivia

— Chris Carlsen (@Rock1991Punk) March 4, 2022
It should be noted that the date of the taping was displayed at the top left of the screen, something that is not a usual thing. Obviously, the show's producers and social media staff were getting out in front of possible audience reactions and clarifying the timeline of events. In other words, it was no big deal.
The only thing I noticed was a little editorializing in the way the question was framed. By pointing out "serious border issues", it brought up thoughts of Putin invading Ukraine's border, which is unquestionable now. There wasn't a deliberate political statement that was inserted. The show tries to remain free of partisan politics, though since Alex Trebek's death, the show has found itself in news headlines on an unusually regular basis. Politics and agendas do sometimes slip in.
Hollywood, the entertainment industry, and major corporations are stepping up in opposition to Putin and Russia's invasion of Ukraine. Various film studios, including Disney, Universal, Sony, Paramount, and Warner Bros. have pulled their films from release in Russia. The Ukrainian Film Academy is petitioning a boycott of the Russian film industry.
"But at a time when world powers are imposing economic and political sanctions on the Russian Federation, the country continues to be active in the cultural field. In particular, several films made by Russia are regularly admitted to the programs of most world film festivals, and significant resources are spent on their promotion," the petition reads.

It adds, "The result of this activity is not only the spread of propaganda messages and distorted facts. It also boosts the loyalty of Russian culture – the culture of the aggressor state, which unleashed unjustified and unprovoked war in central Europe. Even the very presence of Russian films in the program of world film festivals creates the illusion of Russia's involvement in the values of the civilized world."
Actor Sean Penn evacuated from Ukraine to Poland when the Putin invaded Ukraine. He is filming a documentary about Ukraine's struggles with Russia and was doing so before the war began. He is home now and talking about his experience. He headed to the border with Poland in a car but abandoned it and walked across the border.
"We had the luxury of being able to abandon a rented vehicle on the side of the road. This was a startling thing to me; it was mostly women and children, some in groups and some just a mother and her child, in almost all of those cars," he explained. "In some cases, the father was dropping them off and returning, because we know that from 18 to 60, men are not to leave, they're to stay in the resistance against Russia."

"I didn't see any luggage. It was as though they wanted to believe they're going to be able to come back, and there was an immediacy to leave because of the incredible amount of people leaving and how long it takes to get out of the country now. So, the car is pretty much, aside from those who have family or friends that could help on the other side, all they have," Penn continued. "So, in the several miles that we walked after abandoning our car, I didn't see one of those cars move a car length because that line was so slow. And then you get there and you see all those who have walked as well in that crowd."

"I was glad, not so much in the moment, but I was glad to have had the experience of having to see what it was to get through that border … what it is to just sit there for sometimes days," Penn shared.

Myself & two colleagues walked miles to the Polish border after abandoning our car on the side of the road. Almost all the cars in this photo carry women & children only, most without any sign of luggage, and a car their only possession of value. pic.twitter.com/XSwCDgYVSH

— Sean Penn (@SeanPenn) February 28, 2022
Of course, he has the advantage of being a wealthy American with resources to get out of the region when he so chose. He may emphasize with Ukrainians, as many people around the world do, but he can't really expect anyone to believe he knows how it is for Ukrainians actually living through this time. He can use his platform to get the word out about what is happening, though. I do wonder, though, how Penn feels now that the Biden administration is pursuing deals with Venezuela for oil, given his fawning over the brutal and maniacal totalitarian dictator Hugo Chavez during his visits with him. Is he waking up to the realities of socialism and communism he so often flirts with?
Via          Hot Air