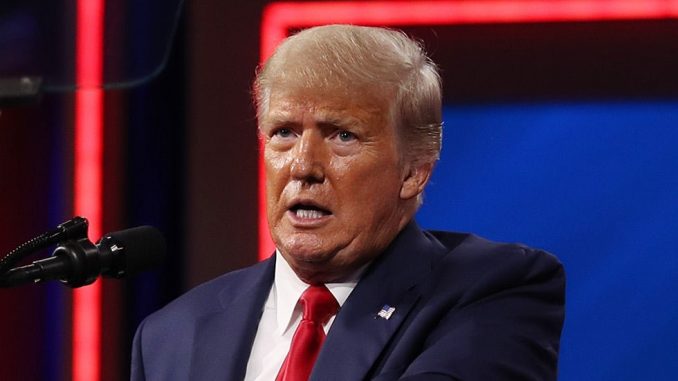 Jason Miller, who served as a senior adviser to former President Trump, said that Trump told him he believed Meghan, Duchess of Sussex, was "no good."
Deadline reports that Miller shared the remarks while appearing on Stephen Bannon's "War Room" podcast last week.
" 'She's no good … I said it and now everybody is seeing it,' " Trump said, according to Miller. " 'Piers Morgan is the best, he's the greatest, and they went and tried to cancel him simply because he criticized Meghan Markle.' "
Trump reportedly told Miller to share his remarks to "make a little news," but warned him, " 'You realize if you say anything negative about Meghan Markle you get canceled, look at Piers.' "
The former president supposedly told Miller that Trump was on "Team Piers."
Morgan left "Good Morning Britain" shortly after he made on-air remarks doubting Meghan's claims of mistreatment and worsening mental health while she was a member of the royal family. He later walked back his comments on her mental health, but has since maintained that he does not believe the claims she made during an interview with Oprah Winfrey.
When reports came out that Meghan had said Trump was "divisive" and "misogynistic" in 2019, he told the British tabloid The Sun that he "didn't know that she was nasty."
Trump later walked back his remarks, saying he was referring to her comments about him as "nasty" and not the duchess herself.
And after Meghan and Prince Harry made remarks last year that were seen by many as a tacit endorsement of then-Democratic presidential nominee Joe Biden, Trump shot back at the couple.
"As we approach this November, it's vital that we reject hate speech, misinformation and online negativity," Prince Harry said during a video for Time's 100 most influential people.
"I'm not a fan of hers, and I would say this, and she probably has heard that. I wish a lot of luck to Harry because he's going to need it," Trump told reporters when asked about the couple's comments.
Via The Hill