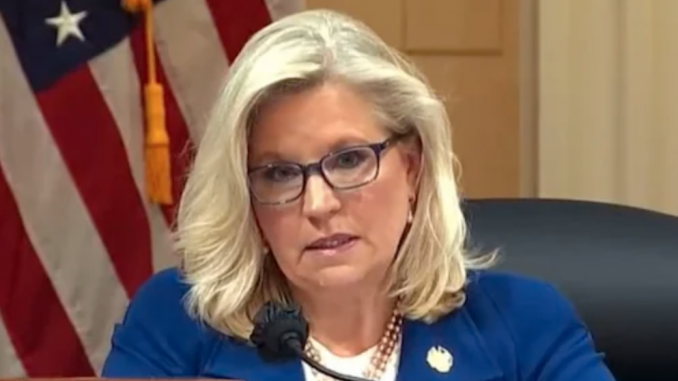 Rep. Liz Cheney, Republican Wyoming's departing member in Congress, was one of two from the Republican Party chosen by Nancy Pelosi for her partisan committee "investigating" the Jan. 6, 2021, riot at the Capitol.
Pelosi refused to let minority Republicans assign members to the committee, and instead picked Cheney, and one other GOP member whose opposition to President Trump was documented, to be on it.
Cheney, since then, has focused almost exclusively on President Trump, what he did, didn't do, or is alleged to have done, and repeatedly has concluded that she will do whatever she must to make sure he's never near the White House again.
As a result, voters in her GOP-majority state booted her from Congress and she has just days left.
As does Pelosi's committee.
Whose members now are lashing out at Cheney for burying parts of their investigation into Jan. 6.
It is constitutional expert Jonathan Turley, who explained the "deepening division" between the staff members for the committee and Cheney.
"Angry rhetoric is flying with staffers accusing the committee of becoming a 'Cheney 2024 campaign' while both the Cheney spokesperson and committee spokesperson lashed out at the staff members as 'disgruntled' and producing shoddy or biased work," he explained.
What has happened, he explained is that Cheney reportedly is pressuring the committee and its staff to make the riot investigation all about Trump.
He noted the Washington Post said, "Fifteen former and current staffers, who spoke on the condition of anonymity to discuss internal deliberations, expressed concerns that important findings unrelated to Trump will not become available to the American public… Several committee staff members were floored earlier this month when they were told that a draft report would focus almost entirely on Trump and the work of the committee's 'Gold Team,' excluding reams of other investigative work."
The report said that scheme potentially leaves "on the cutting room floor, "many revelations from the 'Blue Team' — the group that dug into the law enforcement and intelligence community's failure to assess the looming threat and prepare for the well-forecast attack on the Capitol."
Results of those looking into the financing, and those that came from a review of extremism, also appear to be headed for the scrap heap, the report said.
If those charges are true, Turley explained, "the report will largely track the virtual exclusive focus of the hearings with open references to the 2024 election as an overriding concern."
He said the committee "could have been so much more than a one-sided, highly partisan investigation."
For one thing, he said, "It could have insisted on balanced hearings with witnesses and dissenting views."
It didn't, instead, focusing through leaders like Cheney almost exclusively on claims made against Trump.
That, Turley said, "gave the hearings the feel of an infomercial selling a product that most of us bought two years earlier."
One of the major points left unreviewed so far is that Trump offered National Guard troops to guard the Capitol that day, and Democrats in Congress refused.
Via Wnd