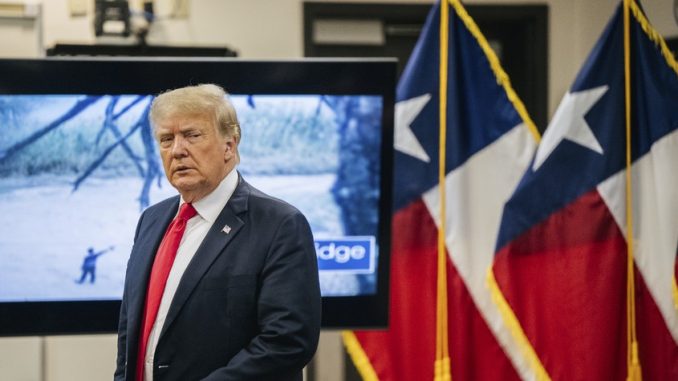 This is genuinely one of the weirdest episodes of the entire Trump phenomenon, which has been nothing more than a series of weird episodes since he came down the escalator in 2015.
There were two prerequisites for a Trump-backed alternative to Twitter to succeed. One was a quality, committed development team that would have the product ready to roll on day one. Every Trump critic in the universe would be gunning for Truth Social right out of the chute so it would be important for the platform to make a good first impression. Imagine how sweet it would be for Trump to deliver a site that beat all expectations and made his detractors eat crow.
The other was his own eager participation on the site. Truth Social really has only one asset, after all, and it's him. Its marketing hook was that it would be the exclusive Internet home of a former president and current owner of the Republican Party. If you've missed Trump's hourly musings on social media since he was banned from Twitter and Facebook, Truth Social would allow you to scratch your itch.
Finding the right developers would be tricky and expensive but getting Trump to post daily on the site would be child's play — or at least, that's what the platform's backers must have assumed. Why, Trump's probably feeling so pent-up from not being able to vent on Twitter that he might post dozens of times per day once liberated by Truth Social!
Six weeks after the site launched, neither prerequisite is in place. The platform is still only available in the Apple app store. There's no web interface or Android app. Its rollout has been buggy, with users stuck on a long wait list after registering instead of being able to access the site immediately. And today brings news from Reuters that the development team may be heading for the lifeboats. Josh Adams and Billy Boozer, the top tech guy and the head of product development, respectively, have left their positions. It's unclear if they're still attached to Truth Social in some capacity but apparently they're no longer in top management. And they weren't fired for poor performance, per Reuters. They resigned.
"If Josh has left… all bets are off," one of those sources said of tech chief Adams, calling him the "brains" behind Truth Social's technology…

Neither Adams nor Boozer disclosed their work at Truth Social on their LinkedIn profiles, which list numerous other jobs and ventures from their past. The company did not publicly announce their hiring.

Adams' and Boozer's roles were listed in a November investor presentation as the TMTG technology team's chief technology officer and chief product officer – but without their last names. When Truth Social launched, they posted frequently on the platform, but again presenting themselves to the public only as "Josh A." and "Billy B."
It's not just them. According to Politico, the company's chief legal officer has also bailed out. Devin Nunes gave up a House seat and likely committee chairmanship next year for … this?
The site was supposed to be fully operational by the end of March. It's now April 4 and it's not fully operational. Things are so messy that it's not even clear what every executive at the company does: Nunes is at the top as CEO, then come former "Apprentice" contestants Wes Moss and Andy Litinsky, who reportedly pitched Trump on the idea for the platform. Reuters couldn't determine what Moss and Litinsky currently do. But they oversaw Adams and Boozer, at least nominally, and presumably will now have to recruit their replacements — assuming anyone's willing to do it. Reportedly some tech pros approached to work at Truth Social refused to work for Trump while others feared, presciently, that the site would flame out quickly, leaving them unemployed.
Sorting out the tech issues was always going to be difficult. Getting Trump to post regularly on the site shouldn't have been. But as winter turns to spring, he's still posted only a single time since the platform debuted in mid-February. Some of his kids, like Ivanka, don't even have accounts; Don Jr and Eric do but they've also posted sparingly. With Trump himself ignoring Truth Social while continuing to issue written statements about the day's news, the site has been deprived of its chief asset inexplicably. And so it's begun to tank:
The app that Donald Trump once hoped would avenge his exile from social media and make him a MAGA Mark Zuckerberg has instead plummeted to the 28th most popular social media platform in Apple's App Store, lagging behind the likes of more obscure social networks like "Wizz," "BeReal," and "Bloomer-random video chat."…

Download data shared by the analytics firm Apptopia shows that downloads of the app have plummeted from a peak of 170,000 downloads a day to just 8,000 now. The app is now just the 355th most popular app on Apple devices overall. And those who have downloaded it don't seem to be using it that much.

Daily active users—a metric that social media and tech companies use to measure how many engaged users an app has—stood at just 513,000 as of last week. By contrast, daily active users at Twitter—Trump's erstwhile and beloved social media home—were around 217 million, according to the company's last quarterly earnings report.
The million-dollar question: Why isn't Trump participating, knowing that his participation is 99 percent of the reason to care about Truth Social? It's as if he launched a Trump TV network, announced that he'd be hosting a show every night in primetime, then never showed up.
My theory was that his ego won't allow him to be associated with a venture that appears lame and unpopular even when that venture is *his own vanity project." As I wrote last week, "It wouldn't surprise me to learn there's a chicken-and-egg argument happening between him and the site's investors behind the scenes: 'We can't build an audience unless you're posting!' 'Sorry, I'm not posting until we've built an audience.'" According to the Daily Beast, that's exactly what's happening. "He wants it to be a hit first," said one source when asked why Trump hasn't contributed.
He'd rather see his site fail than give it a shot to succeed by participating at a moment when public interest is tepid. That way, if it tanks, he can always say, "It would have been a smash if I had posted more." Never mind the follow-up question: Well, why didn't you post more, then?
By the way, if Elon Musk were to give him his Twitter account back, would that be the end of Truth Social? Trump wouldn't need it anymore, even in theory!
Via          Hot Air