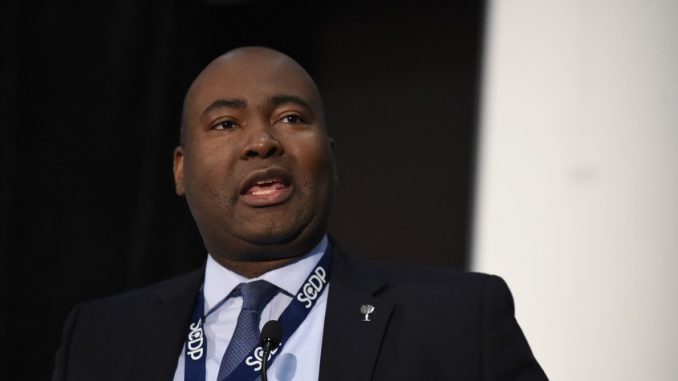 Will he stay or will he go? That's the question being discussed about DNC Chairman Jaime Harrison. With the midterm elections looking so good for Republican victories and the sinking popularity of the Biden administration in polls, is it any surprise that the current DNC chairman is looking ahead to his own political future?
In an interview with NBC News, it is reported that there is a lot of tension between the Biden White House and the DNC chairman. The dysfunctional relationship is of concern to donors and Democrat lawmakers alike. Harrison complains that he isn't given a big enough role in decision-making while the White House claims, essentially, that Harrison is not aggressively doing his job. Harrison is accused of cocooning himself at home in South Carolina instead of getting out and traveling around the country, supporting Biden's legislative agenda and raising money for Democrats. Ironic, right? The Biden campaign insisted on keeping Bumbling Biden in the basement of his home (s) in Delaware all throughout the presidential campaign yet now criticizes Harrison for not getting out and traveling.
Allegedly, Harrison feels "frustrated, isolated, and trapped" in a job he thought he wanted but may no longer.
Key decisions for the committee are made by White House Deputy Chief of Staff Jen O'Malley Dillon, who speaks frequently with other DNC officials but only about three times a month by Zoom with Harrison. The limits of his influence are a source of agitation for Harrison, according to several people who have spoken to him.

At the same time, he's not flying to meet with donors or visiting DNC headquarters. Instead, since he first took the post a year ago, Harrison has mostly stayed in his home state of South Carolina, according to people familiar with his schedule, as well as people who frequently see him around town. That has been a major point of consternation for the White House.

And neither the White House nor Harrison has come up with a cohesive strategy to help President Joe Biden rebound from abysmal approval ratings.
Harrison is clearly ambitious when it comes to his own career in politics. He served as the chair of the South Carolina Democratic Party from 2013 to 2017. He raised his national profile by running against Republican Senator Lindsey Graham in 2020. Since his defeat by Graham, he has signaled a desire to run for Rep. James Clyburn's seat when he retires. No doubt he sees the writing on the wall that Biden is dragging down Democrats across the board and the midterm elections will likely be brutal for Democrat incumbents running for re-election. Harrison probably doesn't want to attach himself too strongly to the party as it is about to be shellacked by a disgruntled public.
Clyburn is seen as a kingmaker in Democrat politics after single-handedly providing the environment in South Carolina to revive and ultimately save Joe Biden's presidential campaign in 2020. His eleventh hour endorsement of Biden in the South Carolina Democrat primary allowed Biden to continue his campaign and ultimately secure the nomination. Ever since, Clyburn likes to remind the administration that they owe him. Clyburn pushed for Harrison to become DNC chairman. It now looks like Team Biden didn't get the memo that Harrison is Clyburn's man, at least in how they are reportedly treating him. Harrison is trapped for now because he has to at least look like a team player as the midterm elections approach. It would be bad for any future office he seeks if he bails too close to November.
In an interview with NBC News, Harrison said he plans to serve his full four-year term, but left room for uncertainty.

"That's my goal," he said. "I made a commitment to the president."
That is not exactly a strong statement that he's sticking around for his full term.
The dysfunction between the DNC chairman and the White House is apparent to Democrat donors, party officials, and fundraisers.
NBC News spoke with more than two dozen current and former DNC officials, White House officials, fundraisers, donors and Democrats in touch with the White House, who nearly universally described a strained relationship between the White House and Harrison.

Many of them said there's blame on both sides; the White House's political arm is described as overbearing to a point that it isn't empowering its chair, while Harrison is characterized as not only having demonstrated a misunderstanding of his duties but as too reluctant to travel beyond Columbia, South Carolina, where he lives with his wife and children.

"There's blame to be shared," said a person familiar with the dynamics who added that the White House has not been able to devise an effective political strategy or a clear message for Harrison to carry to help reverse Biden's slide. "Has he demonstrated that he's going to move heaven and earth to raise money and defend the administration? No. But it's pretty impossible to defend what's happening and not happening."

The person described the White House's political and communications efforts amid a series of crises and flagging poll numbers as "pretty tricky" and, using a vulgarity, in bad shape.
It's a strange situation. In such a precarious time for the White House, it would seem that Biden's staff would bend over backward to make sure that Harrison is successful in his job. Let's face it, in today's politics the DNC (and the RNC) are primarily called upon as fundraising operations. The chairman is supposed to present a picture of confidence and competence that the party is doing well, not mired down in hurt feelings and an over-protective White House staff. The problem with the public perception of Biden's staff is that, by overprotecting him from things like answering reporters' questions and traveling, they are making him look more feeble and unable to do the job than he already does.
Maybe Harrison thinks that because a basement-dwelling strategy worked for Biden, it will be ok for him to remain at home and do his job. The problem is that he needs to work at least part of the time from DNC headquarters to remain in the mix and he isn't doing that. Harrison cites his young children and concerns about COVID-19 but he knew all of that when he went for the job in the first place. Was he not fully aware of his job description? Maybe his own political ambitions outweighed the reality of the job. In any case, it's ok with me that the Democrats are dysfunctional, from the inside of the White House to the DNC. It will make November all the more sweet for Republicans.
Via      Hot Air