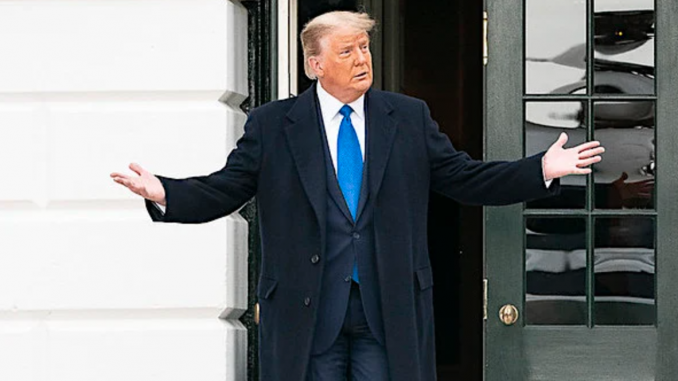 A partisan committee set up by soon-to-be-replaced House Speaker Nancy Pelosi to review the Jan. 6, 2021, riot at the Capitol, and essentially find ways to blame President Trump, has released its report.
And to no one's surprise it insists that the Department of Justice should review charges against President Donald Trump, including make a false statement, defrauding the U.S., conspiracy and inciting insurrection.
The Washington Examiner reported that at this point the recommendations are considered largely "meaningless" by legal experts, as the committee is expected to be dissolved as soon as the GOP becomes the majority in the House in just weeks.
"In likely its final public convening, the nine-member committee recommended to the DOJ that Trump should be charged with violations of 18 U.S.C. 1512(c), obstruction of an official proceeding of Congress; 18 U.S.C. 371, conspiracy to make false statements and defraud the United States government; and 18 U.S.C. 2383, to 'incite,' 'assist,' or 'aid and comfort' an insurrection. Each lawmaker on the nine-member committee voted 'aye' in favor of the referrals," the Examiner reported.
One of the activists Pelosi appointed to the panel was Rep. Jamie Raskin, D-Md., who said, "We trust the Department of Justice will be able to form a far more complete picture through its own investigation."
But Chuck Rosenberg, a former U.S. attorney in Virginia, admitted, however, "If you're talking about it from the perspective of the Department of Justice, it is somewhere between meaningless and completely meaningless."
The panel was partisan from its outset as Pelosi refused to seat members nominated by the then-minority GOP. Instead, she chose two GOP members who already were open opponents of Trump. One of those, Liz Cheney of Wyoming, was made deputy chair of the committee, and repeatedly has attacked Trump.
She, in fact, was thrown out of office by her own voters, however. And a commentary at
Twitchy pointed that out.
"Liz Cheney is having her last big hurrah today as part of the Democrat's committee to blame Trump for everything that transpired on January 6th, 2021. Nancy Pelosi needed a couple of Republicans to sit on her committee to pretend it wasn't a total Kangaroo Court … but anyone who thinks Liz and Adam Kinzinger are actually Republicans probably thinks it's normal for the FBI to work with Twitter to hide the Hunter Biden laptop story. In other words, they're not all that bright. Ahem. Glenn Greenwald took a swipe at Liz and we kinda sorta totally love it."
LIVE COVERAGE: The House January 6 committee is holding its final public hearing.

Follow live coverage of the event: https://t.co/RV50QeR9Ib

— NPR Politics (@nprpolitics) December 19, 2022
This might be your last chance to see the extraordinary, heroic, noble, inspiring High Priestess of Ethics and Democratic Values, Elizabeth Cheney, speak in the august Committee rooms of the House!

Who would want to miss this? https://t.co/zjqbHeqh8a

— Glenn Greenwald (@ggreenwald) December 19, 2022
The work of the Democrats appointed by Pelosi was further made partisan by the fact that members studiously refused to even hear information about Pelosi's own liability for the events of Jan. 6, as she is at least partly responsible for the security of the Capitol. She had refused Trump's offer of more National Guard troops to be on hand that day, and that decision never has been adequately explained.
The Examiner explained a referral "is a recommendation that the Justice Department investigate whether to charge the people in question, but the move is largely symbolic because it doesn't require federal investigators to bring the case. Attorney General Merrick Garland said whether the Justice Department brings charges will depend on whether the facts and the evidence support a prosecution. Garland will make the ultimate call on any charging decisions."
Other Democrat referrals to the Democrat DOJ named lawyer John Eastman. Four GOP members of Congress, Rep Kevin McCarthy, Rep. Jim Jordan, Rep. Scott Perry, Rep. Jim Jordan, and Rep. Andy Biggs, were referred to the Ethics Committee.
Democrats have been harping on the riot, describing it as an "insurrection" although it was more or less a riot, ever since it happened. That's because a conviction for insurrection would prevent Trump from ever being in office again – one of the major goals of the entire Democrat party.
In fact, members already have launched in Congress a bill specially targeting Trump and announcing he never could be in office against.
The politicized DOJ under Joe Biden could now choose to prosecute Trump because of the committee's political conclusions.
Via Wnd