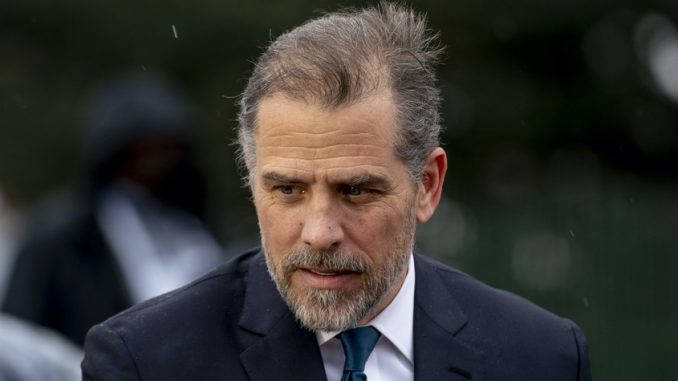 I've never heard the term "sugar brother" before reading about this story but the week's young. Usually sugar precedes daddy or mama yet in this case, it is a Hollywood lawyer who is paying Hunter Biden's way in Los Angeles. His support includes Hunter's overdue $2M tax debt. The debt is paid in full.
Not only is mega-lawyer Kevin Morris handling Hunter's overdue tax bill, he's also picking up the tab for Hunter's lavish lifestyle in Los Angeles. The New York Post reports that Morris is paying Hunter's rent and daily expenses. He's also helping him sell his artwork. This guy's a peach! I'll remind you that Bad Boy Biden is being investigated by a grand jury in Delaware over his personal finances.
Kevin Morris, an entertainment attorney and novelist who earned a fortune representing the co-creators of "South Park" and won a Tony Award as the co-producer of "The Book of Mormon," footed Hunter Biden's overdue taxes totaling over $2 million — more than twice what was previously reported, a source familiar with conversations between the two told The Post.

Morris, whom Hunter Biden's friends call his latest "sugar brother," has also been funding the 52-year-old's lifestyle in Los Angeles — including his rent and living expenses, the source said.

The attorney has also been advising the president's son on how to structure his art sales, according to the source.
The total amount that Hunter owed the IRS was originally underreported by the media? Shocker. Morris is a highly successful Hollywood lawyer and a novelist. South Park money is big money so Hunter's debts were probably easily manageable for Morris. He no longer works at a firm he co-founded that represents A-list celebrities.
Morris is a founding member of the firm Morris Yorn Barnes Levine in Los Angeles, which has represented A-list Hollywood celebrities such as Matthew McConaughey, Ellen DeGeneres, Scarlett Johansson, Liam Hemsworth and Chris Rock. He no longer works at the firm.

In 2014, he published a collection of short stories titled "White Man's Problems," and in 2016 published his debut novel, "All Joe Knight," which was listed as Amazon Best Book of the Month in Literature and Fiction in December 2016.
Hunter's shady personal finances are not new news. He's been under investigation for alleged tax fraud and unpaid taxes on money he accumulated while his father, a.k.a. The Big Guy, was vice-president. By clearing his past due tax debt, it may be more difficult for prosecutors to convict Hunter and win a lengthy sentence. Not that I think Hunter will get more than a slap on the wrist but it would be good to finally hold him accountable after all the incriminating evidence is surfacing from the laptop that the media told us was Russian disinformation. The media will continue to cover for Hunter and the ridiculous story from The Big Guy that he knows nothing about his shady son's business dealings. Morris has been quiet about his relationship with Hunter. Hunter's New York attorney, however, spilled the beans.
Morris won a Tony Award for co-producing 'The Book of Mormon'. He earned his fortune negotiating licensing deals worth hundreds of millions of dollars for South Park creators Matt Stone and Trey Parker, besides the income from his entertainment law firm. He's a published author. He released a collection of short stories in 2015 entitled 'White Man's Problems' and a novel entitled 'All Joe Knight' in 2016.
CBS News confirmed the relationship and reports that Morris operates behind the scenes. His attention has turned to "conducting a forensic analysis and investigation into what happened to Hunter Biden's laptop — including how the device became public, sources familiar with his efforts say."
Entering the bruising political fight is an unusual move for Morris, who has long been a maverick in Hollywood. Morris founded a law firm that represented a cast of A-list stars and then began writing fiction and producing documentaries. He also subsequently helped negotiate another "South Park" deal, this one worth a reported $900 million, with MTV Entertainment Studios, which is part of the CBS News' parent company Paramount.

Hunter Biden could not be reached for comment, but his criminal attorney, Christopher Clark, confirmed that Morris is serving as an "attorney and trusted adviser" to Hunter Biden.
So, what's in it for Morris? Other than potential access to the president or the White House, he is working on a documentary on Hunter's life since "he has been the focus of conservative television commentators and investigated by congressional Republicans" . That is according to a Democrat Party source in Washington. Is the DNC involved in any of this? The source conveniently blames Hunter's troubles on Republicans so it's a legitimate question to ask. Sounds swampy.
Remember when Daddy Joe agreed to pay off more than $800,000 in Hunter's bills, including legal fees over his shady business dealings, in order to get it out of the way before the 2020 election? If Joe paid off legal fees and other debts over Hunter's business dealings, why would we believe that Joe doesn't know a thing about Hunter's deals – especially those made using the family name in countries overseas? Hunter's assistant at the time even referred to Hunter's associates as "the VP team".
When the Republicans take back the House after the November midterm elections, rest assured that there will be investigations into Hunter's finances and how they may relate to his father, the president. It's about time. Biden, Inc. needs to be put out of business.
Via          Hot Air