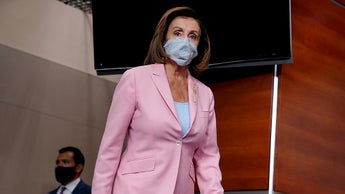 Speaker Nancy Pelosi (D-Calif.) said Thursday that the House will vote on legislation to guarantee access to abortion upon its return to Washington later this month after the Supreme Court refused to block a restrictive Texas law that bans most abortions.
Late Wednesday night, the court issued a 5-4 ruling denying an emergency request from abortion providers to block the Texas law, with Chief Justice John Roberts joining the three liberal justices in dissent.
Pelosi said that after the House returns to session on Sept. 20, the chamber will vote on a bill from Rep. Judy Chu (D-Calif.) to statutorily protect a person's ability to seek an abortion and for health care providers to provide abortion services. She called the Texas law "a flagrantly unconstitutional assault on women's rights and health" and a "catastrophe."
"This ban necessitates codifying Roe v. Wade," Pelosi said, referring to the landmark 1973 Supreme Court ruling that prohibits states from banning abortion before a fetus reaches the point of viability, which typically is around 24 weeks of pregnancy.
"Upon our return, the House will bring up Congresswoman Judy Chu's Women's Health Protection Act to enshrine into law reproductive health care for all women across America," Pelosi said.
But given that Senate Republicans would likely filibuster any House-passed bill to guarantee abortion access, the legislation faces steep hurdles to becoming law despite narrow Democratic majorities in both chambers and a like-minded president.
Across the Capitol, the Senate companion bill to Chu's legislation has the support of 48 Democrats. Two Democrats, Sen. Joe Manchin (W.Va.) and Bob Casey (Pa.) have not signed on as co-sponsors.
Sen. Ed Markey (D-Mass.) called for abolishing the filibuster so that legislation to enshrine Roe v. Wade can pass in the Senate with a simple majority and for expanding the Supreme Court.
"We have seen what the Republicans will do in ultra-conservative state legislatures across the country to quash the constitutional rights of Americans, and this ruling needs to be an urgent call to action for my Senate Democratic colleagues," Markey said.
The Texas law, which took effect Wednesday, prohibits abortions after the presence of a fetal heartbeat is detected, which can happen as early as six weeks of pregnancy. But abortion groups estimate that about 85 to 90 percent of women who seek an abortion in Texas are at least six weeks pregnant.
The new law also has a provision that allows private citizens to sue anyone who performs or aids an abortion in violation of the statute, and provides at least $10,000 for each successful suit.
"SB8 unleashes one of the most disturbing, unprecedented and far-reaching assaults on health care providers – and on anyone who helps a woman, in any way, access an abortion – by creating a vigilante bounty system that will have a chilling effect on the provision of any reproductive health care services. This provision is a cynical, backdoor attempt by partisan lawmakers to evade the Constitution and the law to destroy not only a woman's right to health care but potentially any right or protection that partisan lawmakers target," Pelosi said.
The Supreme Court's conservative majority argued that the abortion providers who challenged the Texas law did not make a persuasive case for judicial intervention, but said that they had raised "serious questions" about its constitutionality.
Another major abortion case set to come before the Supreme Court could also jeopardize the standing of Roe v. Wade. The court is expected to review a Mississippi law that bans abortion after 15 weeks in its next term.
Via The Hill