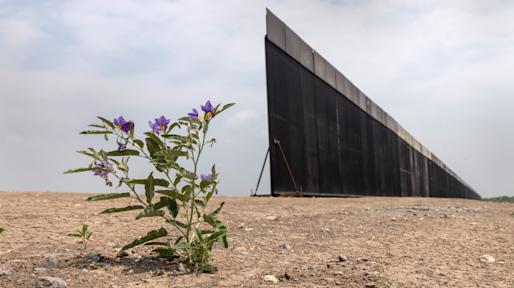 Republicans in Congress are increasingly lashing out at President Biden's decision to freeze funding for the wall along the southern border.
GOP lawmakers are zeroing in on Biden's proclamation from January, immediately upon taking office, in which he followed through on a campaign promise to halt construction of the wall, which had become the centerpiece of former President Trump's hard-line immigration policies.
The White House on Jan. 20 said it would take 60 days to review the use of border wall funds.
Congressional Republicans argue Biden's actions were illegal, given that Congress appropriated $1.4 billion for the wall in December, and have led to this year's surge in border crossings.
"The president's decision to withhold funding on the border wall along with other actions his administration has taken have fueled a national security and humanitarian crisis at the southern border," Rep. Jason Smith (Mo.), the top Republican on the House Budget Committee, said at a hearing Thursday.
Immigration has been one of Biden's biggest political vulnerabilities in the early months of a presidency that's generally been greeted with high levels of support from the public.
The number of migrants apprehended crossing the border reached a 15-year high of 170,000 in March, fueled by an uptick in minors making the journey alone. The White House said this past week that the number of children being held in Border Patrol facilities has fallen 84 percent from its March peak.
In addition to the border implications, Republican appropriators argue that the freeze interfered with Congress's constitutionally mandated power of the purse by not implementing funding that was approved by lawmakers.
"Border wall construction funds were appropriated by the Congress as a result of bipartisan, bicameral negotiations and should be spent as provided in law," Republican House Appropriations Committee members wrote in a letter Thursday to Vice President Harris.
"As you can see by the unprecedented number of apprehensions reported by Customs and Border Protection, we are in a state of emergency that requires action, not delay in spending the funds Congress has already made available," they added.
The administration's 60-day review period of border wall funds, the letter noted, has come and gone without any updates or a report to Congress.
On Friday afternoon, the administration announced a move that's likely to infuriate Republicans further. The White House said it would cancel border wall projects that had been funded through the Defense Department, and return the funds to the military construction projects from which they were pulled during the Trump administration.
Trump had diverted billions in defense dollars toward the wall, using emergency powers after a standoff with Congress over wall funding that led to the longest government shutdown in the nation's history.
"Border wall construction under the previous administration tied up more than $14 billion in taxpayer funds, shortchanged our military, and diverted attention away from genuine security challenges, like human traffickers," a Biden administration official said Friday.
"Rushed and haphazard wall construction also resulted in serious life, safety, and environmental issues," the official added.
The White House plans to use some of the appropriated wall funds to address those concerns, such as repairing a dam system in the Rio Grande Valley they said was damaged by border wall construction efforts and mitigating soil erosion along the 14-mile barrier in San Diego.
Still, the Government Accountability Office (GAO) is investigating the legality of Biden's earlier freeze, which may have violated the Impoundment Control Act.
Edda Emmanuelli Perez, GAO's deputy general counsel,  said Thursday that the watchdog agency began looking into the freeze shortly after Biden announced it in January, before any Republicans requested a review.
The GAO's report is expected in the first week of May.
A previous GAO report, released in 2020, determined that Trump acted illegally in a similar situation, when he froze appropriated military funds to Ukraine.
The withholding of funds designated for Ukraine was a key component of Trump's first impeachment.
In its 2020 report, the GAO said that short of a formal request from Congress to rescind funds, a temporary deferral by the executive branch was allowable only to "achieve savings made possible by or through changes in requirements or greater efficiency of operations."
The Biden White House, which says it intends to spend the border wall funds within the required legal framework, could argue that its decision to review the use of wall funds meets the requirements stipulated by the GAO.
But the GAO's ruling on Trump was also clear that the law "does not permit deferrals for policy reasons," an issue that could prove thorny for Biden, who repeatedly promised on the campaign trail that he would stop construction of the wall. He has also been explicit about his opposition to using taxpayer dollars for its construction and vowed to claw back its previous funding in his budget proposal.
"It is a waste of money that diverts attention from genuine threats to our homeland security," Biden said in his January proclamation, adding that the wall was "not a serious policy solution."
In response to the GOP criticisms, congressional Democrats argue that their colleagues on the other side of the aisle were largely silent whenever Trump would attempt to circumvent congressional spending deals.
"I would like, Mr. Chairman, to ensure that we can hold the record open for any Republican members who would like to document the kind of objections they made at that time to any of these actions," Rep. David Price (D-N.C.) said at the Thursday budget hearing.
But Democrats are also exposed since many of them called for tougher penalties after the GAO's ruling against Trump last year. If the watchdog rules that Biden has acted improperly, Republicans are likely to draw attention to those earlier remarks.
The practical implications of a GAO ruling against Biden, however, would be minimal.
"Nobody's going to jail over any of this," said Bill Hoagland, a budget expert at the Bipartisan Policy Center. "It's a slap on the hand and says, 'Don't do this in the future.'"
Via The Hill