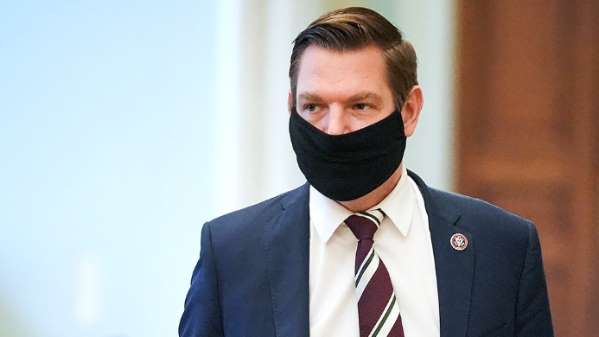 House Minority Leader Kevin McCarthy (R-Calif.) said he is planning on introducing a resolution to remove Rep. Eric Swalwell (D-Calif.) from the House Intelligence Committee, arguing he is a national security threat due to his former ties with an alleged Chinese spy.
"Pelosi just reappointed Eric Swalwell to the Intelligence Committee. Based on the briefing she and I received together, Swalwell should not be on the panel in charge of guarding our nation's secrets. Next week, I will offer a resolution to remove him from the Intel Committee," he tweeted on Friday.
GOP lawmakers have repeatedly taken aim at Swalwell due to his previous relationship with Christine Fang, who according to a report in Axios helped fundraise for Swalwell during his 2014 reelection campaign and place an intern inside his office before leaving the country in 2015 amid a federal investigation into her actions.
Fang also allegedly targeted a number of other high-profile Democrats in California.
House Speaker Nancy Pelosi (D-Calif.) previously said she didn't have "any concern" about Swalwell's ability to serve on the Intelligence Committee
Swalwell — who was one of the most vocal critics of former President Trump and played a leading role in the impeachment efforts — has asserted he feels the GOP's attacks are politically motivated.
Republicans late last year called for Swalwell to be removed from the committee.
McCarthy's pledge comes as each party announced assignments to the committee, one of the last to formally assemble each Congress. The new Republicans on the committee were Rep. Brian Fitzpatrick (Pa.), Trent Kelly (Miss.), Darin LaHood (Ill.) and Markwayne Mullin (Okla.), and Reps. Jason Crowe (Colo.) and Jim Cooper (Tenn.) were the new Democratic additions to the committee.
Rep. Terri Sewell (D-Ala.) will not be returning to the committee.
Via The Hill