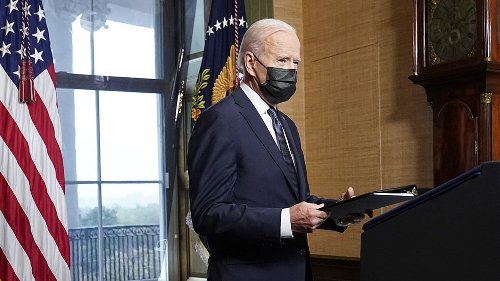 Republicans are struggling to land attacks against President Biden as they grapple with how to win back power in Washington next year.
Biden is proving to be an elusive cipher for Republicans to successfully message against nearly 100 days into his administration, keeping a relatively low profile and refusing to engage in the day-to-day verbal sparring that has consumed Washington in recent years.
It presents a challenge that, GOP senators acknowledge, they aren't hitting the mark on.
"We need to get better at it. I don't think sometimes our messaging is as sharp as it should be because a lot of the things they're doing are things that are popular—when you're spending money, you're popular," Sen. John Thune (S.D.), the No. 2 Senate Republican, said about Republicans' success in defining Biden.
Asked how his party was doing, Sen. Mike Braun (R-Ind.) replied: "Poorly."
"I don't think we've done a very good job because he's getting away with defining himself and rolling out this stuff that we're borrowing every penny for it, and the public is buying it," Braun said. "We've got to find ways to articulate and scuffle in a better way, and I don't know that we've found that."
Biden has spent decades building his reputation as an affable dealmaker who came up through the party's centrist wing. During the 2020 campaign, he talked up his relationship with Republicans and hoped that after former President Trump left office that the "fever" would break.
The bipartisan rhetoric has continued in the White House, with the administration reaching out to GOP lawmakers through private phone calls and publicly disclosed Oval Office meetings.
Republicans view the rhetoric as out-of-touch with how he's governing, pointing to invites to the White House that don't result in actual policy changes that move toward the GOP.
"He's been out with a dialogue of unity and bipartisanship and almost pulled off a masterpiece in that there's not been any of that. And that we need to be clarifying that. I think the invitations to the White House, I was on one of those. … What did we end up with? Zero," Braun said.
Republicans are betting that voters will ultimately turn against Biden's trillion-dollar spending.
"His tone is moderate and he's an affable person, he's a likeable individual and a lot of us know him, have relationships with him and it's probably harder to attack somebody who is relatable and likeable," Thune said.
But, he added, "if he continues down the left, the far-left lane, with respect to policy, that eventually that will start to catch up with him."
That isn't panning out for Republicans so far, though, with Biden winning praise on both style and substance from the right as recently as this week.
Republicans were quick to back new sanctions the administration announced against Russia. And his speech at the memorial for a Capitol Police officer killed this month earned him praise from Fox News, where host Harris Faulkner called him "iconic" for delivering "kindness and empathy."
GOP senators have acknowledged that, politics aside, they largely like Biden, with many knowing him for years if not decades.
Senate GOP Leader Mitch McConnell (Ky.), in a recent stop in Kentucky, accused Biden of leading a "left-wing administration" but added that he was a "first-rate person."
"I like him personally, I mean, we've been friends for a long time," McConnell said.
GOP senators say Biden's "nice guy" reputation and moderate tone have helped insulate him politically.
"I think right now he's in a little bit of a honeymoon period because he seems like a nice guy, which he is. But people think just because you're a nice guy you're sort of a moderate person, and he's not governing like a moderate," said Sen. John Cornyn (R-Texas).
"It's always harder to fight against a nice person because usually people will sort of give him the benefit of the doubt," he added.
Biden's approval ratings have largely held steady in the low-to-mid 50s since taking office in late January, according to averages compiled by tracking website FiveThirtyEight. That's higher than Trump got during his four years in the White House.
A Pew Research Center poll released on Thursday put Biden's approval at 59 percent, up from 54 percent in their March survey. Forty-six percent of Americans also said they liked how Biden "conducts himself as president," compared to 27 percent who don't. Forty-four percent says he's improved the political debate.
Republicans do think they've had success at hitting Biden on the border.
The surge of unaccompanied migrant children along the U.S.-Mexico border emerged as a political flashpoint just last month. Democrats acknowledged that it was an area of concern and Sen. Joe Manchin (D-W.Va.) used another "C" word — crisis — to describe the situation.
Polling backs up the GOP perception that the border is a weak spot for Biden. A Quinnipiac University poll found that only 29 percent of Americans approve how Biden is handling the situation at the border and 55 percent disapprove.
Forty-eight percent also told Pew that they view illegal immigration as a "very big problem," up 20 points from a year ago.
"I think he's defined himself. … I think all we have to do is point out what he's doing, the disaster at the border," said Sen. Ron Johnson (R-Wis.).
Johnson also blamed the media for not focusing more on the border, adding that "when you have the mainstream media in your back pocket, you're going to stay popular."
But as senators returned to the Capitol this week, GOP leadership largely focused their weekly press conference on infrastructure and spending, with only Thune mentioning the border. A second press conference on Thursday was similar.
Some Republicans have leaned into the cultural wars, which play well with the GOP base, and Biden's mental fitness has been a constant swirl of speculation for the right.
But Cornyn garnered fierce backlash this week for a tweet thread where he quoted a Politico article that detailed Biden's less-is-more media strategy. He followed that up with another tweet asking who is "really in charge," sparking criticism that he was elevating those questions. The GOP senator described the experience as being "carpet bombed," but stood by his tweet.
"I think it's a good question. When the 10 Republicans went over to talk about the COVID-19 relief bill, they were apparently having a really nice meeting with the president and Ron Klain was shaking his head … so I think it's a fair question," he said, referring to Biden's chief of staff.
But Senate Republicans have largely stayed away from personal attacks on Biden, arguing that the best way to win politically against him in the long-run is on policy.
"I don't enter into that kind of conversation. I'm more worried about nuts and bolts in what they're doing on policy," Braun said.
Polling shows that Biden's ideas are popular with a majority of Americans. Pew found that 67 percent of Americans approve the $1.9 trillion coronavirus package. Fifty-seven percent of Americans back his infrastructure plan, according to a Morning Consult-Politico poll.
Braun credited Biden with picking issues that are on-the-surface widely popular, even if Democrats then stretch the actual legislation to go much further.
"I think that he's defined himself and that's resonating with the public that he's after bipartisanship and unity and they've picked topics—who's against COVID relief? But then it's only 10 percent. Who is against infrastructure? And it's only six percent, which is roads and bridges," Braun said.
Via The Hill