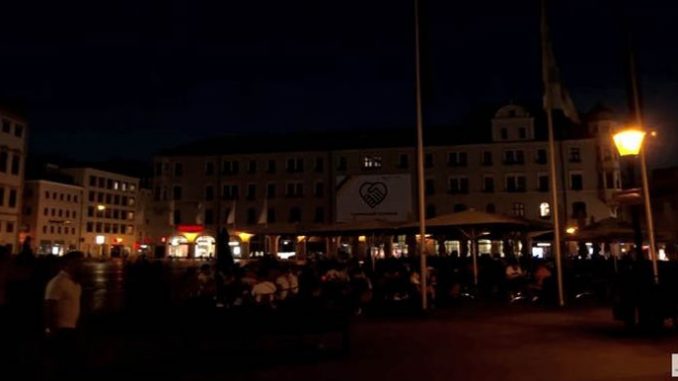 Today Russia announced a bunch of new problems it was allegedly having with the Germany-made machines that pump natural gas through the Nord Stream 1 pipeline.
Delivery of a Nord Stream 1 gas turbine to Germany from Canada after maintenance was not in line with the contract, Gazprom's senior manager said on Friday, stepping up criticism of manufacturer Siemens Energy.

Vitaly Markelov, Gazprom's deputy chief executive, also said Russia had complained repeatedly to Siemens Energy about problems with other turbines.

"We have repeatedly applied to the Russian representative office of Siemens about this, sent 10 letters. Siemens fixed no more than a quarter of the identified bugs," he said in a TV interview.
Siemens Energy, the company that built the turbines said it had not received any reports of damage from Gazprom, the Russian gas company. In other words, Russia is once again lying as an excuse to keep the gas supply turned nearly off.
As I've mentioned before, Germany uses most of its natural gas in the winter for heating. During the summer the country fills massive underground tanks to prepare for the cold weather but this year Russia's decision to cut the supply of gas (first by 60% and now by 80% overall) means those tanks are only about 2/3 full. Some German cities are taking extreme measures to prepare for the worst:
Officials in the central German city of Hanover have announced plans to cut energy consumption by 15% ahead of the expected gas shortage this winter.

The city has become the first major European city to switch off hot water in public buildings, with no warm water in washrooms and no hot showers at swimming pools and sports halls…

The city will limit the period in which public buildings are heated between October and March, with the maximum temperature generally set at 20 degrees Celsius (68 degrees Fahrenheit)…

There will be no more outdoor lighting of public buildings, museums and sights, with wider efforts to limit permanent lighting inside buildings. Public fountains will also be shut down.
Hanover isn't the only German city taking these steps:
In Berlin, the German capital, about 200 historic monuments and municipal buildings were shrouded in darkness on Wednesday night as the city switched off spotlights to save electricity. Monuments previously lit up at night include the Victory Column in Tiergarten park, the Memorial Church on Breitscheidplatz and the Jewish Museum…

The city of Munich, in Germany's south, this week announced it would switch off spotlights on its town hall on Marienplatz square, which is usually lit up until 11pm, and have only cold water at municipal offices. Fountains would also be turned off at night.

Nuremberg is closing three of its four city-run indoor swimming pools and will keep its outdoor lidos open until 25 September.
Things are so serious that there are even discussions about shutting down beer breweries and maybe even canceling Octoberfest:
More quietly, many local leaders are pondering which energy-hungry German traditions may have to be put on the chopping block, should the country be forced into energy rationing: Beer making? Christmas markets?

Mr. Hübschle said he believes Bavaria should shut down its famous breweries before letting its chemical industry face gas shortages.

Meanwhile, Rosi Steinberger, a member of Bavaria's regional parliament, now works in a dark office to cut her consumption, and is debating whether to provoke the inevitable ire of Munich by suggesting it cancel its world-famous Oktoberfest. It is scheduled to return this fall after a two-year pandemic pause.

"I haven't asked yet," she said, with a nervous laugh. "But I also think that when people say there should be no taboos in what we consider — well, that's what you have to think about."
Here's a Reuters report from last Friday about the energy saving efforts in one German city.
Via          Hot Air
The Death of Black Coffee:
Latest studies have found that 1 tiny tweak to your morning coffee puts your body into fat-burn ing mode for the rest of the day.
This coffee trick takes less than 10 seconds…
Yet, it instantly ignites your metabolism and boosts your health, energy and well-being at the same time!
Here's to an amazing start to your day 🙂
====> Try This 10 Sec Fat-Burning Coffee Trick!