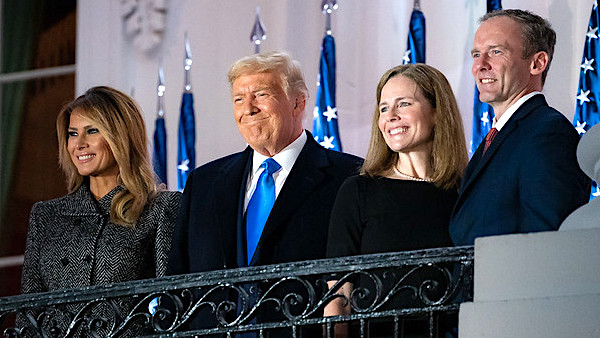 Democrats are hiding their plan to pack the U.S. Supreme Court with liberal justices, a top staffer for Georgia Senate candidate Jon Ossoff admitted in a hidden-camera video published Thursday by Project Veritas.
Max Harris, Ossoff's deputy political director, said the "official position of the party right now is not 'aggressively pack the court.'"
However, he said, "if Biden gets elected, maybe we'll add three justices to the Supreme Court."
The undercover journalist affirmed that idea.
"Yeah. Let's pack it, let's pack it," she said.
Harris cautioned, "I can't say that here today."
He explained it's not the official position of the party, which is to wait and see how the process goes.
The journalist replied, "So if that means keeping the low key, progressive stance hidden, I am [for it]."
Harris responded, "I think privately a lot of people share that feeling, but it's more about trying to prevent the conservatives' vote on the court."
The two Jan. 5 runoff elections for Georgia's U.S. Senate seats will decide the majority in the chamber.
Republicans have a 50-48 lead, but if they lose both races, and Joe Biden is inaugurated Jan. 20, Democrats, with their House majority, will be able to move far-left legislation such as the Green New Deal or packing the Supreme Court.
In a 50-50 split, the vice president casts the deciding vote.
Ossoff is challenging incumbent Republican Sen. David Perdue. The other incumbent is Republican Sen. Kelly Loeffler, who is facing Rev. Raphael Warnock.
In a debate Sunday night, Warnock twice dodged a question about whether he supports packing the Supreme Court.
A moderator asked: "If Democrats do win control of the Senate, there will be pressure to increase the size of the U.S. Supreme Court. Would you support adding more Justices to the Supreme Court to offset President Trump's recent appointments?"
Warnock insisted most Georgians don't care about that issue.
"As I move on across the state, people aren't asking me about the courts and whether we should expand the courts. I know that's an interesting question for people inside the beltway to discuss," he said.
Joe Biden, asked about the issue during a presidential-campaign debate, refused to state his position but promised he would answer before Election Day.
He later said he would appoint a bipartisan commission to "come back to me with recommendations as to how to reform the court system."
BREAKING: GA Senate Candidate @ossoff Deputy Political Director Reveals Democrats Are Hiding Plans To Pack The Supreme Court With Liberal Justices

"If Biden gets elected, maybe we'll add three justices to the Supreme(Court)"

"I can't say that here today(Pack the court), but…" pic.twitter.com/PQ2pGnDpIG

— James O'Keefe (@JamesOKeefeIII) December 10, 2020
Via WND