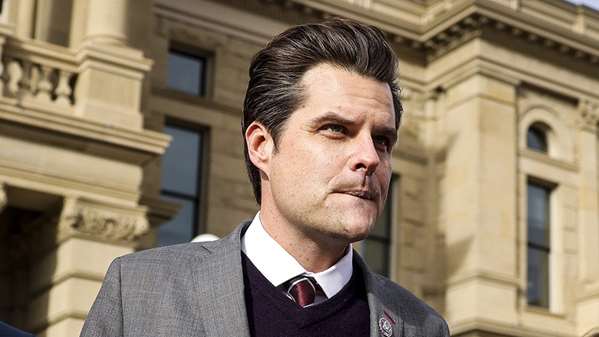 Rep. Matt Gaetz (R-Fla.) was recently denied a meeting with former President Trump at his Mar-a-Lago club in Florida, CNN reported on Sunday night.
The network, citing two people familiar with the matter, reported the embattled Gaetz tried to schedule a visit with Trump after it was first reported he was under federal investigation but the request was turned down by aides close to the former president.
Gaetz and his allies vehemently shot down the report.
Gaetz called the story "a total lie" and said, "No such meeting was denied nor sought."
This is a total lie.

I am on a pre-planned vacation with my fiancée. I was welcomed at Trump Doral days ago.

No such meeting was denied nor sought.

Gabby, "unnamed sources" lied.

When can we expect a retraction? https://t.co/6oaW7JlXUt

— Matt Gaetz (@mattgaetz) April 12, 2021
Gaetz spokesman Harlan Hill told The Hill that the congressman did not ask for a meeting with Trump this week.
"Rep. Gaetz arrived at Doral, gave a speech, and left. He has not solicited a meeting with President Trump anytime recently, as confirmed by President Trump's own team in a public statement today. Rep. Gaetz has been spending his time in recess relaxing with his fiancee, and appreciates all the support he has been receiving from his constituents — who in a poll last week demonstrated overwhelming support for the Congressman — as well groups like Women for America First who hosted him in Miami this weekend," he said.
The report comes on the heels of others about Gaetz's relationship with Trump.
On Wednesday, Trump released a statement denying a report from The New York Times that Gaetz asked White House officials for blanket preemptive pardons for himself and other congressional allies of Trump.
"Congressman Matt Gaetz has never asked me for a pardon," Trump said in a statement. "It must also be remembered that he has totally denied the accusations against him."
Gaetz is reportedly the subject of a Department of Justice investigation looking into an alleged inappropriate relationship with a minor, and a possible violation of sex trafficking laws.
Gaetz denied the allegations that he had a sexual relationship with a 17-year-old girl, telling Fox News's Tucker Carlson during an interview that he is being accused of having a relationship with a teenager who "does not exist."
The New York Times, which first reported on the investigation, wrote that Gaetz and a former Florida county tax collector, Joel Greenberg, paid multiple women who were recruited for sex online.
On Thursday, The Daily Beast reported that Gaetz, in 2018, sent Greenberg two Venmo transactions amounting to $900, labeled "test" and "hit up ___," with the alleged nickname of a young woman.
Greenberg reportedly later sent a total of $900 to three girls labeled as "Tuition," "School" and "School."
In a speech at the Save America Summit at Trump National Doral on Friday, Gaetz said he would not be intimidated by the allegations against him, vowing the "truth will prevail."
Following the report from The Daily Beast, GOP Rep. Adam Kinzinger (Ill.) became the first Republican lawmaker to call on Gaetz to resign.
In a short tweet, the Illinois Republican wrote, "Matt Gaetz needs to resign," with a link to reporting from The Daily Beast.
Matt Gaetz needs to resign. https://t.co/AygfqAxQJX via @thedailybeast

— Adam Kinzinger (@AdamKinzinger) April 9, 2021
The House Ethics Committee on Friday announced that it was opening an investigation into Gaetz following allegations of illegal drug use and sharing nude photos of young women with his colleagues on the House floor.
Via The Hill