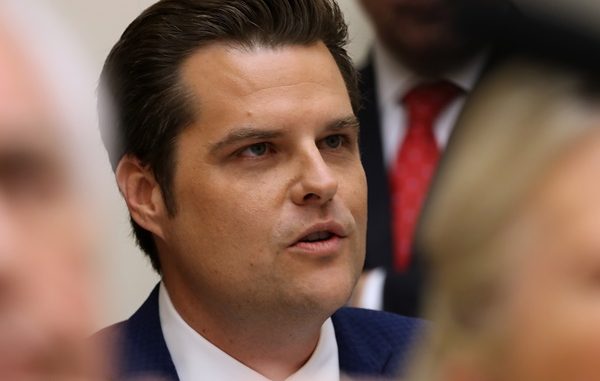 Rep. Matt Gaetz, R-Fla., touted himself as an attorney general appointee for President Donald Trump, vowing to "go easy on marijuana, tough on big tech."
"And so I figure, in the next term of Donald Trump, whether that's in 2021 or 2025, maybe he ought to pick me to be the attorney general," Gaetz told Turning Point USA's young conservatives conference in West Palm Beach, Florida, this weekend, Mediaite reported.
"And for whatever reason he doesn't run, maybe I ought to pick the attorney general," Gaetz added, per the report.
"I would go easy on marijuana, tough on Big Tech, and I would go after the 'deep state.'"
Gaetz has been a vocal supporter of President Trump and a staunch opposition of Democrat-led investigations into the Trump administration.
Trump's past attorney general William Barr has decided to resign before Christmas amid potentially multiple investigations of the Biden family, election fraud, and special counsel John Durham's investigation of the investigators of 2016 election meddling.
Gaetz said he plans to challenge electoral college votes when they are counted during a Joint Session of Congress on Jan. 6.
"So on January 6, I'm joining with the fighters in the Congress and we are going to object to electors from states that didn't run clean elections."
Gaetz said newly elected Alabama senator Tommy Tuberville, R-Ala., will join the planned objection by members of the House of Representatives. Gaetz during his speech said that moments before the event he had spoken to Tuberville, who told him that he plans on joining the effort.
"I had a chance to speak to coach Tuberville just moments ago and he says we are done running plays from the establishment's losing playbook and it's time to fight," Gaetz said.
"Now coach Tubervillve went for it a lot on fourth down when he was coaching at Auburn. They called him the Mississippi riverboat gambler. The odds may be tough, it may be fourth and long but we're going for it on January 6."
Via Newsmax