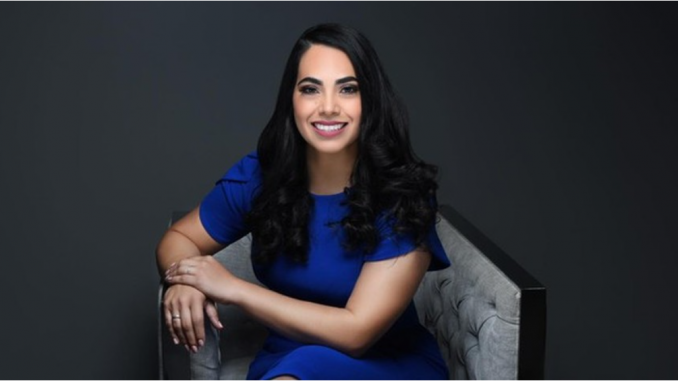 Rep. Mayra Flores is getting right to work on following through on campaign promises. One of the main focuses of her campaign was border security. The first bill she co-introduced in Congress is one on border security.
It's a bipartisan bill. That's important during this time of record-breaking illegal immigration and drug trafficking. A press release notes that Flores, along with Republican Congressman Dave Joyce (OH-14), Democrats Susie Lee (NV-03), and Chris Pappas (NH-01), introduced the Advanced Border Coordination Act. Companion legislation was introduced in the Senate by Senator Cortez Masto (D-NV) earlier this year. The bill focuses on strengthening border security by improving law enforcement communication and coordination at the southern border. The bill establishes Joint Operation Centers along the southern border. They will be much like the state-run fusion centers. They serve as centralized operating hubs that coordinate border operations, share information, and workforce training.
"I came to Congress promising to solve problems confronting our district and this is exactly what my first bill delivers. I'm proud this bill is being introduced and lauded by Members on both sides of the aisle, as a more secure border means safer and more prosperous communities across this land," said Congresswoman Flores. "It is evident, from what we are witnessing at our southern border, that the only group benefiting from this self-inflicted chaos are criminals, drug and human traffickers, and the cartels. Our bill will put an end to this by bettering our law enforcement coordination and their ability to counter these dangerous groups. I thank my colleagues for joining me in this bipartisan and bicameral effort."
In June (we don't have July numbers yet), the Biden border crisis continued to produce record-setting numbers of illegal migrants and drugs coming across the southern border. Individuals on the terrorist watch list are also being apprehended at the border. Six individuals were apprehended in June that are on the terrorist list. That may not seem like much, compared to the hundreds of thousands of illegal migrants coming across the border each month but it only takes one or two for something really bad to happen, right? Those six migrants on the terrorist list brought the number to a total of 56 for the fiscal year 2022. One particularly horrific story in June was that of 50 plus migrants who died as a result of being trafficked across the border in a tractor-trailer without air conditioning or water in 100 plus degree weather. Two Mexican nationals with expired visas were arrested in that operation.
The drug crisis is growing, thanks to lax border control in Biden's America. So far in fiscal year 2022, 8,400 pounds of fentanyl have been seized by Border Patrol, double the total amount seized for all of fiscal year 2020. Drug overdoses are at all-time record highs.
The Advanced Border Coordination Act would help address national security threats and humanitarian concerns by:
Directing the Department of Homeland Security (DHS) to establish at least two joint operations centers along the southern border. These hubs would help law enforcement from multiple Federal, State, local and Tribal agencies coordinate their efforts and better work together.

Requires these centralized hubs to serve as resources to improve field operations and intelligence sharing, help detect and deter criminal activity like drug and human trafficking, and support workforce development and training coordination between participating agencies.

Direct the DHS Secretary to issue an annual report to Congress on the centers' operational activities and recommendations for coordinated federal actions at the southern border.
The participating agencies include the Department of Homeland Security, the Department of Defense, the Justice Department, as well as other federal agencies that the DHS Secretary determines appropriate. State, local, and tribal agencies may also voluntarily choose to participate. Color me skeptical as to how involved DHS Secretary Mayorkas will be in this. The Biden border crisis is a result of Biden's open border approach to illegal immigration and DHS's lack of enforcement of immigration laws already on the books. Biden refuses to admit that there is a problem on the southern border, much less a humanitarian crisis going on, and Mayorkas insists that the border is secure. Admitting there is a problem is the first step to working toward a solution.
Rep. Flores's husband is a member of the Border Patrol. Her personal knowledge of the Biden border crisis will be helpful going forward. She is off to a good start.
Via              Hot Air
The Death of Black Coffee:
Latest studies have found that 1 tiny tweak to your morning coffee puts your body into fat-burn ing mode for the rest of the day.
This coffee trick takes less than 10 seconds…
Yet, it instantly ignites your metabolism and boosts your health, energy and well-being at the same time!
Here's to an amazing start to your day 🙂
====> Try This 10 Sec Fat-Burning Coffee Trick!