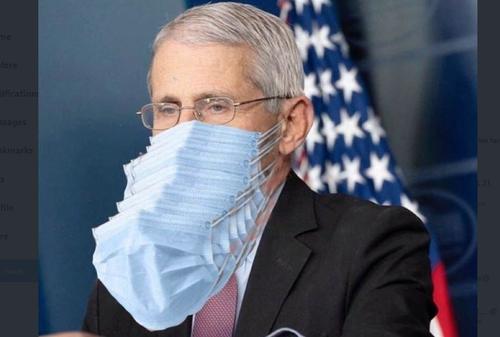 Amid the always-fearmongering, always-pessimistic, always-more-control-demanded, (and almost always wrong) daily headlines from Dr. Fauci, Former FDA Commissioner Dr. Scott Gottlieb dared to speak optimistically about the way forward on Friday:
"We now know that the vaccines dramatically reduce your chance of both contracting COVID and becoming symptomatic to the point where you are going to have a bad outcome; we also know it reduces asymptomatic disease and reduces transmission… we are seeing that in the data."
The Pfizer board member does hedge a little by suggesting those who are high risk should still take precautions.
By many measures, March was supposed to be a "difficult month" but as the vaccine campaign continues uninterrupted, April and May will "look much more clear."
"…people can be more liberal… people will be taking off their masks because we are going to see prevalence decline around the country and people who've been vaccinated can go out with more confidence."
Then Gottlieb dropped some serious truth bombs (which were mysteriously edited out of CNBC's clip above) saying that within a few weeks, it could be "obvious" that masks may be safely removed, and even more significantly, following CDC's flip-flopping and confusing rules this week on distancing in schools:
"This six-foot distancing requirement has probably been the single costliest mitigation tactic that we've employed in response to COVID… and it really wasn't based on clear science… we should have readjucated this much earlier."
Watch this 70 seconds and consider the source – this is not some 'white supremacist, disinformation-spreading, alt-right blogger', this is the former FDA Commissioner who many mainstream media outlets have listened to verbatim through the crisis.
"This six-foot distancing requirement has probably been the single costliest mitigation tactic that we've employed in response to COVID," says @scottgottliebmd. pic.twitter.com/M5tmgj3kTY

— CNBC's Closing Bell (@CNBCClosingBell) March 19, 2021
But, but, but, what about Fauci's "science"?
This shocking revelation comes just days after Senator Rand Paul destroyed Dr. Fauci's so-called "science"-based reasons for various restrictions – from mask-wearing to social-distancing – as 'useless political theater'.
Interestingly, Gottlieb said "both [Paul and Fauci] made valid points," but specifically said that "Senator Paul was right, we need to see light at the end of the tunnel and have guidance that prescribes an environment where people can start doing things again."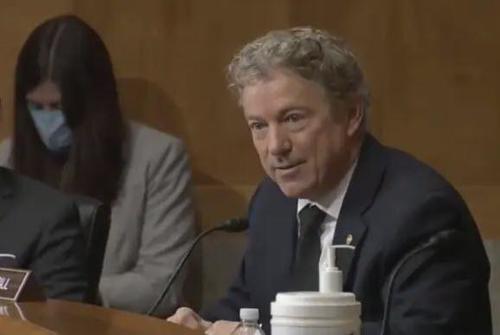 Amid the now-politicized divide between nanny-state-obeyers and science-denying-extremists (there is no middle ground anymore), it would appear the entirely opposite-think statements, declarations, and proclamations made by officials one year ago have been almost entirely 'memory-holed'.
As Sharyl Attkisson points out in an extensively researched note, around this time last year:
Vaccine propagandist Dr. Peter Hotez made the case against travel bans
Dr. Anthony Fauci said there was no reason to walk around wearing masks
New York City's Health Commissioner urged people to go to crowded places and busy restaurants
Rep. Nancy Pelosi (D-Calif.) encouraged people to get out and be around others in San Francisco's Chinatown
And one year ago, the World Health Organization gave what many scientist called confusing guidance on wearing masks for Covid-19.
World Health Organization, March 19, 2020: "Wearing medical masks when not indicated may result in unnecessary costs and procurement burdens and create a false sense of security that can lead to the neglect of other essential measures, such as hand hygiene practices. Further, using a mask incorrectly may hamper its effectiveness in reducing the risk of transmission."
It was just ten days after Dr. Anthony Fauci stated, on March 8, "there's no reason to be walking around with a mask."
Dr. Fauci also, notoriously, testified to Congress that coronavirus was ten times deadlier than flu about the same time he published a scientific paper that said something quite different: Covid's lethality was akin to a bad flu season.
President Trump's ban on travel from China had been installed January 31 when there had only been a few confirmed cases of Covid-19 in the U.S.
Here's a look back at some of the most notable statements made by public officials from January through March 31, 2020. 
Some of the comments, guidance, and reflections proved accurate in the long run; some did not. Some seem to have long been forgotten or deposited down the selective memory hole.
Nothing to fear, It's a 'bad flu', 'masks, schmasks'…
Dr. Anthony Fauci, White House Coronavirus Task Force, Jan. 21, 2020: "This is not a major threat to the people in the United States and it is not something that the citizens of the United States right now should be worried about."

Dr. Fauci, in sworn testimony to Congress, March 11, 2020: 'Coronavirus ten times more lethal than flu.' but Dr. Fauci in the New England Journal of Medicine, March 26, 2020: "…the case fatality rate may be considerably less than 1%. This suggests that the overall clinical consequences of Covid-19 may ultimately be more akin to those of a severe seasonal influenza (which has a case fatality rate of approximately 0.1%)…"

Dr. Oxiris Barbot, New York City health commissioner, Jan. 27, 2020: People "who had recently traveled from Wuhan were not being urged to self-quarantine or avoid large public gatherings." "There is no reason not to take the subway, not to take the bus, not to go out to your favorite restaurant, and certainly not to miss the parade next Sunday."

and

"As we gear up to celebrate the #LunarNewYear [Chinatown parade] in NYC, I want to assure New Yorkers that there is no reason for anyone to change their holiday plans, avoid the subway, or certain parts of the city because of #coronavirus…We are here today to urge all New Yorkers to continue to live their lives as usual."

and

"…there's no risk at this point in time…about having it be transmitted in casual contact, right?" "The risk to New Yorkers for Coronavirus is low, and our preparedness as a city is very high."

LA Times, Soumya Karlamangla, Jan. 31, 2020: For Americans, flu remains a bigger threat than coronavirus. "…unlike the coronavirus, which so far hasn't led to any deaths in the U.S., influenza has killed approximately 10,000 Americans since October, according to federal data released Friday." "…a much deadlier killer already stalking the United States has been largely overshadowed: the flu."

Rep. Nancy Pelosi, House Speaker, Feb. 24, 2020: Urged people to visit San Francisco's Chinatown. "That's what we're trying to do today is to say everything is fine here. Come because precautions have been taken. The city is on top of the situation."

New York City Mayor Bill De Blasio, March 2, 2020: "…I'm encouraging New Yorkers to go on with your lives + get out on the town despite Coronavirus…" 

Cuomo, March 23, 2020: "Many people will get the virus, but few will be truly endangered. Hold both of those facts in your hands: Many will get it, up to 80 percent may get it, but few are truly endangered and we know who they are."

Dr. Anthony Fauci, National Institutes of Health and White House Task Force, March 8, 2020: "there's no reason to be walking around with a mask."
So what changed? Why did all these officials suddenly flip to fearmongering the deadliest of deadly things imaginable (that leaves 99.7% of those 'infected' unharmed)?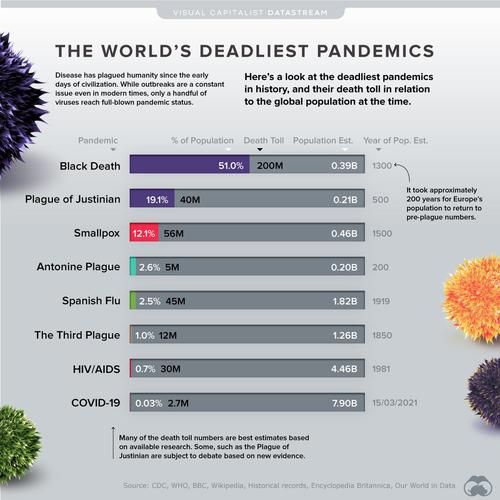 It couldn't be politics, surely?
Via Zero Hedge