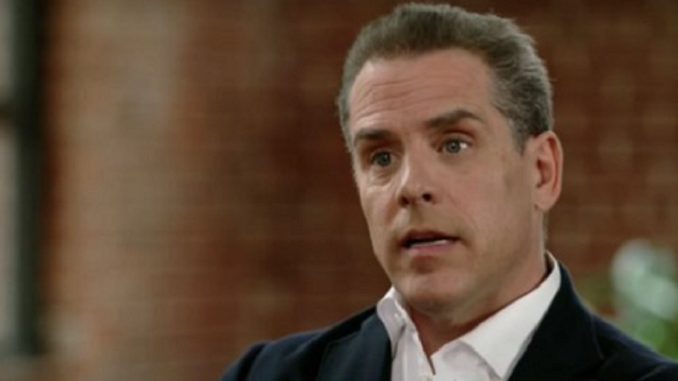 A new report out of Washington documents that federal agents believe they now have enough evidence to charge Hunter Biden, Joe Biden's son, with counts related to tax offenses and lying during the purchase of a handgun.
The Washington Examiner cites reports from unnamed sources, including FBI agents.
Hunter Biden has been a nonstop scandal for Joe Biden since he was vice president. Hunter Biden repeatedly has engaged in business deals with foreign interests, sometimes enemies of the U.S., in what has given the appearance of influence operations.
He repeatedly has set up meetings between his business "associates" and his father, and reports document how one deal with China even was supposed to include 10% for the "Big Guy," identified by deal participants as Joe Biden.
Hunter Biden also took hundreds of thousands of dollars from a Ukrainian gas company, Burisma, while his father was vice president, and when Ukraine's prosecutor started looking into allegations of corruption in the company, Joe Biden came to the rescue.
He threatened officials there with the loss of American financial aid if they didn't fire the prosecutor. They did, and Joe Biden bragged about his influence operation:
The Examiner said the Washington Post confirmed that the investigation into Hunter Biden's activities focused on his overseas business dealing and "consultant" work in Ukraine and China.
"Over time, investigators with multiple agencies focused closely on whether he did not report all of his income, and whether he lied on gun purchase paperwork in 2018, according to the people familiar with the situation," the report said.
The case has been under the supervision of U.S. Attorney David Weiss, of Delaware.
The Examiner said, "Hunter Biden revealed he was under federal investigation for his taxes shortly after the 2020 election, saying, 'I am confident that a professional and objective review of these matters will demonstrate that I handled my affairs legally and appropriately, including with the benefit of professional tax advisors.'"
There also were suggestions that his activities may have been violations of foreign lobbying regulations.
The Biden family business reportedly took in millions of dollars from Hunter Biden's dealings.
"Records show Hunter believed some of his Chinese business partners were connected to Chinese intelligence services," the report said.
Sens. Chuck Grassley of Iowa and Ron Johnson of Wisconsin have asked for a full investigation, too, of Hunter Biden's laptop, which he abandoned at a repair shop.
Documentation from that shows Joe Biden apparently "unwittingly" financed his son's participate in an escort ring tied to Russia, the report said.
It was the FBI's decision to insist that Big Tech companies suppress accurate reporting about that scandal just before the 2020 election that now is being considered by election experts to have turned that vote from President Trump to Joe Biden.
The report said Hunter Biden's lawyer, Chris Clark, complained that the information had been leaked, explaining it is a federal felony for a federal agent to disclose such information.
The handgun charge could stem from Hunter Biden's statement to the federal government in 2018 that he was not "an unlawful user of, or addicted to, marijuana or any depressant, stimulant, narcotic drug, or any other controlled substance."
In fact, he's made no secret of his drug problems during that time.
The Daily Mail reported investigators said the evidence to charge was "sufficient."
But no decision has been announced, even if it has been made.
Via Wnd