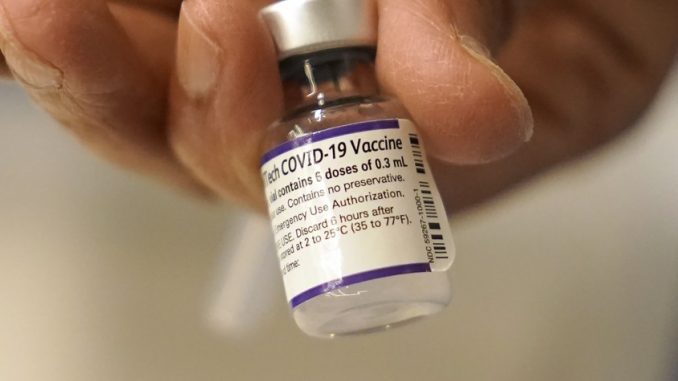 Then he backtracked. On ABC's This Week program on Sunday morning, Dr. Fauci said he'd be supportive of a COVID-19 vaccine mandate for domestic air travel. Neither Joe Biden nor Pete Buttigieg, the Secretary of Transportation, favor such a move. At least not yet. Fauci isn't really so firm in his support, as it turns out. Just after he said he would support a mandate, he said one really isn't necessary, given the mitigation measures already in place.
This is exactly why no one trusts Fauci. I don't know why the White House keeps sending him out as the face of the fight against the coronavirus. He says one thing, then in the next sentence, he says something else. He has changed course on every decision made since the beginning of the pandemic. At first, it was mostly a control issue but now it all looks political. The push is on getting people vaccinated. Fauci said using a federal mandate for vaccinations in order to be allowed to use air travel is a good way to get people vaccinated.
"I mean, vaccine requirements for people coming in from other countries is to prevent newly infected people from getting in to the country," Fauci said of the existing vaccine requirement for international travelers to the US.

"A vaccine requirement for a person getting on the plane is just another level of getting people to have a mechanism that would spur them to get vaccinated," he added of a potential vaccination mandate for domestic air travel.
Then Fauci admitted that a federal mandate isn't really needed for the safety of air travelers because they are already required to wear face masks and the air filtration systems have been updated for extra protection.
"I mean, anything that could get people more vaccinated would be welcome," Fauci said Sunday. "But with regard to the spread of virus in the country, I mean, I think if you look at wearing a mask and the filtration on planes, things are reasonably safe," he added.
Fauci is firmly in the pro-mask camp. He and the airline attendants' union want to keep mask requirements for air travel while many passengers and some airline CEOs want travelers to be allowed to fly maskless. This is another point of contention for the general public and Fauci. Some health officials are coming out now and saying that masks are not truly effective in stopping the spread of the virus, especially the cloth masks. The only effective masks are surgical-grade masks and even those aren't getting 100% support for stopping the spread of the Omicron variant. If the medical community remains split on this subject, how are we to make informed decisions? In places where mask mandates are not in effect, most people have stopped wearing them on their own.
People want to get back to a more normal way of life. This year, the number of people traveling by air for the holidays has increased as more people feel protected, either by vaccines and mitigation or from natural immunity and therapeutic treatments. This is not March 2020. People are traveling despite the emergence of the Omicron variant which is characterized as highly contagious.
According to data from the Transportation Security Administration, more than 1.7 million people went through security screenings at US airports on December 24 compared to just about 616,000 people who traveled on Christmas Eve in 2020.

The holiday travel comes amid an ongoing rise in COVID-19 cases in the US, fueled in part by the Omicron variant of the disease, which is believed to be more transmissible than previous strains of the novel coronavirus, though it may cause more "mild" illness, experts say.
Fauci was surprised by the booing that Trump received when he said he had the COVID-19 booster shot. Suddenly, Fauci had a favorable word or two to say about Trump.
Well, I certainly hope so, Jon. We'll take anything we can get about getting people vaccinated. I was a bit dismayed when former President Trump came out and made that statement, and his followers booed him, which I was stunned by that. I mean, given the fact of how popular he is with that group, that they would boo him, which tells me how recalcitrant they are about being told what they should do. And I think that his continuing to say that people should get vaccinated and articulating that to them, in my mind is a good thing. I hope he keeps it up.
In recent weeks, Fauci has been more aggressive in his criticism of Trump, his supporters, and Republicans in general. That isn't his job, as a scientist. Nor is it his job to set policy. He's an unelected bureaucrat. He's supposed to find a cure for the virus with his team of scientists at NIH. The longer this pandemic goes, the more frequently his advice is shown to be lacking in reality. A vaccination mandate for air travel won't stop the spread of Omicron. Vaccinated people experience Omicron variant breakthrough cases and can pass the variant on to others. Fauci needs to step aside and let someone else have their 15 minutes of fame in television interviews.
Via      Hot Air