Twitter has announced it wants to crack down on information with which it disagrees, so it's enlisting the legacy news outlets of the Associated Press and Reuters to help.
Today I'm excited to announce a new collaboration with @AP and @Reuters to expand how we highlight credible context on Twitter: https://t.co/IthLmYxkWc

— Joanna Geary ⚡️ (@JoannaG) August 2, 2021
A company executive handling "curation" of content, Joanna Geary, said, "I'm excited to announce a new collaboration with @AP and @Reuters to expand how we highlight credible content on Twitter."
However, both media organizations have taken one side in political arguments, with AP arguing in May that "Trump's 'Big Lie' imperils Republicans who don't embrace it," suggesting that Trump's concerns about vote fraud are a "lie."
The wire organization alleged, "Trump's discredited allegations about a stolen election did nothing to save his presidency when courtrooms high and low, state governments and ultimately Congress … affirmed the legitimacy of his defeat and the honesty of the process that let to it."
However, audits continue in several states where results raised concerns about the potential of fraud. And it is indisputable that leftist Mark Zuckerberg of Facebook donated some $350 million to leftists in various offices to help them "run" the election. Also, various state officials arbitrarily changed state laws to accommodate COVID even though the Constitution allows only state legislatures to do that.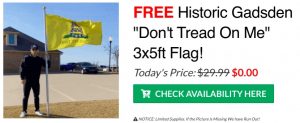 The fact that no judge ever reviewed the evidence of fraud also undermines the claim that it didn't exist, as fact-checkers, often run by media groups, have claimed over and over.
Reuters, too, in May, claimed that President Trump was "poisoning" democracy with his "Big Lie," again without acknowledging the legitimate questions that have yet to be answered.
Twitter's move aligns with other social media companies that have collaborated with and recruited legacy media and other activist organizations to help "curate," or censor, their content.
AP's announcement said, "Twitter has signed a deal with The Associated Press and Reuters to help elevate accurate information on its platform. Twitter said Monday that the program will expand its existing work to help explain why certain subjects are trending on the site, to show information and news from trusted resources and to debunk misinformation.
"Twitter said the news agencies will help ensure that credible information is available in real time around key conversations as they come up. That will be especially important where 'facts are in dispute' or when the company's own curation team doesn't have the necessary expertise or access to enough reputable reporting on the subject, Twitter said."
The AP's announcement said it also will "provide context" when topics "could potentially lead to misleading information."
American Greatness reported AP spokesman Tom Januszewski claimed his organization aims "to expand the reach of factual journalism."
And the report said Reuters' Hazel Baker "made the questionable claim that 'trust, accuracy, and impartiality are at the heart of what Reuters does every day.'"
The report said, "Twitter, along with other Big Tech platforms, ha[s] significantly increased their efforts to crack down on political dissent in recent months, most notably by permanently banning President Donald Trump in January, while he was still the sitting president of the United States. Other platforms such as YouTube and Facebook have either outright banned, or attached 'warning labels' to, content that raises doubts about the 2020 presidential election, the efficiency of coronavirus restrictions, and other controversial subjects."
Legacy media and social media outlets repeatedly have censored discussion about information they don't like, even if it has proven later to be valuable, such as treatment for COVID with ivermectin or hydroxychloroquine, and well as information that they've later flip-flopped on, such as discussion of the Wuhan lab in China as the source of COVID. That discussion was banned for months, only to suddenly become accepted for discussion.
Many of the banned discussions have, in fact, been censored based on the fact that President Trump made statements on those issues, such as COVID treatments, election fraud, the false Russia collusion narrative promoted for years by Democrats and the media, and more.
In fact, those media operations successfully suppressed a New York Post story about scandals involving Joe Biden's son, Hunter, just before the 2020 election and a Media Research Center poll later revealed that had more people known about the allegations of misbehavior, enough would have avoided voting for Joe Biden to have changed the result of the election.