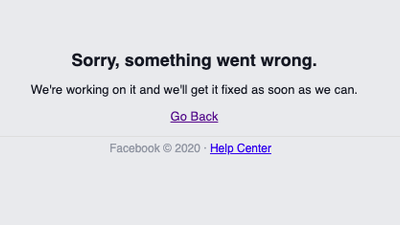 Downdector reports that Facebook, Instagram, Whatsapp, and Facebook Messenger are experiencing issues and /or outages worldwide. The outage comes just before a Facebook whistleblower is set to testify before Congress on Tuesday. On the bright side, with a broad part of social media platforms down today, maybe people will get back to work and boost global productivity since the outage is broad.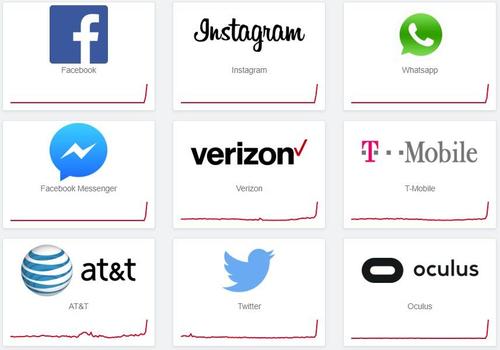 Users began to report issues with the social media platform around 1120 ET.
Facebook users report the website won't load with an error message that reads:
"Sorry, something went wrong. We're working on it and we'll get it fixed as soon as we can."

Facebook spokesperson Andy Stone acknowledged on Twitter that "some people are having trouble accessing our apps and products."
We're aware that some people are having trouble accessing our apps and products. We're working to get things back to normal as quickly as possible, and we apologize for any inconvenience.

— Andy Stone (@andymstone) October 4, 2021
The timing of the widespread outages comes as a Facebook whistleblower will be testifying before Congress on Tuesday. The whistleblower appeared on "60 Minutes" Sunday, detailing the tech company's mission to put profit before doing "what was good for the public," including clamping down on hate speech.
Shares of the tech company slid 6% by early afternoon, tumbling not just on the whistleblower but also the global outage.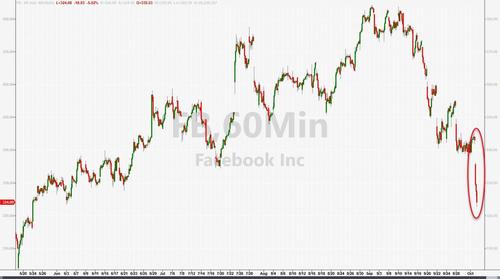 Facebook users took to Twitter to complain about the outages:
Facebook, Instagram and WhatsApp experiencing worldwide outage!!!!!! pic.twitter.com/EIMKqrtUFK

— Nate (@natedoggie1134) October 4, 2021
The Facebook DNS outage will quickly expose the hidden dependencies some of us have on Facebook (company), even if we barely use the social network.

For me, it's WhatsApp.

Reminds me of the story of when Google took down their "Chubby" service:

— Danny Kopping (@dannykopping) October 4, 2021
Does anyone else think this Facebook outage is timed perfectly if they want to clean house in the face of the whistleblower's interview so that even more dirt isn't found?

— Tim Palomo (@timpalomo1) October 4, 2021
Facebook, WhatsApp and Messenger all down in major outage.

Conspiracy theorists say just shortly after Whistleblower interview (which I've not seen) #facebook #interview

— Graham Riddell Photography (@GR_SLR) October 4, 2021
If anyone out there is wondering, I can confirm that Facebook and Instagram are having massive outages.

Weird after this whistleblower stuff from @60Minutes last night. https://t.co/NYS9C8gH5r

— Adam Greenbaum (@Greenbaumly) October 4, 2021
Via Zero Hedge