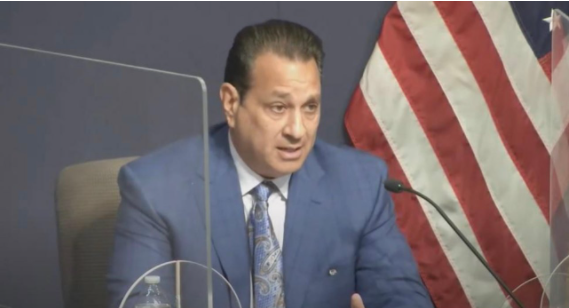 The Gateway Pundit has obtained an exclusive audio recording of a meeting with Maricopa County Supervisor Steve Chucri and We The People AZ Alliance.
The Arizona audit report will be made public this Friday.
Will Chucri stay silent when he knows exactly what happened?
BREAKING: AZ Candidate For Secretary of State Mark Finchem: "I Call On Arizona To Decertify The Election Of 2020 And Recall The Electors… We Have A Duty To Act" – 96K+ GHOST VOTES
On March 22nd, 2021, Steve Robinson and Shelby Busch met with Steve Chucri to push for Maricopa County's cooperation with a full forensic audit by the Arizona Senate.
These brave Patriots have decided that it is time to release the tapes now that the audit report is in preparation and the county officials will not stop lying.
Chucri was the only Supervisor willing to meet with residents of Maricopa County to discuss serious election concerns, which he shared.
Chucri seemed to agree with the majority of voters who were calling for an audit.
We The People AZ Alliance is a citizen-led organization that has played an extreme role in pushing elected officials to act on election concerns with a full forensic audit.
They are not connected to the Arizona Senate audit investigation. They are private, concerned citizens in the grassroots movement, who want to see elected officials fight for the people.
Throughout the meeting, Chucri ripped his colleagues for not standing up for voting rights or cooperating with the Senate.
Chucri even said that the county's audit, led by the companies that certified the equipment, was "bullsh*t" and said he thinks his colleagues are afraid of an audit because of how close their races were.
We reported on the county's bogus early audits several times.
Maricopa County Board of Supervisors' Chairman, Jack Sellers, Has Close Ties with China – Is This Why He's Fighting So Hard Against the Senate's 2020 Election Audit in Maricopa County?
Here is the audio transcript:
Busch: That was my point too. Even if they do not have political aspirations beyond this and theyre done, why allow this to now erase anything that you have accomplished.

Chucri: Right, Exactly. I'm committed to people, I wanted to take out Adrian Fontes too and we did, I'm proud of that. That Guy's a scumbag. And so why would we stop?

Busch: I dont know what happened to your colleagues.

Chucri: I dont either.

Busch: But Im hoping you can reel them back in and if we can deliver to the masses a good message, then we can turn this whole ship around.

Robinson: And if not, at least my consience is clear that we tried.

Chucri: Right, right, right. I mean, you're surprised about that, as I am. Because remember what I said to Senator Fann. Remember, and ask her this, and remember what I said to Michelle Ugenti, "This isn't going to be a problem. My guys are gonna agree with me."

Busch: Yeah you told us that when we met with Guliani.

Chucri: And I said to Fann,  "Hey, just as good measure, where you call everybody and saying, hey, you know you're supportive of an audit, and that would be great," including Gallardo when she did. Never in a million years. You know what I think it was, in hindsight. Gates got scared because he barely won. And Jack got scared because he only won by 200 votes, and then there was an audit and a recount, which was pretty bullshit, by the way. What would happen in those two races? And that is way too self-serving.
"Scumbag" Adrian Fontes was the Maricopa County Recorder during the 2020 election.
Chucri also met with Rudy Guliani, Col. Phil Waldron, Shelby Busch, and Steve Robinson in December.
In another recording, Chucri said, "I like Col. Waldron, I don't think he's a crazy nut job. That guy's pretty sharp. Very sharp… He's not a bad actor."
Steve Chucri knew that this audit was not up to shape and that this election had serious issues. He also states that his colleagues could be opposing an audit in order to stay in office.
He is in derelict of his duties to the people.
Why does Steve not speak up about this corruption?
What would compel him to vote contrary to his conscience?
What is compelling the other supervisors?
Steve needs to do what is right. He needs to come clean and tell us the truth.
Stay tuned for more.