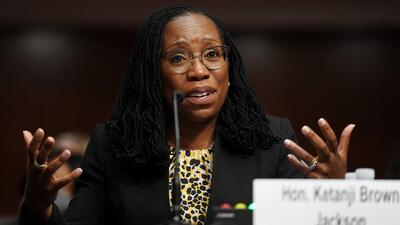 Two days after the retirement of Associate Supreme Court Justice Stephen Breyer was announced, a former law clerk for a judge believed to be on President Biden's short-list of nominees began stealth-editing her Wikipedia page in an effort to make her look like a more attractive candidate.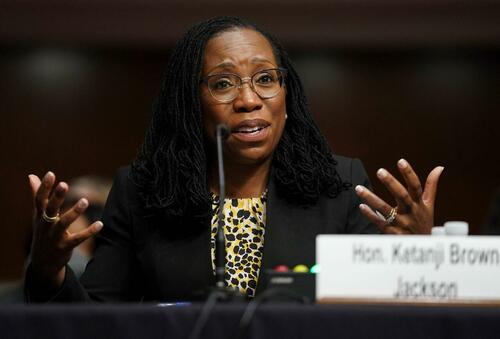 According to a Friday Politico report, Matteo Godi, a former clerk for Judge Ketanji Brown Jackson, began altering her page on January 28, while also editing the pages of her rivals to make them look worse. In total, Godi made more than 20 edits under the username "H2rty."
Other former Jackson clerks confirmed it was Godi.
In a statement, the former clerks for Jackson — who requested anonymity in order to identify the online editor — said Godi has edited his former boss's Wikipedia page "as a matter of course" for several years. They said Jackson was not aware of Godi's edits on the pages of other judges.

Those edits display a pattern: The page for Jackson, seen by many as a Supreme Court frontrunner, was tweaked to paint her in a more favorable light for a liberal audience, while the pages for other potential nominees — South Carolina federal district court Judge J. Michelle Childs and California Supreme Court Justice Leondra Kruger — were altered to make them potentially less appealing to a left-leaning audience. -Politico
On Jan. 30 and Feb. 1, Godi made "significant changes" to Jackson's WikiPedia page – deleting a reference to her position on the advisory board of "a Baptist school," as well as two rulings she made against the Trump administration that were reversed by the DC Circuit – which was replaced with a defense: "Ahead of her confirmation hearing, 'Bloomberg Law' reported that conservative activists were pointing to certain decisions by Jackson that had been reversed on appeal as a 'potential blemish on her record,' in order 'to tarnish her so she won't get picked for the Supreme Court.'"
A section covering Jackson's most famous ruling – requiring former White House counsel Don McGahn to obey a congressional subpoena was also altered.
The New York Times noted Jackson's "slow pace" helped then-President Donald Trump "run out the clock on the congressional oversight effort" before the 2020 election; Jackson's updated Wikipedia page seems to shift the blame for the ruling's timing from Jackson to the D.C. Circuit court.

Previously, the page said the ruling was "subsequently" appealed "and was only resolved when … McGahn testified," while the updated version emphasizes that Jackson's ruling was "immediately" appealed, and "it took the full D.C. Circuit nine months to affirm part of Jackson's decision." The case "remained pending before the court of appeals," the updated Wikipedia page states, when McGahn agreed with the Biden administration to testify behind closed doors. -Politico
Godi's alterations to Childs' and Kruger's pages emphasized characteristics that call into question their liberal beliefs. It suggests Childs' sides with corporations over people – noting her "reputation for being an expert in employment and labor law" from her time at South Carolina-based law firm Nexsen Pruet, adding that she worked on behalf of "employers dealing with allegations of race based and gender based discrimination, employee efforts to unionize, and other alleged civil rights violations."
Kruger's page now emphasizes that she is "sometimes considered one of the swing votes" on the California Supreme Court, adding that she "is seen as a moderate on the seven-member court — moderately liberal on civil cases, more conservative on criminal matters."
Read the rest of the report here.
Via      Zerohedge