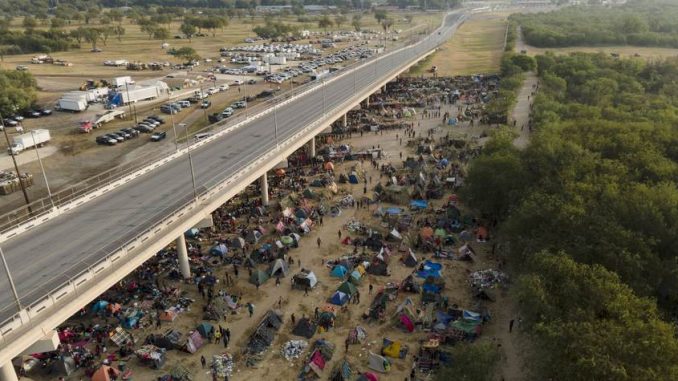 A couple of weeks ago we learned there was concern within the Biden administration that Title 42, which allows the border patrol to quickly remove immigrants on health grounds, might be allowed to expire this week. And if that were to happen there was concern that the already high numbers of migrants at the border would spike. The situation was worrisome enough that Sens. Sinema and Kelly of Arizona sent a letter asking to see the Biden administration's plan for dealing with the potential crisis that could unfold if Title 42 were to abruptly end.
The CDC will complete its review of the need for another 60-day renewal of Title 42 tomorrow. In theory this decision is solely up to the CDC but the expectation is that the White House will have input on the outcome. And with coronavirus cases waning and pressure from courts and activists, it seems likely Title 42 won't be renewed tomorrow.
Today, one day before CDC announces its decision, DHS officials briefed reporters about their plans for dealing with what comes next.
In preparation for a possible post-Title 42 border rush, the Department of Homeland Security has enlisted Federal Emergency Management Administration (FEMA) officials to help prepare for as many as 18,000 migrants per day. That volume would be nearly three times the current pace of arrivals…

The DHS officials who briefed reporters said they did not know if Title 42 would be extended or allowed to lapse. But they described contingency planning for mass migration events similar to the one in Del Rio, Tex., last year that placed severe strains on U.S. agents, holding facilities, transportation networks, humanitarian shelters and border communities…

"Transportation, medical service providers, law enforcement personnel, and holding facilities are all being strained to maintain current operations," officials said in a planning document, adding that lifting Title 42 "will likely cause a significant increase in arrivals along all United States (U.S.) borders — primarily along the Southwest Border."
CBS News which was also part of the same briefing has some figures to put those numbers in perspective:
DHS is developing contingency plans for several possibilities, including worst-case scenarios in which 12,000 to 18,000 migrants would enter U.S. custody daily, the DHS officials said during a briefing with reporters, describing migration flows that would overwhelm the government's processing capacity along the Mexican border.

U.S. border officials, who reported a record 2 million migrant arrests in 2021, are currently encountering an average of 7,101 migrants per day, a DHS contingency plan shows…

According to the strategic DHS plan, the U.S. currently can transport roughly 5,000 migrants by land and 350 by air per day. If the worst-case scenario materializes, the plan calls for officials to double that capacity.
In other words, our border resources are stretched with the number of daily encounters near the peaks we saw last summer, but a CDC announcement that Title 42 is ending could send 2 1/2 times as many migrants to the border in any given day. The border patrol doesn't have the manpower, transportation capability or holding facilities to deal with all those people.
Of course there are all sorts of caveats here. For one, DHS is saying this is just a worst case scenario not a prediction. Also, there are probably tens of thousands of people waiting on the other side of the border who would try to cross if Title 42 were to end but there may not be enough to sustain levels as high as 18,000 per day (540,000 per month!) for very long. At that rate, maybe the surge would only last a couple weeks before the backlog dies down.
On the other hand, what we've seen in the past several years, since at least the Obama administration, is that anytime word goes out that crossing the border has become easier, there is a fresh surge of migrants. So the immediate surge may pass but three weeks or a month after the announcement, but those daily numbers could spike up again.
The big picture here is that we set a record for border encounters in FY2021 and we're now on track to surpass it even without a change to Title 42. Tomorrow could be the start of a very difficult situation at the border, one that returns this issue to the front pages in the coming months.
Via            Hot Air